Tributes made to Michael Hill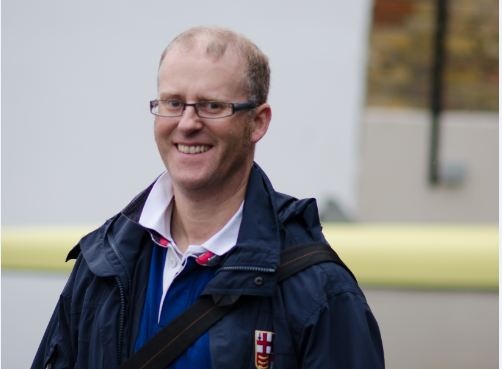 Michael Hill, the missing Latymer Upper School, London and Thames rowing coach, was recovered from the Tideway on Monday and has been formally identified.
The 48-year-old coach had been missing since an apparent capsize on the River Thames at Putney on 2 February.
Michael had an enormous impact on crews he coached on the Tideway and friends from Latymer, London and Thames gathered to cherish his memory earlier last month.
On 13 February an informal gathering was held at Latymer with many of the school attending including British Rowing Chairman Annamarie Phelps and the RNLI crew who had been involved in the search for Michael.
Two days later more friends and family remembered Michael at the Boustead Cup – the historic annual fixture between eights from Thames and London RC.
London RC's Alan Foster paid tribute to a coach whose zest for life made rowing fun for the many people he came across, saying: "At Latymer a display board was crammed with postcard-sized tributes from his J15 and J15 crews. I cannot hope to tell you what was in each one but certain phrases recurred about 'Hilly' as he was known, such as: 'kind', 'patient', 'true gentleman', 'made my rowing fun' and 'always up for a laugh'.
"At London here he coached the initial and subsequent learn to row courses and as these graduates moved up into the development squad, he took them on as well.
"Comments from these echo those from Latymer – kind, patient, infectious enthusiasm, dedication, funny, and from Thames Ladies: instantly likeable, generous and keen to help them go faster.
"It was perhaps this empathy between coach and crew that shines through; he was with you in the boat through all your tribulations.
"I will leave you with the comments from an ex-captain here: 'Good, enthusiastic people who give something back to the sport we love are rare, should be celebrated and in this case (he) will be sorely missed by those who knew him and benefitted from his work."
A row-over was performed by women's crews from both clubs as a tribute to Michael, who had been coaching a crew from Thames on the evening of 2nd February.
Then, instead of a minute's silence, family members requested a minute's applause.
Annamarie Phelps said: "Michael was a hugely popular figure among the rowing community along the Tideway and his enthusiasm for coaching always shone through. On behalf of British Rowing, our condolences are with Michael's family, the school and clubs at this sad time. He is much missed."
Photo by Mark Ruscoe