Record WeHoRR wins for Grainger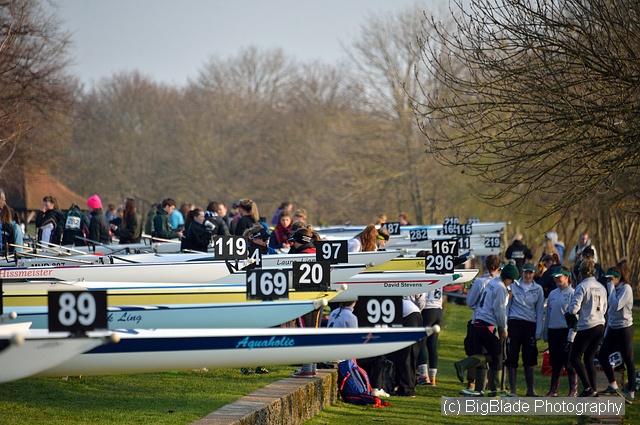 Olympic champion Katherine Grainger described herself as "incredibly proud" after winning the Women's Eights Head of the River Race for an unprecedented eighth time in Saturday's landmark 75th race.
Her seven-club GB star composite, led the 2,700-strong, 300-boat, field home by 18.4 seconds from Leander after starting 51st.
After surpassing seven-time 1950s/60s winner Ann Sayer, the London 2012 gold medallist said: "I was only told about the headship record by my crewmates yesterday, so to win the eighth title in the anniversary head is an incredibly proud feeling."
Grainger, who won her first WeHoRR title in 1998, added: "I first came here as a novice in the mid-1990s and was totally inspired by all these women racing. It was exciting then, and I'm just as excited today, I couldn't wait to get out there. I've always loved it, it's my favourite domestic event.
"You get Olympians down to club rowers who may never have raced here before, which makes it very special.
"We were all sitting on the start, 300 women's eights, ready to race through London and that's really inspiring.
"The headwind made it rough through the middle, but although it was tough and exhausting, I loved every second. It's great to be challenged by the Tideway, but our experience meant we were able to keep attacking through the bad stuff."
With Olympic champion women's pair Heather Stanning and Helen Glover at stroke and seven, backed up by Zoe Lee, Grainger, Mel Wilson, Olivia Carnegie-Brown, Caragh McMurtry, Jess Eddie and world champion cox Phelan Hill steering, the crew covered the 6.8km Chiswick to Putney course in 18 minutes 58.6 seconds to take the Elite title.
Leander's internationals started first, but had to give second best to their GB team-mates, racing for Army/Imperial College/London/Marlow/Minerva-Bath/Oxford Brookes University/Southampton Coalporters.
Imperial College, coming third overall, took the Senior pennant in 19.56.9, 2.1 seconds up on Leander B's Club title winners in fourth containing Olympic medallist Debbie Flood.
Cambridge University Women fired an early broadside ahead of their first ever Tideway Women's Boat Race clash with Oxford next month by taking the University award in fifth in 20.08.7.
Molesey BC, coming sixth in a time of 20.13.4, beat London University to the Intermediate 1 title by 9.2 seconds, with stroke Gabby Rodriguez saying: "They've beaten us all winter, so it was great to nail it when it mattered most."
Oxford Brookes doubled up with the Intermediate 2 and Intermediate 3 pennants in 20.22.6 (eighth) and 21.03.7 (20th) respectively.
"We beat a GB U23 composite by seven seconds and one place and we're delighted," said IM2 cox Jess Saunders.
Headington impressed to take the School/Junior title in 20.54.3 (14th), nearest category rivals CUS Milano from Italy having the consolation of the Overseas prize in 21.25.8 (28th).
The top provincial club for a fourth year running were Nottingham RC in 20.59.0 (17th) by 18.2 seconds from Cantabrigian.
"It gets tougher every year, but hopefully we can make it 10 next time," said Director of Rowing Dez Atkins.
A Bristol City/Henley/Marlow/Reading/Rob Roy/Strathclyde/Wycliffe composite took the Masters title in 21.27.0 (30th), while Henley's youngsters landed the Novice Club crown in 21.31.9 (33rd) and Imperial added a second pennant taking the Novice Academic class in 22.16.3 (67th).
Race co-ordinator Claire McIntosh said: "I used to row in a pair with Katherine Grainger back in Scotland before she went on to GB glory, so it's fantastic to see her grab a Women's Head record at the 75th race.
"The head has really kicked on over her career, particularly with so many university crews now racing. Rowing is a real leader in the 'This Girl Can' campaign to get girls into sport.
"To see 300 women's eights out there today, after just five raced the first head in 1930, is amazing."
Full results at www.wehorr.org
By Nick Hartland.
Photos by Nick Hartland and BigBlade.