Junior Head Successes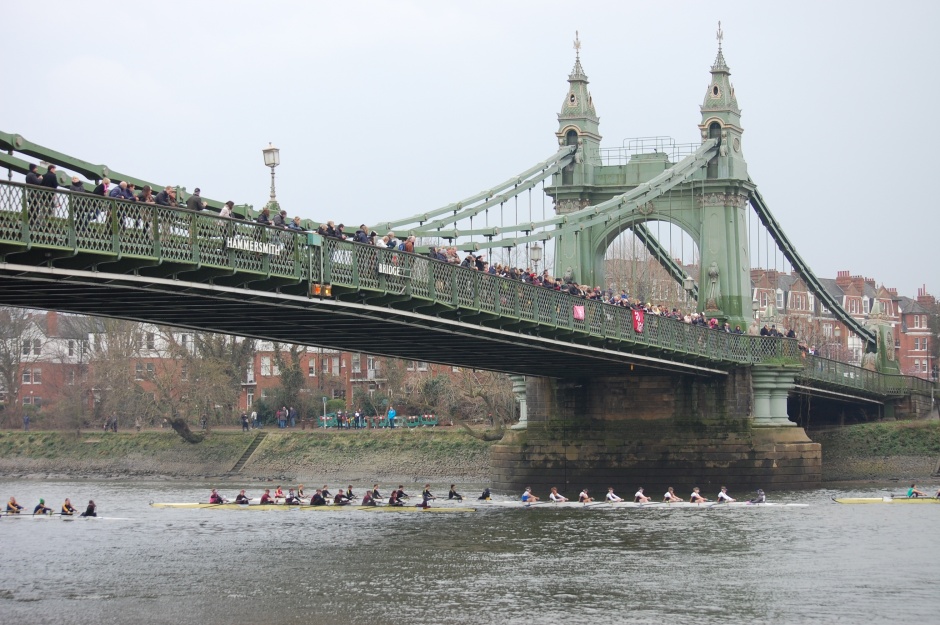 "I looked down the length of the Dorney course and felt terrified." Hampton School's J14 rower, Tom McLoughlin, probably spoke for most of the 900-odd competitors in the J14 sculling events, as they raced for the first time on the London 2012 Olympic course at the 2015 Junior Sculling Head yesterday.
Just 13 minutes later, after powering up and down the 4,000m of the flat and sun-kissed waters, McLoughlin's grimace turned to a smile: a row that was good enough to secure his crew the J14 octuple title ahead of King's Chester and Royal Shrewsbury Schools.
But that powerful cocktail of focus and fear, mixed with excitement, was not only present in spades at Dorney, where the Junior Sculling Head took place on Tuesday March 17th. Only the day before, the same emotions were swirling around as thousands of schoolboys and girls prepared to race over the famous 4¼ mile Mortlake to Putney course in the Schools' Head.
The boys from Sir William Borlase's top quadruple emerged from both events with flying colours. Stroked by Fraser Russell in both events, the hugely impressive unit scythed through a swathe of eights in Monday's Schools' Head. They put over 20 seconds on their local rivals from Marlow Rowing Club. The next day, in the more gladiatorial setting of Dorney Lake, Borlase – with one change – finished in 11:50 ahead of quads from Pangbourne and Leander.
However, in the J18 women's quadruple category, Marlow Rowing Club were not to be outdone. Like Borlase, they too doubled up. At Dorney, they won by a margin of 30 seconds over crews from Latymer Upper and Headington. The day before at the Schools' Head their margin of victory from the powerhouse of Gloucester Hartpury was much smaller at five seconds. Nevertheless, the quality of that competition clearly shows the strength of British junior women's rowing.
At Headington, Ryan Demaine has been at the forefront of developing fabulous junior oarswomen. Justifiably, he must have been thrilled with the performance of his top athletes. On Saturday, they finished a hugely impressive 14th out of nearly 300 women's eights in the Tideway Women's Head. Just two days later, they were in dominant form again over the same course. Their length, poise and drive put them a class apart from their rivals. The Oxford-based school finished 25 seconds ahead of their closest rivals – again from Sir William Borlase's.
Yet if that result was expected, the battle for boys' championship eights seemed too close to call. Westminster School had dominated the season's early head races but Bobby Thatcher's St Paul's School were not about to give up the title they won in 2014 easily. And the early pace and intensity of the St Paul's boys was sensational – so too the length, lock and flow of Bill Mason's Westminster School. It was enough – mid course – to sweep them past the crew of King's College School, Wimbledon and in the end that sparkle gave them a victory over St Paul's by three seconds.
That win, combined with victories in J16 eights, junior and J15 coxed fours was enough to leave Westminster School feeling immensely satisfied with their day's work.
So fitting too, just a few weeks after one of their most distinguished alumni, Dan Topolski, had sadly passed away. And Topolski too, would have understood just how those J14s felt on the start at Dorney Lake.
The 2015 head season – the rite of passage for new junior rowers is over. A summer of racing lies ahead.
Report by Martin Cross