Westminster takes Hampton headship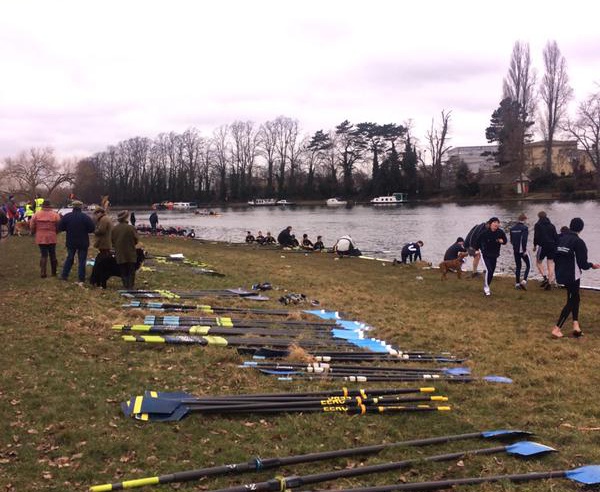 A combination of bitter temperatures and grey skies failed to deter nearly 500 crews on Saturday, as Hampton School hosted its fours and eights head. The event was last run in 2012 – with flooding and poor conditions largely to blame for the cancellations – so a gently flowing stream was a welcome sight on Saturday morning.
Westminster School took the headship, recording an impressive 7:51.1 seconds in the J18 eights category. The Putney-based boat club also took the win in the 2nd eights category. Their top crew was 19 seconds ahead of neighbours Latymer, who in turn edged out two Hampton crews. The host school were victorious in three events, including a win in junior 16 eights.
Headington School took the win in women's junior eights but Ryan Demaine, Director of Rowing at the Oxfordshire establishment, believes there is still a lot of work to be done. "It was the first time we've been out in the eight since Wallingford so that's a big positive. Injuries and illness have slowed our progress a little so we've got some catching up to do to be where we want in the summer."
Henley Rowing Club continue to stamp their authority on junior women's rowing, racking up an impressive nine wins.
Northwich were in good form to take the junior quads category by 0.4 seconds over Star & Arrow whilst National Schools' champions Marlow were victorious in the female equivalent.
Colin Greenaway, Director of Rowing at Hampton School, paid tribute to the organisation of the marshalling team in hosting another successful event.
"All of the marshals, bar a few exceptions, are schoolteachers so they buy into what we are trying to achieve. Most have been involved for a number of years so understand how a head race works, which makes the event run so much more efficiently."
Greenaway also thanked the large number of competitors who turned out to race the 3000 metre course.
"We're so lucky to receive such fantastic support and it is the standard of racing which really makes or breaks the event. To see some of the best schoolboy eights facing off at this stage of the year is a real treat and we're excited to see what happens later in the season."
To see a full list of results, go to www.myracetime.co.uk/Hampton-Big-Boats-Head-2015-Results-by-Overall-Position/1/34/.
By Tom Morgan