British Rowing Coaching Conference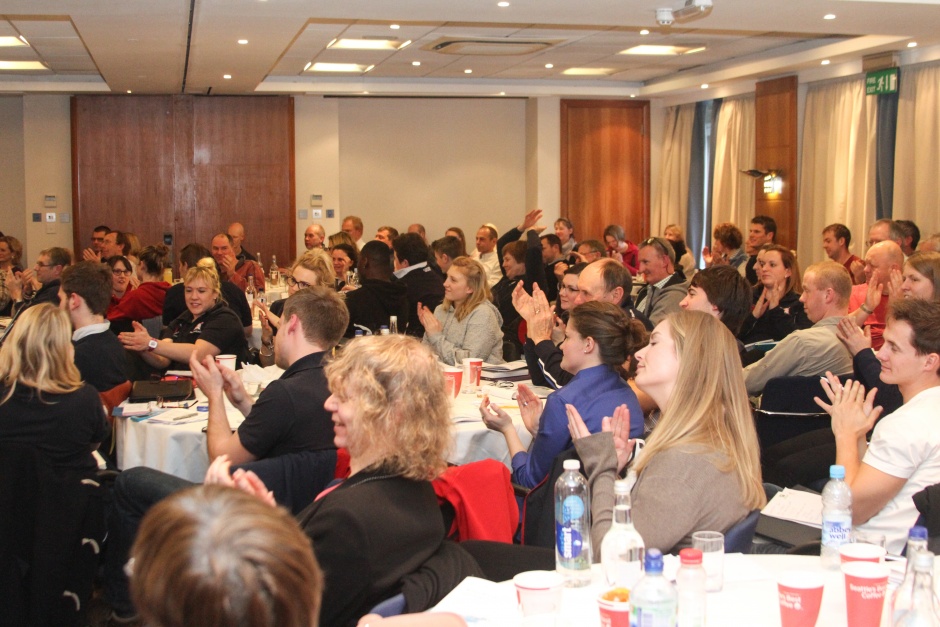 Over 100 coaches gathered for the annual British Rowing conference last Saturday for a day full of insight, interest and interaction.
The day's programme embraced the diversity of the sport with topics including different boat types, adaptive rowing and elite coaching through to injury prevention, even touching on how equestrian sports relate to rowing.
With every seat in the room taken, the event offered coaches a chance to pick up some priceless tips while socialising with other coaches from around the country.
Guin Batten, Chair of the FISA Rowing for All Commission, opened proceedings with a fascinating look at different areas of the sport – from coastal boats and gigs to ocean boats and even Canadian ice canoeing. The ice rowing created quite a buzz! Check it out here yourself: www.youtube.com/watch?v=ZnlhOBo6Vws.
Olympic champion Kat Copeland took a break from training, providing insights on her journey to Olympic gold at London 2012 through to preparing for the next Games at Rio.
Plus there was a rare chance to listen to Jürgen Grobler on lessons learnt over 25 years of coaching in the UK.
The GB Rowing Team Chief Coach challenged his audience, saying if they could develop just one exceptional rower – "a golden nugget" – over the next ten years then British Rowing would have a great future.
Imparting a wealth of wisdom, he added, "I would say one thing about our sport. You always have to make a choice between volume and intensity of training. If you do more intensity you can't do the volume. I've tried over 45 years but there is no short cut in training."
With the focus moving to junior programmes Peter Sheppard, GB Rowing Team Chief Coach for Juniors and U23s, asked coaches to consider the suitability of their training plans. Are they developing robust athletes for life?
He said, "I challenge you to get J14s and 1st year rowers off the ergos and address the athleticism that J14s need first. There are plenty of other body conditioning and circuits that juniors can do instead of the ergo."
GB Rowing Team Dr Ann Redgrave echoed this, providing advice on keeping young rowers healthy, particularly focussing on fatigue in athletes and lower back and hip problems.
She also gave an update on the WADA Code, explaining, "Since 1 January the WADA rulings are much more relevant to coaches now. The onus is much more on all of you. Anyone who works with athletes is bound by the WADA Code."
Warning that supplements can contain banned substances that are not always listed on the product label, she added, "There is absolutely no guarantee that supplements aren't contaminated."
She advised checking Informed Sport products by their batch number on www.informed-sport.com.
Overall, the message is clear – coaches now have a real responsibility to monitor what athletes are taking. You can check if products are safe via www.globaldro.com.
Adaptive rowing was also spotlighted with advice on developing programmes from Hannah Lawton, a member of the GB Rowing Team Talent ID Paralympic Programme.
"It was fantastic to have so many people engaged with my presentation on perceptions around disability," she said afterwards.
"It provided an insight into how clubs can interact with the GB Rowing Team's Paralympic Programme, showing that with a 'can do' attitude clubs can be fully involved with adaptive rowers."
Club coaches too provided tips with Andy Smith and Peter Mulkerrins revealing how Star Club nurtured athletes from within over a period of years to achieve a win at Henley Royal.
All in all it was an inspiring day providing the perfect motivation for the coming year.
Rosie Mayglothling, GB Rowing Team Technical Co-ordinator and event organiser, said, "The conference was excellent with a high quality of presentations from the speakers, who, generously shared their knowledge and application to rowing and provoked lots of discussion amongst the delegates.
"The numbers attending meant there was virtually standing room only for all the sessions including the panel presenting the many facets of rowing to Kat Copeland taking us through her rowing journey from London to Rio."
By Wendy Kewley