Lightweight success at Scullers Head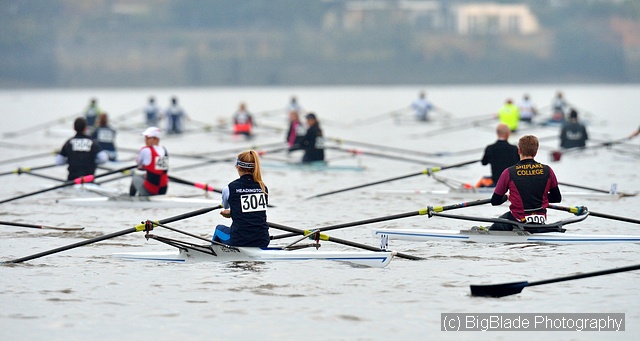 The 61st Scullers Head was raced on Saturday 29th November, on a fast-flowing Thames and in excellent weather conditions. The fastest man and woman were both lightweights, with Jamie Copus of Oxford Brookes taking the overall pennant in a time of 21:03.55 and Brianna Stubbs the first woman home in 22:41.31.
Chairman of the Vesta Scullers Head Organising Committee, Aga Siemiginowska, said, "The race itself went relatively smoothly, although we encountered some IT issues and delays in providing accurate results for which I would like to apologise."
With the senior GB Rowing Team away on training camps, the competition was open to the up and coming scullers such as Brianna Stubbs, 2013 U23 World champion in the lightweight women's doubles.
Afterwards Stubbs said: "I was really pleased with the way that I raced – it is always a challenge to come out on to the Tideway and expose yourself to navigating the stream, the potential for tricky conditions, and having to deal with other competitors."
Jamie Copus, an Old Abingdonian now rowing at Oxford Brookes, was equally pleased with his win, having battled fellow Old Abingdonian Tim Richards, who won the Wingfield Sculls in early November.
"I really enjoyed it. At the end of the race we knew it was going to be a tight one, as I went a bit wide round Hammersmith, and it got a bit hairy weaving through traffic near the end as well! Meant there was a bit of a tense wait for the results! Safe to say it was fantastic to hear after the wait, not just to win elite lightweight but to win overall as well!"
Unfortunately the para-rowing events did not go ahead. Following significant efforts made by all parties to make the necessary arrangements, the heavy rain in London and the Thames Valley the week before the race saw red and yellow flags up and down the Thames, leading to the withdrawal of all para-rowing entrants, along with a significant number of less experienced scullers. Full refunds were offered to withdrawn entries.
"In addition to the dozens of Vesta volunteers, I'd like to thank all the volunteers, including umpires, marshals and our fellow clubs for supporting us with launches and drivers," added Siemiginowska.
The prizegiving will take place on December 10, 2014.
For the full results, visit www.vestarowing.co.uk/wp-content/uploads/2009/02/Scullers-Head-2014-Results.pdf.
By Martha Walsh