St Ayles Skiff 'Pride of Aln' launched in Northumberland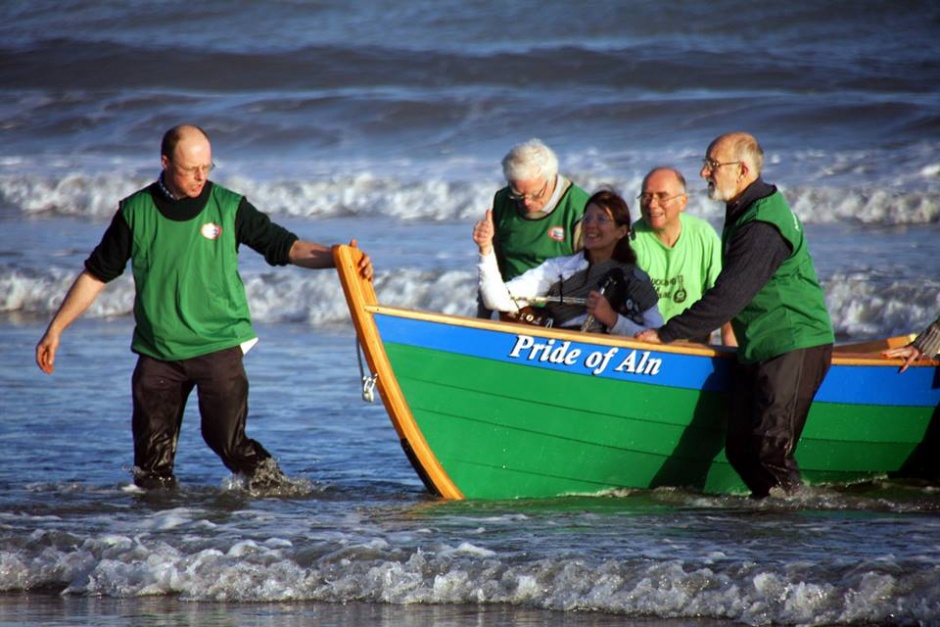 On Saturday afternoon 22nd November, on a dazzling sandy beach in Northumberland, the fifth St Ayles Skiff to be launched in the North of England touched the choppy waters of the North Sea. The boat built by the community of Alnmouth, a small village situated near the town of Alnwick, was completed after the group started the project back in October 2012.
"Our skiff 'Pride of the Aln' today joins two skiffs on the Tyne, Grace and Byker Belle, Crofton on the Blyth and Coquet Spirit in Amble," said Simon Rippon, Chair of Alnmouth CRA in his opening speech. "Our skiff is aptly named, she is a vessel of beauty which will enhance Alnmouth for years to come and enable many members of its community to experience time on the water".
The boat was christened by Her Grace Jane, Duchess of Northumberland and blessed by the Reverend Ian MacCarrill, vicar of the Lesbury Benefice, before being carried by the community across the beach to the North Sea.
"It's fantastic to see these new opportunities for people to try rowing in the North East," said James Andrews, British Rowing's Area participation manager for the North of England. "This time last year we had two skiffs on the water in the North East; now we have five with two more to join them soon. This is fantastic growth for rowing, a brilliant way for the community to get together, and a great opportunity for more people to try a new activity."
Alnmouth built the boat with the generosity and patience of the Robertson family who allowed the villagers to construct the boat on their farm whilst Covance Ltd, Northumberland County Council, and Northumberland Renewables, together with the members and shareholders of Alnmouth Community Rowing, all assisted financially to the project.
"It was great to come here today to see Alnmouth Launch their boat," said Mick Downworth, a founding member of Gateshead Community RC who are about to start building their own skiff. "The sense of community is fantastic with all the other skiff clubs attending to show support for Alnmouth. We can't wait to join this community with our own boat."
If you're interested in starting up your own skiff club or would like to find out more about how your community could build their own boat, contact James Andrews, james.[email protected] or visit www.scottishcoastalrowing.org
Facebook photos here courtesy of British Rowing's Northern Region.