First class volunteers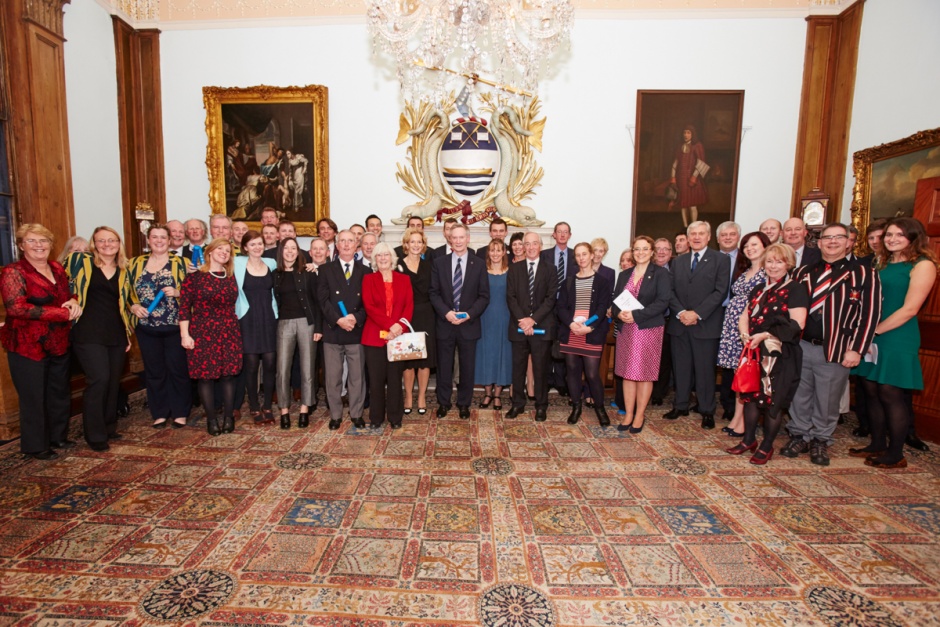 Celebrating the unsung heroes of our sport, the annual Volunteer and Coach of the Year Awards took place at the historic setting of Watermen's Hall, London on Saturday 15 November.
Welcoming award winners to the special lunch, British Rowing Chairman Annamarie Phelps, said, "We are delighted that you are able to join us today, allowing us to say thank you for giving so much to our sport through your time, commitment and expertise."
Honouring 31 volunteers from 19 different rowing clubs around the country, the ceremony highlighted the wide range of roles vital to keeping rowing clubs alive. From regatta management and accounting skills through to press liaison, coaching juniors and fundraising – even emptying the bins and making cakes – the enormous contribution from many people was clear.
Guest speaker Ben Hunt-Davis also received the Medal of Honour from Annamarie Phelps for his own volunteering work. A veteran of five Olympic Games, the 2000 Olympic champion in the men's eights chaired the Organising Committee for the 2011 Junior Worlds and the 2013 World Cup at Eton Dorney.
"I'm incredibly honoured to get the award and seeing the amount of work and volunteering that so many people in the sport do – I feel that I'm unworthy to get this but thank you so much."
After being an elite athlete, where everything was laid on for the team, Ben revealed that he only really grasped how the sport worked once he stopped rowing.
"In 2005 I was asked to help out at the World Cup, in 2006 I helped on a team of volunteers and gradually I started to grasp what makes the sport tick.
"The sport would be nowhere without the volunteers and I hope you've all got out of it as much as I have. I've been incredibly lucky and it's down to people like you, so really from the bottom of my heart – thank you very much and congratulations for being nominated today."
As he introduced each award winner in turn, Gary Harris, Deputy Chairman of British Rowing, said, "In this room we have a wonderful representation of first class volunteers in our sport and it's quite clear that you provide marvellous role models at your club. It's our pleasure to recognise your contribution."
Volunteer Awards
East Region
Overall Regional Winner – Matthew Newton, Peterborough City RC
Administrative Category Award – Benn Klewpatinond, Milton Keynes RC
Open Category Award – Chris Moody, Broxbourne RC
East Midlands Region
Overall Winner – Paul Trinick, Nottingham & Union Rowing Club
Event Category Winner – Anthony Lorrimer, Nottingham RC
North West Region
Overall Regional Winner – Sarah Armstrong, Grosvenor RC
Joint Open Category Winner – Rachel Hooper, Northwich RC
Joint Open Category Winner – Michal Palamarczuk
Thames Region
Overall Winner – Laura Lion, Maidenhead RC
Overall Winner – Young Persons – Luke Dillon, The Metropolitan Regatta
Event Category Winner – Robert Simpson, Ardingly RC
Administrative Category Winner – Richard Packer, Wallingford Regatta
Rowing Safety Category Winner – Neil Pickford, Cygnet RC
WAGS Region
Overall Winner – Stuart Gordon, University of Bath Boat Club
Wessex & South East Coast Region
Overall Winners – Steve Bull, Tim Bull, Gary Joyce, Sue Sothcott, Peter Staddon
Administrative Category Winner – Andrew Parsons, Southampton Coalporters ARC
Open Category Winner – Peter Jacobs, Poole ARC
West Region
Overall Regional Winner – Joan Whittle, Paignton ARC
Cornish Pilot Gig Association Special Award – Anne Curnow-Care
Yorkshire Region
Overall Regional Winner – Bethany Picott, Leeds University Boat Club
Coach of the Year Awards
Special Award Lifetime Achievement
Colin Davies – Grosvenor RC
Club Performance Winner
Jed Barlow – Northwich Rowing Club
Club Performance Highly Commended
Penny Senior – Avon County RC
Club Development Winner
Eleanor Burke – Exeter RC
Education Performance Winner
Robin Dowell, Sir William Borlase's Grammar School RC
Coaching Team
Senior Women/Elite Development Winners – Chris Hudson and Paul Turner, Grosvenor RC
Photography by Simon Way