Golden Birthday for Lamb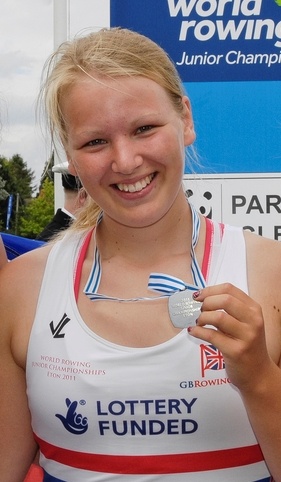 The GB Rowing Team women's four helped celebrate Nicole Lamb's 20th birthday today in style as they took gold for Team GB at the Australian Youth Olympic Festival.
"It's the best birthday present anyone could ask for really," said Lamb. "We set out to win and we just did what we had to do".
Britain also won silvers in the men's and women's quadruple sculls and bronzes in the men's four and men's and women's eight. That brought their overall tally for the event to three golds, four silvers and three bronzes.
GB's golds came in today's women's four final, the men's single and lightweight men's double in a sports festival described as a "learning experience" by GB Rowing Team Performance Director Sir David Tanner.
Tanner also paid tribute to the excellence of the Organising Committee. "I would like to thank and congratulate the Australian Olympic Committee for putting on such an outstanding event for young people as part of their Sydney Olympic Games legacy. It has been a truly exceptional experience for our team".
The men's quadruple scull final today provided one of the more exciting finishes of the regatta with GB pipped to gold by South Australia.
"Whilst that one result today wasn't quite what we wanted I am pretty pleased with the team. Every rower will go back home with at least two medals. The men's four [all from Oxford Brookes], have taken a step on down here, the women's four have also taken the next step. We were fastest in the heats of both eights but could not quite convert that in the finals", said Team Manager Richard Boulton.
Racing on the final day of rowing – at an event in which Australia enters its crews as States rather than overall national crews – took place in temperatures of around 24 degrees.
After brief celebrations on Manley beach the squad flies back to a contrastingly snow-covered UK tomorrow.
SCROLL DOWN FOR MORE
===================================================
RESULTS
OPEN
WOMEN
Four
1. Anastasia ChittyNicole Lamb/Lucy Burgess/Bethany Bryan (GREAT BRITAIN) 7:00.82
2. New Zealand 7:04.26
3. Australia 7:05.29
4. Australia 7:08.63
5. Australia 7:09.34
6. Australia 7:34.53
Eight
1. Australia 6:37.08
2. Australia 6:40.25
3. Lucy Cruxton/Maxie Scheske/Anastasia Chitty/Jessica Leyden/Emily Ford/Nicole Lamb/Bethany Bryan/Lucy Burgess/Morgan Baynham-Williams (cox) (GREAT BRITAIN) 6:41.71
Quadruple scull
1. Australia 6;54.76
2. Lucy Cruxton/Jessica Leyden/Emily Ford/Maxie Scheske (GREAT BRITAIN) 6:55.99
3. Australia 6:57.88
4. New Zealand 7:10.18
5. Australia 7:11.00
MEN
Four
1. New Zealand 6:22.15
2. Australia 6:24.94
3. Joel Cassells/Joe Guppy/Edward Grisedale/Timothy Grant (GREAT BRITAIN) 6:25.74
4. Australia 6:27.56
5. Australia 6:29.23
6. Australia 6:33.61
Eight
1. Australia 5:56.02
2. New Zealand 6:00.31
3. Benjamin Board/Joel Cassells/Luke Moon/Joe Guppy/Jack Beaumont/Timothy Grant/Edward Grisedale/Jamie Copus/Edward Bosson (cox) (GREAT BRITAIN) 6:01.25
Quadruple scull
1. Australia
2. Benjamin Board/Luke Moon/Jack Beaumont/Jamie Copus (GREAT BRITAIN) 6:12.11
3. New Zealand 6:13.58
4. Australia 6:18.87
5. Australia 6:19.17
6. Australia 6:20.53
SCROLL DOWN FOR MORE
===================================================
CREW LIST
Australian Youth Olympic Festival
Sydney, Australia
16 – 20 January 2013
(Name/Club or School)
WOMEN
Single scull
GBR 1
Jessica Leyden (Hollingworth Lake RC)
GBR 2
Emily Ford (Grange School RC)
Pair
GBR 1
Anastasia Chitty (Oxford Univ. Womens BC)/
Nicole Lamb (Newcastle Univ. BC)
GBR 2
Lucy Burgess (Northwich RC)/
Bethany Bryan (Tees RC)
Four
Anastasia Chitty (Oxford Univ. Womens BC)/
Nicole Lamb (Newcastle Univ. BC)/
Lucy Burgess (Northwich RC)/
Bethany Bryan (Tees RC)
Quadruple scull
Jessica Leyden (Hollingworth Lake RC)/
Emily Ford (Grange School RC)/
Maxie Scheske (Oxford Univ. Womens BC)/
Lucy Cruxton (Reading Univ. BC)
Eight
Anastasia Chitty (Oxford Univ. Womens BC)/
Nicole Lamb (Newcastle Univ. BC)/
Lucy Burgess (Northwich RC)/
Bethany Bryan (Tees RC)/
Jessica Leyden (Hollingworth Lake RC)/
Emily Ford (Grange School RC)/
Maxie Scheske (Oxford Univ. Womens BC)/
Lucy Cruxton (Reading Univ. BC)/
Morgan Baynham-Williams (Oxford Brookes Univ. BC) (cox)
Lightweight double scull
Maxie Scheske (Oxford Univ. Womens BC)
Lucy Cruxton (Reading Univ. BC)
MEN
Single scull
GBR 1
Jack Beaumont (Leander Club)
GBR 2
Luke Moon (Tideway Scullers School)
Pair
GBR 1
Edward Grisedale (Oxford Brookes Univ. BC)/
Timothy Grant (Oxford Brookes Univ. BC)
GBR 2
Joe Guppy (Oxford Brookes Univ. BC)/
Joel Cassells (Oxford Brookes Univ. BC)
Four
Edward Grisedale (Oxford Brookes Univ. BC)/
Timothy Grant (Oxford Brookes Univ. BC)/
Joe Guppy (Oxford Brookes Univ. BC)/
Joel Cassells (Oxford Brookes Univ. BC)
Quadruple Scull
Jack Beaumont (Leander Club)/
Luke Moon (Tideway Scullers School)/
Jamie Copus (Leander Club)/
Benjamin Board (Leander Club)
Eight
Jack Beaumont (Leander Club)/
Luke Moon (Tideway Scullers School)/
Jamie Copus (Leander Club)/
Benjamin Board (Leander Club)/
Edward Grisedale (Oxford Brookes Univ. BC)/
Timothy Grant (Oxford Brookes Univ. BC)
Joe Guppy (Oxford Brookes Univ. BC)/
Joel Cassells (Oxford Brookes Univ. BC)/
Edward Bosson (Cambridge Univ. BC) (Cox)
Lightweight men's double
Jamie Copus (Leander Club)/
Benjamin Board (Leander Club)
=========================================================
TEAM LIST
Australian Youth Olympic Festival
Sydney, Australia
16 – 20 January 2013
(Event/Name/Club or School)
YOUTH MEN
M1x, M4x, M8+ Jack Beaumont (Leander Club)
M1x, M4x, M8+ Luke Moon (Tideway Scullers School)
M2-, M4-, M8+ Edward Grisedale (Oxford Brookes Univ. BC)/
M2-, M4-, M8+ Timothy Grant (Oxford Brookes Univ. BC)
M2-, M4-, M8+ Joe Guppy (Oxford Brookes Univ. BC)/
M2-, M4-, M8+ Joel Cassells (Oxford Brookes Univ.BC)
LM2x, M4x, M8+ Jamie Copus (Leander Club)/
LM2x, M4x, M8+ Benjamin Board (Leander Club)
M8+ Cox Edward Bosson (Cambridge Univ. BC)
YOUTH WOMEN
W1x, W4x, W8+ Jessica Leyden (Hollingworth Lake RC)
W1x, W4x, W8+ Emily Ford (Grange School RC)
W2-, W4-, W8+ Anastasia Chitty (Oxford Univ. Womens BC)/
W2-, W4-, W8+ Nicole Lamb (Newcastle Univ. BC)
W2-, W4-, W8+ Lucy Burgess (Northwich RC)/
W2-, W4-, W8+ Bethany Bryan (Tees RC)
LW2x, W4x, W8+ Maxie Scheske (Oxford Univ. Womens BC)
LW2x, W4x, W8+ Lucy Cruxton (Reading Univ. BC)
W8+ Cox Morgan Baynham-Williams (Oxford Brookes Univ. BC)
Reserves
Georgia Francis (Pangbourne College BC)
Tom Marshall (Royal Chester RC)
Coaching & Support Staff
Team Manager & Lead Coach – Richard Boulton
Coach – Paul Stannard
Coach – James Harris
Coach – Eira Parry
Physiotherapist – Rachel Burr
===================================================
CONTACT DETAILS
For media enquiries about this event please contact:
Caroline Searle on (01225) 443998 or 07831 755351 or e-mail [email protected]
GB Rowing Team website, including full rower biogs: www.gbrowingteam.co.uk
Follow us on:
Facebook: www.facebook.com/gbrowingteam
Twitter: www.twitter.com/gbrowingteam
Youtube: www.youtube.com/gbrowingteam
===================================================
The GB Rowing Squad is supported by the National Lottery