GB rowers named for Youth Olympic Squad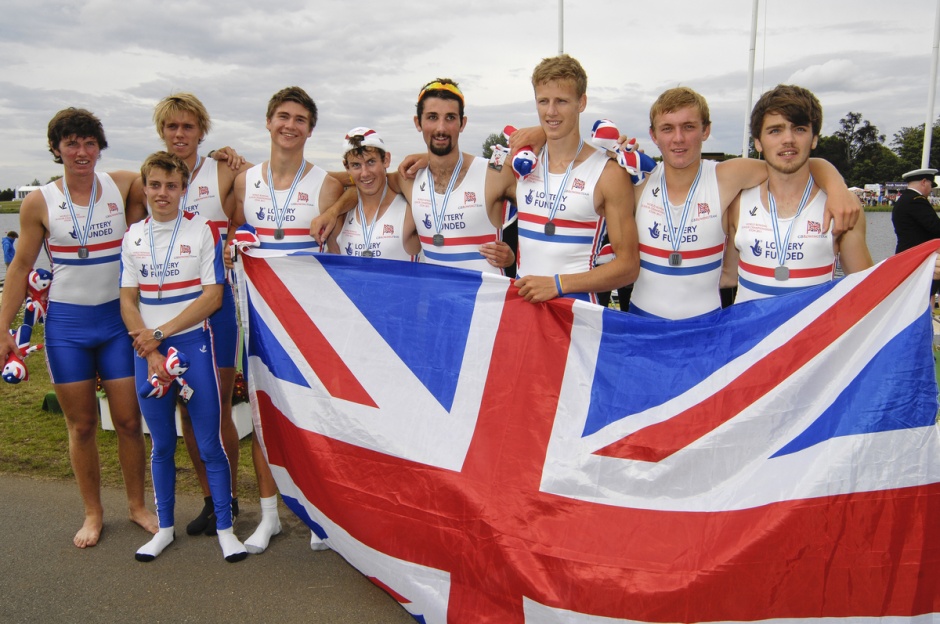 A team of 20 upcoming GB rowers will join 1700 athletes from 30 different countries competing at the Australian Youth Olympic Festival in January.
The GB crews will race across 12 events (six for men, six for women) with each rower racing in three different events at the five-day festival of elite youth sport which runs from 16-20 January.
The festival, held every four years at the Sydney Olympic venues across 17 sports, including rowing, has seen past winners go on to become Olympic Champions.
London 2012 gold medallist Kat Copeland raced for GB at the 2009 Festival, winning a gold in the women's quadruple scull, a bronze medal in the lightweight double scull and finished fourth in the eight.
"I had a brilliant time going over to Australia," said Copeland, who is back in training at her hometown club Tees RC ahead of trials for the 2013 season which includes a World Cup in Sydney in March and Eton Dorney in June.
"I learned a lot that helped me this summer (at London 2012) in terms of staying in the village, kitting out, going to an opening ceremony – it was different to anything I'd done before and just two weeks of fun.
"We had some close races in the double and I think it gave me the first taste of how amazing an Olympics could be."
The 2013 team includes a number of young rowers who have already raced in GB colours at the World Junior Championships.
In the women's crews Lucy Burgess, Jessica Leyden and Emily Ford raced at the 2012 World Junior Championships and Nicole Lamb and Anastasia Chitty won silver together in the women's four at the 2011 World Juniors on the Olympic course at Eton Dorney.
The men's team contains 2011 World Junior silver medallist in the men's eight, Jamie Copus, and 2011 World Junior 'A' finalists Ed Grisedale and Joseph Guppy.
=========================================================
CREW LIST
Australian Youth Olympic Festival
Sydney, Australia
16 – 20 January 2013
(Name/Club or School)
WOMEN
Single scull
GBR 1
Jessica Leyden (Hollingworth Lake RC)
GBR 2
Emily Ford (Grange School RC)
Pair
GBR 1
Anastasia Chitty (Oxford Univ. Womens BC)/
Nicole Lamb (Newcastle Univ. BC)
GBR 2
Lucy Burgess (Northwich RC)/
Bethany Bryan (Tees RC)
Four
Anastasia Chitty (Oxford Univ. Womens BC)/
Nicole Lamb (Newcastle Univ. BC)/
Lucy Burgess (Northwich RC)/
Bethany Bryan (Tees RC)
Quadruple scull
Jessica Leyden (Hollingworth Lake RC)/
Emily Ford (Grange School RC)/
Maxie Scheske (Oxford Univ. Womens BC)/
Lucy Cruxton (Reading Univ. BC)
Eight
Anastasia Chitty (Oxford Univ. Womens BC)/
Nicole Lamb (Newcastle Univ. BC)/
Lucy Burgess (Northwich RC)/
Bethany Bryan (Tees RC)/
Jessica Leyden (Hollingworth Lake RC)/
Emily Ford (Grange School RC)/
Maxie Scheske (Oxford Univ. Womens BC)/
Lucy Cruxton (Reading Univ. BC)/
Morgan Baynham-Williams (Oxford Brookes Univ. BC) (cox)
Lightweight double scull
Maxie Scheske (Oxford Univ. Womens BC)/
Lucy Cruxton (Reading Univ. BC)
MEN
Single scull
GBR 1
Jack Beaumont (Leander Club)
GBR 2
Luke Moon (Tideway Scullers School)
Pair
GBR 1
Edward Grisedale (Oxford Brookes Univ. BC)/
Timothy Grant (Oxford Brookes Univ. BC)
GBR 2
Joe Guppy (Oxford Brookes Univ. BC)/
Tom Marshall (Royal Chester RC)
Four
Edward Grisedale (Oxford Brookes Univ. BC)/
Timothy Grant (Oxford Brookes Univ. BC)/
Joe Guppy (Oxford Brookes Univ. BC)/
Tom Marshall (Royal Chester RC)
Quadruple Scull
Jack Beaumont (Leander Club)/
Luke Moon (Tideway Scullers School)/
Jamie Copus (Leander Club)/
Benjamin Board (Leander Club)
Eight
Jack Beaumont (Leander Club)/
Luke Moon (Tideway Scullers School)/
Jamie Copus (Leander Club)/
Benjamin Board (Leander Club)/
Edward Grisedale (Oxford Brookes Univ. BC)/
Timothy Grant (Oxford Brookes Univ. BC)/
Joe Guppy (Oxford Brookes Univ. BC)/
Tom Marshall (Royal Chester RC)
Edward Bosson (Cambridge Univ. BC) (Cox)
Lightweight men's double
Jamie Copus (Leander Club)/
Benjamin Board (Leander Club)
=========================================================
TEAM LIST
Australian Youth Olympic Festival
Sydney, Australia
16 – 20 January 2013
(Event/Name/Club or School)
YOUTH MEN
M1x, M4x, M8+ Jack Beaumont (Leander Club)
M1x, M4x, M8+ Luke Moon (Tideway Scullers School)
M2-, M4-, M8+ Edward Grisedale (Oxford Brookes Univ. BC)/
M2-, M4-, M8+ Timothy Grant (Oxford Brookes Univ. BC)
M2-, M4-, M8+ Joe Guppy (Oxford Brookes Univ. BC)/
M2-, M4-, M8+ Tom Marshall (Royal Chester RC)
LM2x, M4x, M8+ Jamie Copus (Leander Club)/
LM2x, M4x, M8+ Benjamin Board (Leander Club)
M8+ Cox Edward Bosson (Cambridge Univ. BC)
YOUTH WOMEN
W1x, W4x, W8+ Jessica Leyden (Hollingworth Lake RC)
W1x, W4x, W8+ Emily Ford (Grange School RC)
W2-, W4-, W8+ Anastasia Chitty (Oxford Univ. Womens BC)/
W2-, W4-, W8+ Nicole Lamb (Newcastle Univ. BC)
W2-, W4-, W8+ Lucy Burgess (Northwich RC)/
W2-, W4-, W8+ Bethany Bryan (Tees RC)
LW2x, W4x, W8+ Maxie Scheske (Oxford Univ. Womens BC)/
LW2x, W4x, W8+ Lucy Cruxton (Reading Univ. BC)
W8+ Cox Morgan Baynham-Williams (Oxford Brookes Univ. BC)
Reserves
Georgia Francis (Pangbourne College BC)
Joel Cassells (Oxford Brookes Univ. BC)
Coaching & Support Staff
Team Manager & Lead Coach – Richard Boulton
Coach – Paul Stannard
Coach – James Harris
Coach – Eira Parry
Physiotherapist – Rachel Burr
===================================================
CONTACT DETAILS
For media enquiries about this event please contact:
Caroline Searle on (01225) 443998 or e-mail [email protected]
GB Rowing Team website, including full rower biogs: www.gbrowingteam.co.uk
Pictures available for media editorial use via: [email protected]
Follow us on:
Facebook: www.facebook.com/gbrowingteam
Twitter: www.twitter.com/gbrowingteam
Youtube: www.youtube.com/gbrowingteam
===================================================
The GB Rowing Squad is supported by the National Lottery