GB rowers win Oxfordshire Sports Awards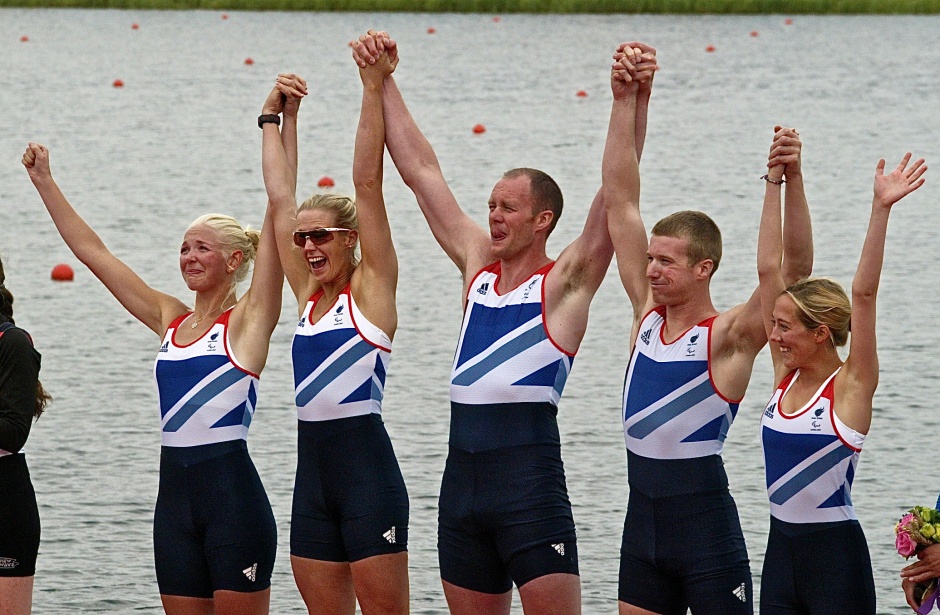 The GB Rowing Team has won two major honours at the Oxfordshire Sport Partnership's Oxfordshire Sports Awards.
London 2012 gold medallists Lily Van den Broecke and Andrew Triggs Hodge won sportswoman and sportsman of the year while the women's junior U16 quadruple scull from Wallingford Rowing Club also won the junior Oxfordshire sports team award at the event on Friday night.
Van den Broecke, 20, coxed the GB mixed coxed four of Pamela Relph, Naomi Riches, David Smith and James Roe to the Paralympic title, overhauling early leaders Germany in the final to the delight of the Eton Dorney crowd.
"Who'd have thought I would win a sporting prize having spent my rowing career telling people what to do (and criticising them for it), whilst I just sit and watch," said Van den Broecke, a former Headington School pupil from Oxford.
"Thank you to my crew and coach who let me develop into the cox and person I am today and further thanks to the British public and media for their overwhelming roars of support during the Games," she added. "This award goes to you."
In August, Oxford's Triggs Hodge, 33, won his second successive Olympic gold in the men's four with an impressive victory over arch rivals Australia – crewmates Alex Gregory, Pete Reed and Tom James delivering when it mattered after Australia won the final World Cup of the season in July.
Triggs Hodge said: "It's a great honour to accept the Oxfordshire Sports Persons award. The last few months have been a constant thrill and reminder of what this country achieved.
"I'm privileged to be a British athlete, proud to be an Olympic Champion and honoured to be able to remind people of what this country did whenever they see my medal.
"Thank you to everyone who supported the games and gave their part, small or large, to produce something so much bigger and better than we could have possibly imagined."
Van den Broecke was selected ahead of fellow nominees Dawn Williams from triathlon and Kathy Hawes from bowls while 110m Olympic hurdler Laurence Clarke and cricketer Jack Brooks were runners up for the sportsman of the year award.
Triggs Hodge follows in the footsteps of his crew-mate Steve Williams at the Beijing Olympic Games who won the award in 2008.
SCROLL DOWN FOR MORE
===================================================
CONTACT DETAILS
For media enquiries please contact:
Caroline Searle, Andy Sloan or Miranda Edwards on (01225) 443998 or e-mail us on [email protected]
Pictures available for media editorial use via: [email protected]
GB Rowing Team website www.gbrowingteam.org.uk – full biographies available here.
Follow us on:
Facebook: www.facebook.com/gbrowingteam
Twitter: www.twitter.com/gbrowingteam
Youtube: www.youtube.com/gbrowingteam
===================================================
SCROLL DOWN FOR MORE
The GB Rowing Squad is supported by the National Lottery