London 2012: Double scull makes it three GB crews into Paralympic finals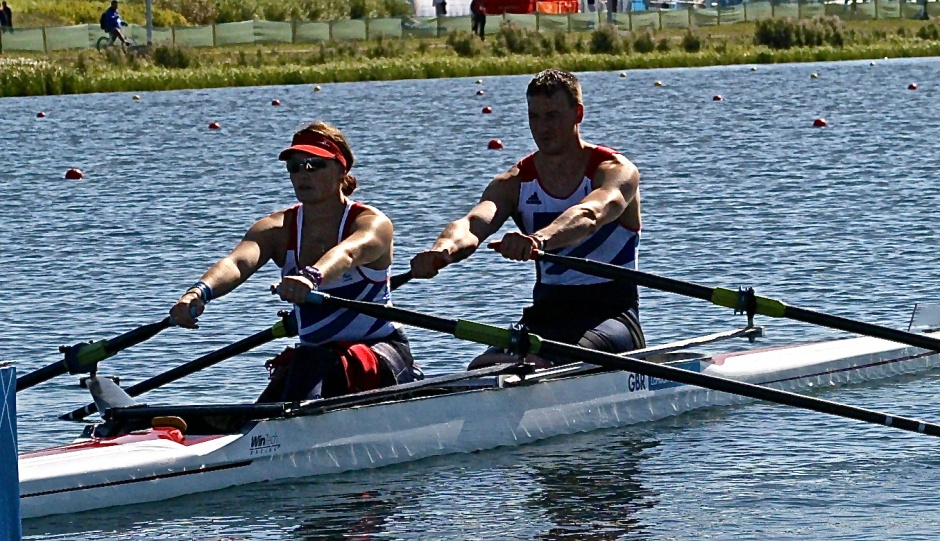 The ParalympicsGB mixed double scull of Army Captain Nick Beighton and Sam Scowen put in a thrilling performance at Eton Dorney to win their repechage and qualify for the London 2012 Paralympic rowing final.
The 'trunk and arms' double, who row using just their arms and upper bodies, join GB's two other crews in Sunday's medal finals after the World Champion mixed coxed four and unbeaten Paralympic Champion Tom Aggar qualified directly yesterday by winning their heats.
"We knew we didn't have a choice," said 24-year-old Scowen from Wokingham who learned to row at Dorney before being spotted at a Paralympic talent day.
"If we wanted to beat the Italians we had to be flat out. It's nice to be joining the two other GB crews in the A final. It's been a brilliant day and tomorrow we will just go out and do our best."
Beighton, 30, from Shrewsbury, who took up rowing after being injured in Afghanistan three years ago, said: "It was just a matter of getting in to the final today. We wanted to go out hard and control it from the front. We will probably bask in the glow of reaching the final until lunchtime then focus on tomorrow.
"Chance plays a part in all our lives and you just go with it. It's bad luck when you step on an IED (improvised explosive device), good luck when reach a Paralympic final."
Beighton and Scowen put in a spirited performance on Friday, finishing a close second to winners France and started well in today's 'second-chance' repechage. They took an early lead in lane three, looking calm and controlled, as the crews raced towards the grandstands.
The GB double, which only came together in 2011 when Beighton came into the GB Paralympic programme, qualified for London 2012 by reaching the final of the 2011 World Championships last September. At halfway, today, GB led Italy by half a length with Brazil pushing on strongly in third.
As they hit the stands and the 'wall' of noise it was a three way race for the two spots in the final. GB holding on in first as the roar increased, matching them metre by metre towards the line.
The GB crew extended the lead to a length in the closing metres to make sure of a place in the final of London 2012 with a burst from Italy closing the gap to half that come the line of bubbles marking the finish line to clinch second and join GB in the final. Brazil were third.
The finals tomorrow (Sunday) are at 11:10am for Tom Aggar in the men's single scull, 11:30am for Nick Beighton and Sam Scowen in the mixed double scull and 11:50am for Pam Relph, Naomi Riches, David Smith, James Roe and cox Lily van den Broecke in the mixed coxed four.
The GB Rowing Squad is supported by the National Lottery.
Open All
Race Results
RESULTS
2012 Paralympic Games
Mixed double scull (TAMix2x) (2 to A final, remainder to B final)
1. Nick Beighton/Samantha Scowen (GREAT BRITAIN) 4:05.91
2. Daniele STEFANONI, Silvia DE MARIA (Italy) 4:07.60
3. Josiane LIMA/Isaac RIBEIRO (Brazil) 4:12.11
4. Olga SOKOLOV/Reuven MAGNAGEY (Israel) 4:20.20
5. Alena ALIAKSANDROVICH/Maksim MIATLOU (Belarus) 4:38.62
Crew List
PARALYMPICSGB CREW LISTS
(listed bow to stroke with club/home town/date of birth)
Arms & shoulders single scull (ASM1x)
Tom Aggar (Royal Docks RC/London/24.05.84)
Coach: Tom Dyson
Trunk & arms mixed double scull (TAMix2x)
Nick Beighton (Guildford RC/Shrewsbury & Yateley/29.09.81)/
Sam Scowen (Dorney BC/Wokingham/29.10.87)
Coach: Tom Dyson
MIXED
Legs, trunk and arms mixed adaptive coxed four (LTAMix4+)
Pamela Relph (Leander Club/Aylesbury/14.11.89)/
Naomi Riches (Marlow RC/Harrow/15.06.83)/
David Smith (Molesey BC/Aviemore/21.04.78)/
James Roe (Stratford upon Avon BC/Stratford upon Avon/28.03.88)/
Lily van den Broecke (cox) (Headington School BC/Oxford/08.01.92)
Coach: Mary McLachlan