Adaptive Camp – a rower's view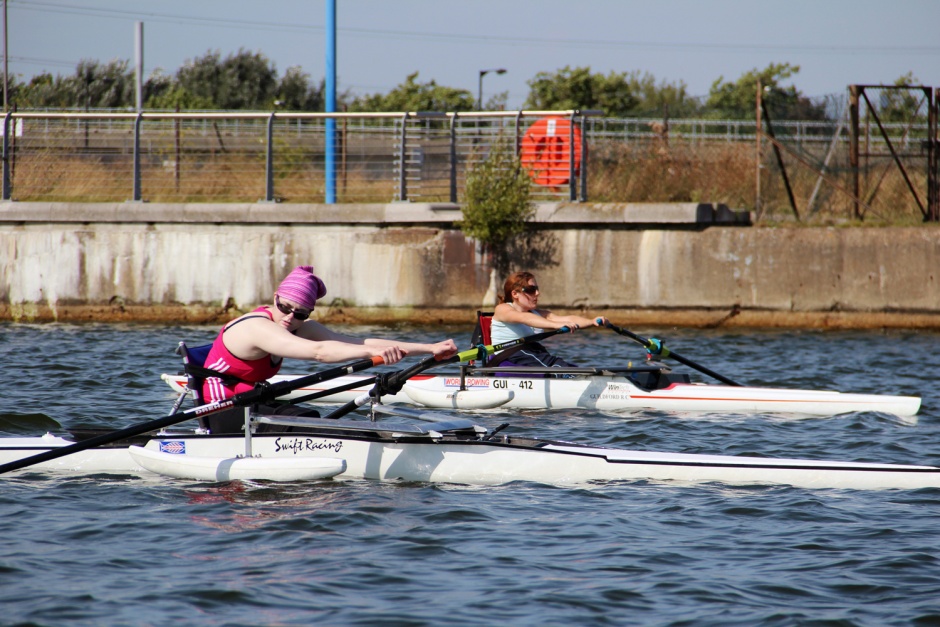 Oundle Town's Claire Connon was one of 70 participants at British Rowing's National Adaptive Development Camp on 8-9 September. Discover how Claire got on at one of the biggest gathering of domestic adaptive rowers in British Rowing's history…
'What I learnt in one weekend was more than I could possibly have imagined.
'After arriving and taking up pretty much every possible space in my room, (I think I might have won the 'Most Luggage' award!) I had a quiet evening.
'It was an early start on Saturday, ready for registration and introductions. Then the stuff we were all there for started. We headed off to the London Regatta Centre where we started rigging boats, and introducing new rowers to the most important tool a rower can possess – a rigger jigger.
'There were a lot of boats to rig and people to boat. More people turned up than expected, which is fantastic as the more people reached, the better for the sport (although I think it was a logistical nightmare for those running it).
'The hard work then started, we were each assigned a coach from a different club, who may or may not have coached the specific category they were assigned. It was great to get a set of new eyes on my technique, and to be introduced to new drills to help improve my stroke. I think it was also good for the coaches to get exposure to different rowers. I think everyone learnt something.
'We were all grateful for the lunch break as it was a scorching day, not ideal temperature for hard work outdoors, but gave good water conditions. During lunch we met with the Paralympic rowers, which was wonderful, and it was an honour to have a conversation with them.
'With the sun still beaming down on us, we had to line up and do a 1000m time trial. It was hard work, but good training – both physically and mentally – making sure you keep going when there's no opposition behind you.
'After exhausting ourselves, we returned back to camp for a couple of seminars, both of which were very valuable and educational.
'That evening we had dinner together and Andy Houghton came and talked about what it was like being on the GB team, which was interesting and very encouraging. I had the chance to speak to Andy, who gave me some good advice.
'On Sunday morning, we were split into three groups. Thankfully this meant I got a bit of a lie in. First on the schedule was strength and conditioning training. This was interesting, and helpful, and gave me some insight into what weight training etc…I should be doing.
'We then headed back out onto the water for some productive coaching, with a different coach again. It was fantastic, as they explained things in different ways which helped my technique massively. Next up was a 500m side by side sprint, which was good fun, especially when I won (although attempting to decapitate a canoeist wasn't my finest moment!).
'The end of the weekend saw people exchanging contact details and discussing Facebook groups – to track when and where people would be racing. I thought this was fantastic, and such a large part of the ethos of the camp.
'A few of us stayed on till Monday and watched the victory parade, we had front row seats, and it was wonderful to see all of the competitors, and see the reaction they got. A fantastic atmosphere and experience.
'I learnt so much at the camp, and it has already improved my rowing. Thank you to those who organised it, and everyone else who came and made the weekend possible.'
Follow Claire on her Adaptive Rowing journey at http://rowrowyourboat.wordpress.com.