London 2012: Unbeaten Aggar and Four into Paralympic finals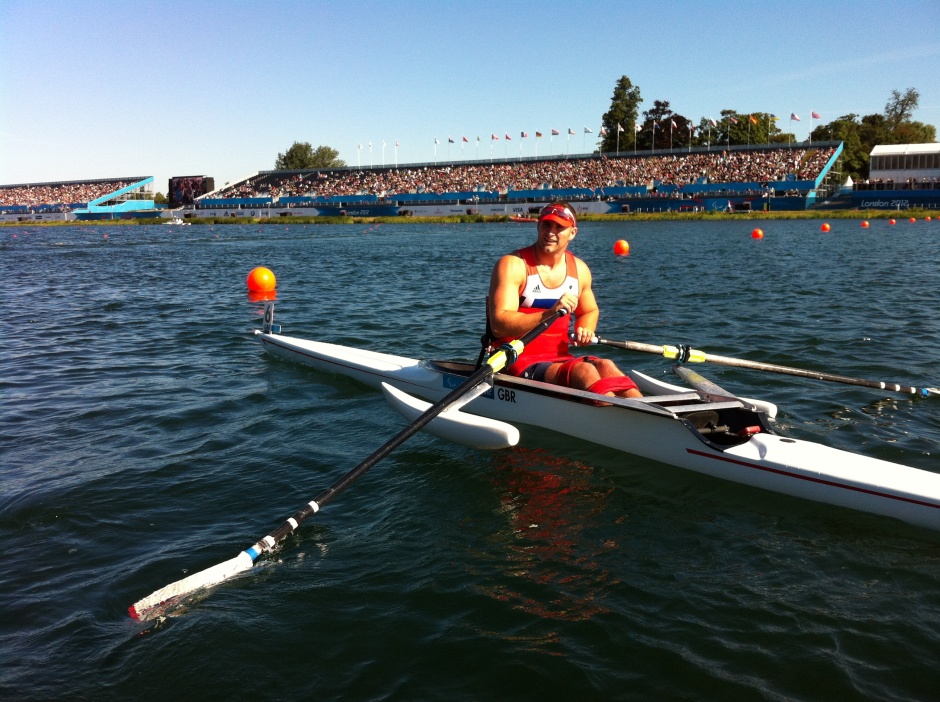 ParalympicGB's two reigning World Champion crews, Tom Aggar in the GB men's single and the GB mixed coxed four, both won their heats in style to secure a place in Sunday's medal finals at Eton Dorney.
Only the winners of today's heats in all the events progressed direct to the finals but Aggar and the four won convincingly to the delight of a big crowd under sunny skies in windy conditions at the Paralympic rowing venue.
GB's Army Captain Nick Beighton and Sam Scowen in the mixed double scull, put in a sterling performance to finish second in their heat behind winners France, who set a new World Best Time, and ahead of Australia. They will now race in the repechage at 10:50am on Saturday and need to finish in the top two to qualify for the final.
GB rowing performance director David Tanner said: "I'm pleased with our rowers today. They were two emphatic wins from Tom Aggar and the four, and a really spirited performance from the double who now have to raise their game again in the repechage tomorrow."
The crowd roared Londoner Aggar home ahead of scullers from Korea and Brazil in the first heat of the men's Arms-and-Shoulders-only single sculls.
Aggar, who switched from rugby to rowing after breaking his back while at University, said: "It went to plan. I went out hard in the first half and then was able to cruise in to the finish. I wasn't fazed by the conditions. Choppy waters can be difficult but everyone is in the same position. I want to go out on Sunday now and set a personal best if the conditions are right."
Veteran, three-times World bronze medallist, Ron Harvey from the USA, went off hardest along with Luciano Luna de Oliveira of Brazil but Aggar hit the front of the field after 350m to a huge chorus of approval from the vocal crowd.
He quickly pulled out a lead of a length and maintained it until the finish, chased by Jun-ha Park of Korea and Luna de Oliveira who finished second and third.
Aggar, unbeaten since he started racing internationally in 2007, faces a tough final which will include China's Cheng Huang who won the second heat in a World Best Time as records tumbled in tail-wind conditions at the Paralympic rowing venue – with new World Best Time's also set in the women's single scull and the mixed double scull events.
"We knew the Chinese were going to be strong and there was a World Best Time in the doubles as well, so it is going to be a real dog fight in the final," said Aggar, who beat Huang in their only race so far this year at the Varese International Regatta in April.
The mixed coxed four were also impressive as winners of their heat, finishing by a clear margin from the USA in second and Canada in third.
"I'm pleased with the race, we had a job to do and we executed it," said Naomi Riches, a five-times World Champion from Harrow and the only survivor from the Beijing four which won bronze.
"The conditions were tricky but we train at Caversham (not far from the Paralympic venue) so we are fairly used to them and just tried to relax. The crowd were amazing but we have to stay in our bubble and listen to Lily (cox Lily van den Broecke)."
Smith, 34, a former GB karate and bobsleigh athlete from Aviemore, who survived a life-threatening operation to remove a tumour in his spinal cord between winning the 2009 and 2011 World Championships, said: "As soon as you hear that noise it just lifts you completely. You can feel they are all there for you."
The crew's cox, van den Broecke from Oxford, 14-years younger than Smith, said: "Nothing took us by surprise but it was still overwhelming. It is hard not to let your emotions come into play but I was proud of the crew because even with all the expectation and emotions they still did the job on the day."
James Roe also praised the partisan crowd and was glad to experience the roar ahead of Sunday's medal race. "It was nice just to get the first race done and out of the way," said Roe, 24, a 2009 and 2011 World Champion from Stratford upon Avon who came from a club and University rowing programme before moving into Paralympic rowing when his eyesight worsened. Roe and Riches both row with black-out goggles.
GB's main rivals Germany also qualified direct for the final winning the first heat of the mixed coxed fours.
Pam Relph, in the bow seat of the GB four, said: "When we raced them at the Munich World Cup we always knew they were going to push us but we just have to concentrate on our own boat. We're only concerned with what we can control.
"It's Paralympic year, everybody is going to step up," added the 22-year-old who followed her sister Monica, a World U23 rowing medallist, into the GB rowing programme in 2010 after arthritis caused her to leave an army scholarship.
The GB mixed double scull which came together in 2011 put in a great performance to qualify the boat for the Games by finishing sixth at that year's World Championships and were proud of their second-placed performance in the heats but know that it is the performance in Saturday's repechage which counts.
Scowen, 24, is a member of Dorney Boat Club whose home water is the Paralympic course where she first learned to row, said: "What we did was solid today. The crowd were awesome. I've been to two World Championships and two world cups and I've never seen a crowd like that."
Her crew-mate, serving Army Captain Nick Beighton, 30, from Shrewsbury, said: "We're happy enough. It's a good start and we've got a few things to work on. We will go home and recover for tomorrow. We've set a good pace and you can only focus on what we are doing."
Beighton was injured in Afghanistan and only came into the sport in 2011 after seeing rowing used in rehabilitation for servicemen and attending a Paralympic talent day through the Battle Back programme.
ParalympicsGB Rowing Team Leader Louise Kingsley said: "There was really good strength in depth in the heats so it was great to see such good performances."
Beighton and Scowen race at 10:50am on Saturday in the repechage against Israel, Brazil, Italy and Belarus and have to be in the top two to qualify.
Open All
Race Results
RESULTS
2012 Paralympic Games
Men's single scull (ASM1x) (1 to A Final, remainder to repechages)
1. Tom Aggar (GREAT BRITAIN) 4:56.65
2. Jun-Ha Park (Korea) 5:01.70
3. Luciano Luna de Oliveira (Brazil) 5:02.21
4. Ronald Harvey (USA) 5:05.45
5. Johannes Schmidt (Germany) 5:17.66
6. Carlos Vysocki (Argentina) 5:27.94
Mixed double scull (TAMix2x) (1 to A final, remainder to repechages)
1. Perle Bouge/Stephane Tardieu (France) 4:00.00
2. Nick Beighton/Samantha Scowen (GREAT BRITAIN) 4:03.23
3. Gavin Bellis/Kathryn Ross (Australia) 4:05.10
4. Josiane Lima/Isaac Ribeiro (Brazil) 4:13.54
5. Michal Gadowski/Jolanta Pawlak (Poland) 4:13.97
6. Olga Sokolov/Reuven Magnagey (Israel) 4:18.45
Mixed coxed four (LTAMix4+) (1 to A final, remainder to repechages)
1. Pam Relph/Naomi Riches/David Smith/James Roe/Lily van den Broecke (GREAT BRITAIN) 3:23.59
2. USA 3:28.36
3. Canada 3:29.69
4. France 3:32.25
5. Ireland 3:33.95
6. Belarus 3:45.44
Crew List
PARALYMPICSGB CREW LISTS
(listed bow to stroke with club/home town/date of birth)
Arms & shoulders single scull (ASM1x)
Tom Aggar (Royal Docks RC/London/24.05.84)
Coach: Tom Dyson
Trunk & arms mixed double scull (TAMix2x)
Nick Beighton (Guildford RC/Shrewsbury & Yateley/29.09.81)/
Sam Scowen (Dorney BC/Wokingham/29.10.87)
Coach: Tom Dyson
MIXED
Legs, trunk and arms mixed adaptive coxed four (LTAMix4+)
Pamela Relph (Leander Club/Aylesbury/14.11.89)/
Naomi Riches (Marlow RC/Harrow/15.06.83)/
David Smith (Molesey BC/Aviemore/21.04.78)/
James Roe (Stratford upon Avon BC/Stratford upon Avon/28.03.88)/
Lily van den Broecke (cox) (Headington School BC/Oxford/08.01.92)
Coach: Mary McLachlan