'Hell' and 'Dagger' crews edge Trial Eights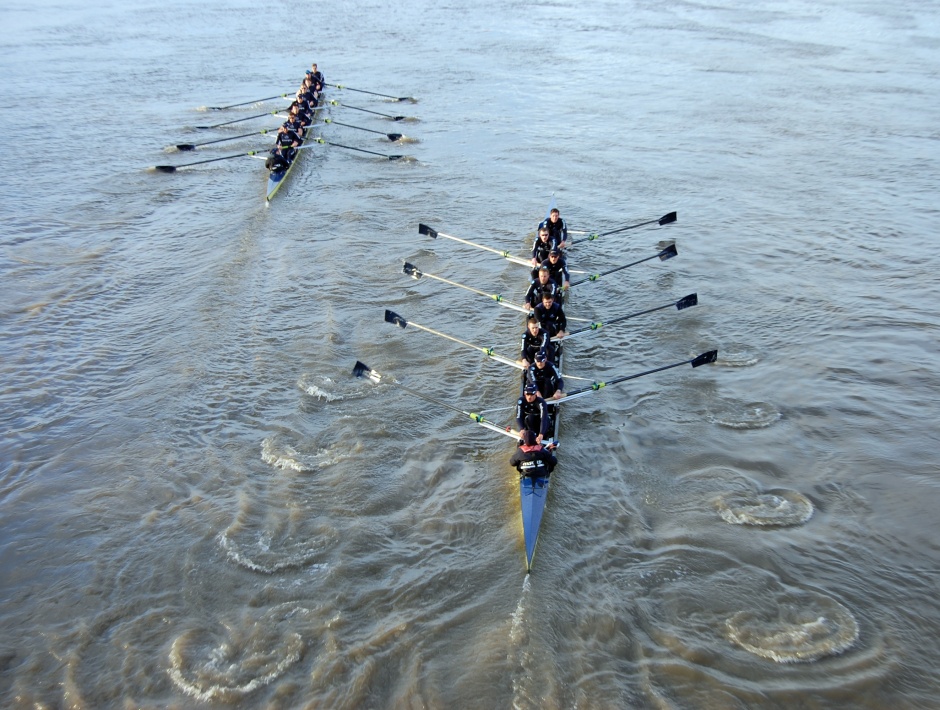 Contrasting conditions characterised the 2012 Trial Eights, with Oxford and Cambridge's University Boat Race crews experiencing equally fierce but entirely different races on the Thames.
Cambridge's eights took to the water first on Tuesday, racing the Championship Course between Putney and Mortlake with crews named Cloak and Dagger.
Light Blue coach Steve Trapmore described the ensuing race as 'one of the best ever', with both crews battling swirling winds and choppy water as the lead changed hands three times over the four-and-a-quarter-mile course.
Dagger – starting on Middlesex station and featuring both returning Light Blue Mike Thorp and squad president Dave Nelson – forged the decisive lead at Barnes Bridge, finishing three lengths clear of Cloak in 20 minutes.
Oxford's crews took to the Thames later in the afternoon, and faced an entirely different proposition to their fierce rivals as the river neared the top of the tide and calmed significantly.
Despite battling wash at Putney and a clash of oars just ahead of the Mile Post, Oxford's Hell and High Water crews matched each other for much of the race.
Hell led by half a length coming up to Harrod's Depository, before their more assured style put a further length between them and High Water by the time they had reached Hammersmith Bridge.
By the finish, the Hell crew – featuring squad president and Oxford's only returning Dark Blue Karl Hudspith – had eked out a one-and-three-quarter-length lead, with a time of 17 minutes and eight seconds.
Trial Eights crews:
Cambridge
'Cloak'
Bow: Felix Wood
2: Peter Dewhurst
3: Sam Lloyd
4: Josh Pendry
5: Joel Jennings
6: Moritz Schramm
7: John Lindemann
Stroke: Alex Scharp
Cox: Sarah Smart
'Dagger'
Bow: Rowan Lawson
2: Phil Williams
3: Nicolas Kernick
4: Alex Ross
5: Mike Thorp
6: Niles Garratt
7: David Nelson
Stroke: Stephen Dudek
Cox: Ed Bosson
Oxford
'Hell'
Bow: Thomas Hilton
2: Chris Fairweather
3: Charlie Auer
4: Ben Snodin
5: Karl Hudspith
6: William Zeng
7: Dan Harvey
Stroke: Roel Haen
Cox: Oskar Zorrilla
'High Water'
Bow: Julian Bubb-Humfryes
2: Geordie Macleod
3: Justin Webb
4: Hanno Wienhausen
5: Kevin Baum
6: Alexander Davidson
7: Alexander Woods
Stroke: Tom Watson
Cox: Zoe De Toledo