GROW programme launches to spread the joy of rowing
Clubs are invited to apply to be part of British Rowing's new GROW Programme, aimed at enabling more young people to enjoy the benefits of our sport. Find out more below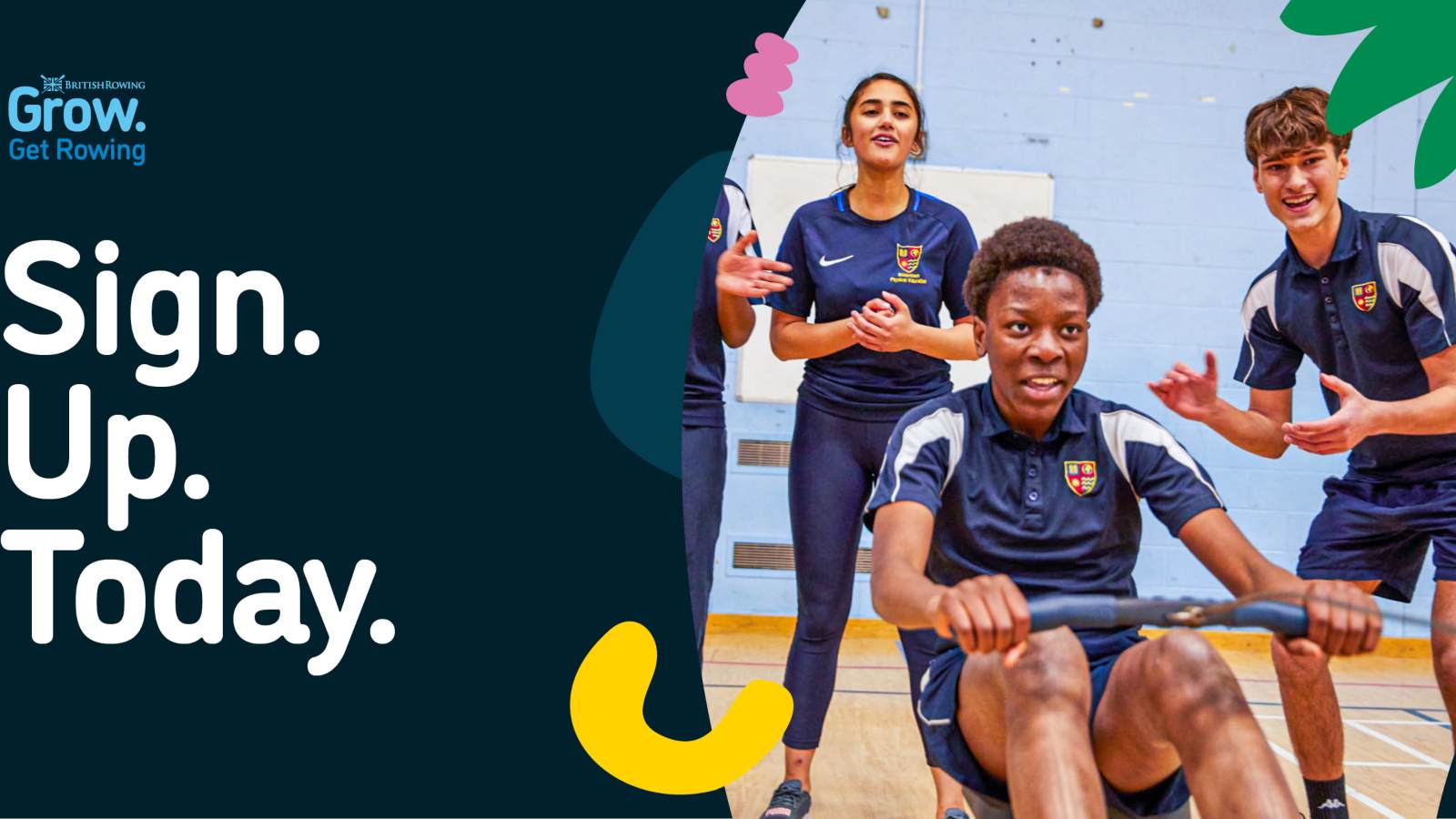 British Rowing is looking for affiliated clubs committed to diversity and inclusion to apply for the exciting new GROW Programme. The programme aims to have funded coaches in a number of clubs across England, and link to local schools and community groups in order to introduce and retain them in the sport.
Rachel Hooper, British Rowing Learning, Education and Development Manager who is leading the GROW programme, said: "We're excited about introducing a new generation of young people to rowing and creating a sport which better reflects today's society."
If your club is looking to expand its coaching workforce to reach out to a more diverse range of young participants, then the GROW Programme can help!
For further information we have produced a helpful FAQ fact sheet below.
Find out more about GROW
1.      What is the mission of the GROW programme?
GROW is committed to introducing a new generation of young people to rowing and creating a sport which is more representative of today's society.  We will GROW the sport in ethnically diverse communities, for people with disabilities, and within socio-economically disadvantaged communities.  We will engage young people who would not traditionally have the opportunity to try rowing.
2.     How many GROW coaches will there be in phase one of the programme?
Initially, there will be three GROW coaches who will be employed on a part-time basis for two years in the first instance.
3.     What is the club selection criteria? 
Evidence of a plan to improve diversity and inclusion in rowing.
A culture which demonstrates a commitment to diversity and inclusion.
A clear understanding of the challenges of engaging the people in their local community they want to reach.
Links to local schools, community and/or faith groups.
A well-established system to support the development of coaches.
A facility with well-established and affordable local transport links for potential participants.
A comprehensive safeguarding and welfare procedure.
4.     Our club has funds to make the role into a full-time position. Would this be an option?
Yes, if your club would like to contribute funds to the programme to employ the coach for additional hours, this will be possible. However, those clubs who wish to contribute additional funds will not be given preferential treatment over those who can't during the selection process.
5.     Where will the GROW coaches be based?
We want the right clubs, and the right coaches for the programme to succeed, so the project locations will be determined by creating the best match of club and coach.
6.     How will the GROW coaches be recruited?
We will encourage people both within – and beyond the rowing community – to find coaches who really understand their local community and the challenges they may be facing. The programme is designed to diversify our coaching workforce as well as those who participate, so the key is to find people with great coaching skills, and we will support them to develop their rowing knowledge.
7.     How can clubs apply to be part of the programme?
Clubs are invited to fill out an application form.
They will need to demonstrate their commitment to diversity and inclusion and how they are creating partnerships with local schools and other parties such as community or faith groups. They will also need to demonstrate how they will support their GROW coach to develop. If your club does not already have an inclusion action plan, a guide can be found here.
8.     How will clubs be selected?
From the initial application, clubs will be shortlisted by a selected panel of British Rowing staff prior to the coach recruitment phase of the programme. Once we have recruited the coaches, they will be matched with the club which best fits their skills and knowledge, and the support system they need to develop.
9.     Will clubs receive any funding for equipment to run their programme?
Clubs will not receive funding for equipment but will receive support from British Rowing to apply for grants to support the growth of their programme.
10.  How will the GROW coaches be managed?
The day-to-day management of the coaches will be through their host club, hence the need to demonstrate a good support system. The induction, HR and ongoing development of the coaches will be supported by British Rowing.
11.   What happens if our club is not successful in becoming part of the programme?
If your club is not successful in the first instance, but has shown a demonstrable commitment to diversity and inclusion, British Rowing will provide support to continue to develop this area of your club.
12.  If we are selected as a host club, how will we monitor the impact of the coach?
We want to demonstrate the impact of the GROW programme on the lives of young people and communities. All the GROW coaches will be trained to report on the sessions they run. Participants will be able to input into this as well so we can monitor the impact rowing has on them as individuals.
13.  What are the next steps once applications have been submitted?
Once club applications have been received, a panel will meet to select a shortlist. This will coincide with the coach recruitment phase of the programme. Clubs will be notified if they have been shortlisted and invited for an informal discussion about the programme to gain more insight into their suitability as a GROW host club.
If your club is ready to be part of this exciting new outreach project, please complete the application form and any supporting documents no later than Friday 18 March and return it to [email protected].
Get in touch!
For an informal conversation about GROW, please contact the programme manager Rachel Hooper at [email protected].