'Without funding for accessible rowing programmes, others like me who face barriers will never have the chance'
The Big Row is taking place up and down the country from 28 June to 4 July. Caroline Roberts finds out more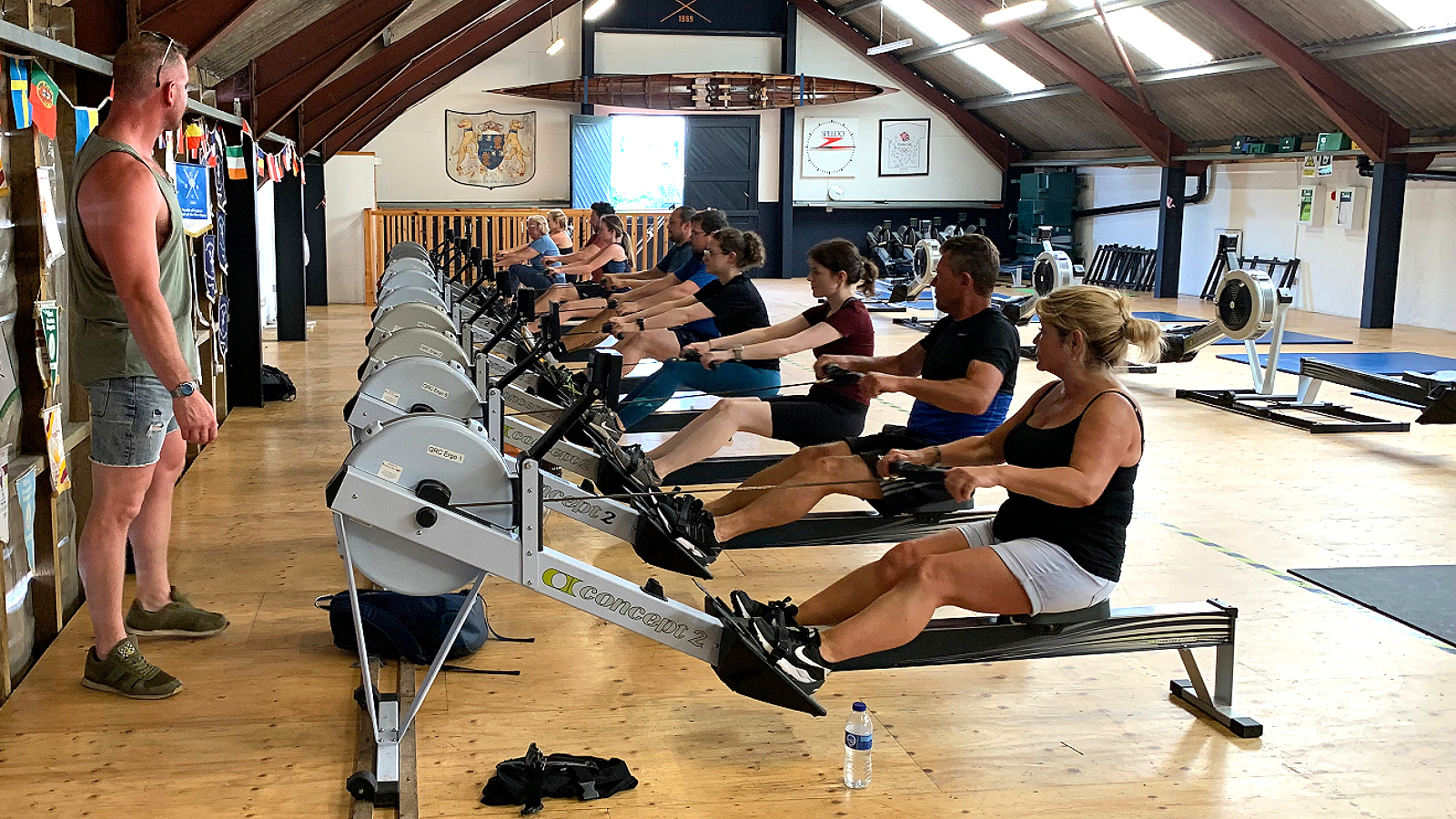 Excitement is building in clubs across the country ahead of the Big Row, our new annual fundraiser for the Love Rowing Foundation, which aims to support inclusive rowing programmes, so people of all backgrounds and abilities can enjoy the benefits of the sport.
From 28 June to 4 July, the rowing community will join together in a collective attempt to row the distance from London to Tokyo and back to Paris in celebration of the Olympics and Paralympics – that's an amazing 19,271 km! Anyone, anywhere can take part, on the water or on the rowing machine. And if your rowing club signs up, you'll get half the amount you raise back as a ringfenced grant to help create your own Inclusive Club Fund.
New rower Allie Mason – pictured below – has a special reason for participating. She has autism and has recently been supported to enjoy her first experience on the water by Just Row Gloucestershire, which is exactly the kind of inclusive club the Love Rowing Foundation is designed to help.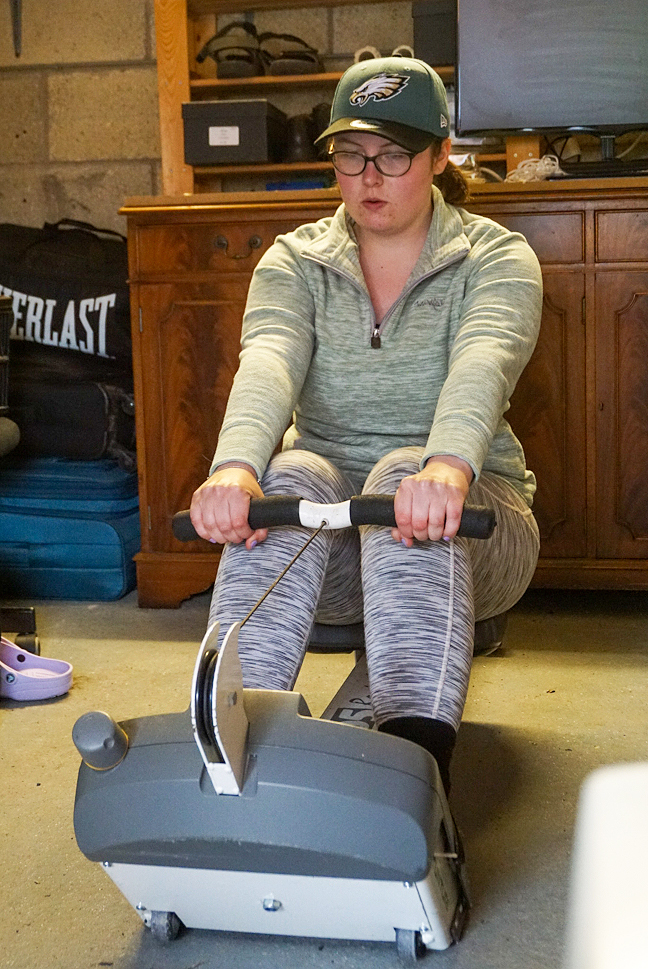 Allie plans to row every day to raise funds for The Big Row
"IndiaJane, my coach, gave me the time to mentally process everything instead of overwhelming me with a lot of instructions and feedback at once," says Allie. "I felt so confident and proud of myself by the time I stepped out of the boat!"
She's planning to fundraise by rowing on the ergo in her garage at home.
"After a whole year of being in our separate bubbles so much, the Big Row will start to bring the club back together"
"It's a quiet space with a fixed view and very few external inputs to distract me. I'm hoping to complete at least 2km every day that week, but if I get really into it, I won't stop there. I love the rhythm and repetition of rowing. Sensory overload can be so debilitating for someone who is autistic and it's such a calming experience.
"Without funding for accessible rowing programmes, others like me who are facing barriers to getting involved will never have the chance. They'll watch from afar and think: 'Gosh, I'd really love to try that … but people like me don't row'."
Meanwhile, City of Bristol RC is busy planning a 24-hour row around Bristol Harbour.
"The whole club will be playing a part with everyone doing a two-hour slot in a coxed quad," says vice-captain Lara Pierpoint.
It will be a real community event with a public 100m erg challenge set up outside the clubhouse and food available all day, she adds.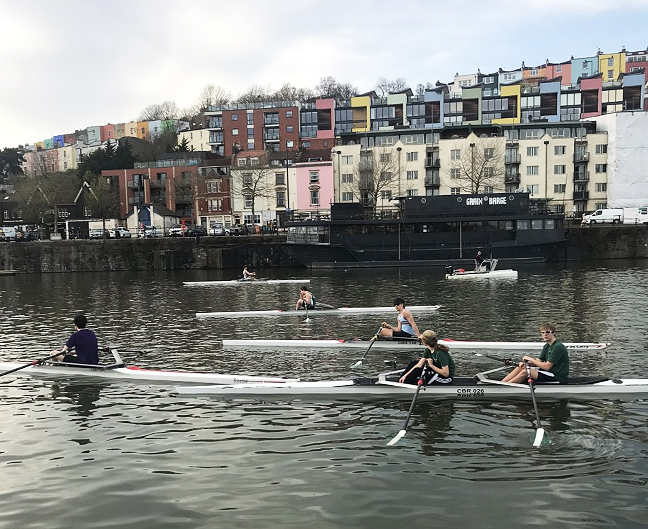 City of Bristol rowers are preparing for their 24-hour row 
"Our fantastic junior parents are going to make a chilli, and obviously there'll be lots of cakes. And Bristol-based Pieminister have done a great offer for us too – four pies for £10 and they're donating it all. At the last count, we'd made about £650. We're a club that loves pies, clearly!
"After a whole year of being in our separate bubbles so much, the Big Row will start to bring the club back together."
The aim is to raise around £3,000 and the grant portion will go to the club's junior outreach programme.
"We're targeting schools with disadvantaged children, starting with an erg programme. Then if they're interested, we'll offer taster days at the club and perhaps get them onto our junior learn to row programme."
"We thought it would be a brilliant event to relaunch rowing, get a buzz around the sport, and inspire our students"
At Wychwood School in Oxford, rowing has been absent from the curriculum for over a century, but now the school is using the Big Row to kickstart a new programme.
"We thought it would be a brilliant event to relaunch rowing, get a buzz around the sport, and inspire our students," says Wychwood's Director of Sport, Francesca Centamore.
The school has set a collective target of rowing 2,021km on the ergo and raising a minimum of £2,021, in support of Team GB at the Olympics and to mark the year rowing was reintroduced.
"We're running the Big Row as part of PE lessons, so every girl gets a go on the ergo, and we'll be putting on extra sessions for each year group, as well as getting staff involved," says Francesca.
The new rowing programme will be delivered in partnership with Hinksey Sculling School, who will be helping to launch the Big Row event.
"One of the reasons we were drawn to them to create this partnership is they're a really inclusive club and one of their big aims is to provide rowing in the community," adds Francesca.
At Grosvenor RC in Chester, the Big Row ethos chimes with the origins of the club, which was set up in 1869 by local landowner the Duke of Westminster to give ordinary people access to the sport.
"In those days, it was only the upper echelons of society who could row and he wanted the people of Chester to be able to have the same facilities, which was quite unusual for the time. We're still a really inclusive community club," says Christine Fawcett, club secretary and novice coach.
Grosvenor has set an ambitious target of rowing 2 million metres over the week.
"It's achievable, but we're going to have to work hard for this," she adds. "Everybody is looking forward to the event and to doing their bit. The longest outing is 17km up to the historic Aldford Iron Bridge on the Duke of Westminster's land. I think there'll be quite a few trips up there that week."
Take part in the Big Row!
There's still time to get involved in The Big Row – you can sign up here!
If you have any queries around registration then you can also email Bernie Hollywood, Love Rowing Foundation Manager, here.