'I would highly recommend DiSE to any eligible junior rowers who would like to improve their performance!'
If you are a promising teenage rower with ambition, the Diploma in Sporting Excellence is a great way of studying for a qualification while also focusing on your rowing career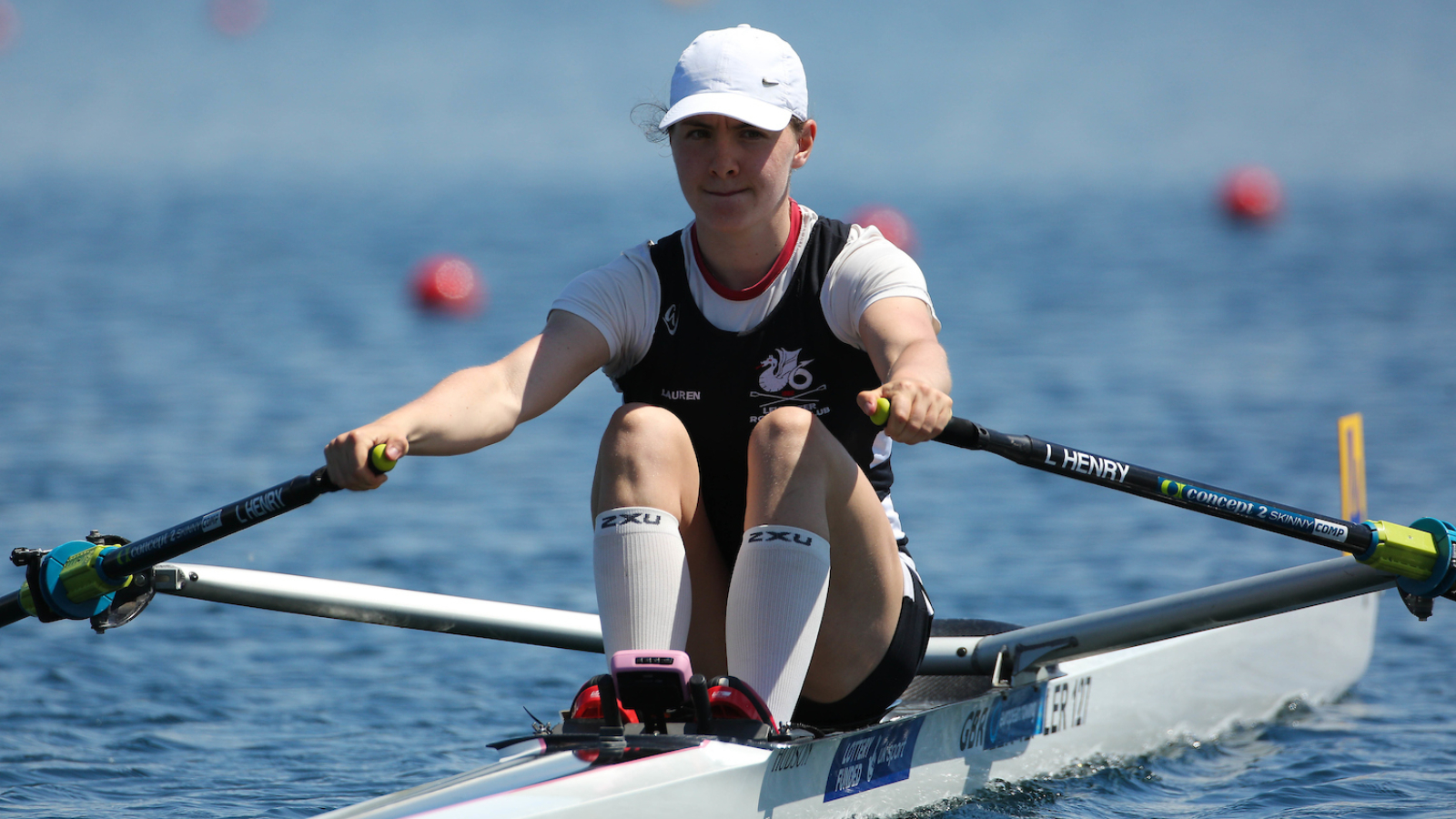 Applications for the next Diploma in Sporting Excellence (DiSE) programme are now open, so it's time to find out from two DiSE graduates – Lauren Henry and Joseph Adamson – how DiSE has helped them and how it might help you!
Pictured above, Lauren is a 19-year-old rower from Leicester Rowing Club who represented Great Britain at the World Rowing Junior Championships and the Munich Junior Regatta in 2019. She plans to study a for degree in economics at Leicester University.
After performing well at trials, she is hoping to get selected for the World Rowing U23 Championships at Racice in the Czech Republic this July.
Reflecting on DiSE, she says: "Race plans were something that I started really paying attention to when I started on the DiSE programme. It really helped me focus on my own performance at GB trials in my single and my results stepped up massively from the previous year, winning all three of the trials.
"It has taught me how to prioritise my time which enables me to manage my high-volume rowing programme with academic work"
"I still give a lot of thought and attention to my race plan and have technical points to think about throughout the race. It's really helped me to stay internally focused in my boat, rather than being concerned what the opposition is doing – something totally out of my control!"
Newcastle University student Joseph Adamson, 20, learned to row at Chester-le-Street ARC and represented GB at the 2018 World Rowing Junior Championships. He enrolled on DiSE to improve his communication and organisational skills.
He says: "Lots of the skills I learnt through DiSE will continue to help me in my rowing career, whether it is my improved communication or better nutritional planning. If it had not been for DiSE I don't know how I would have developed and improved these skills.
"It has been incredibly helpful in my rowing career, teaching me important skills that have helped me become a better athlete. It has taught me how to prioritise my time and set achievable goals which enables me to manage my high-volume rowing programme with academic work."
He adds: "The best part of the course was being able to meet other athletes on the course at events such as trials and training camps and getting to race with and against them. This made the hard sessions more enjoyable."
Lauren, too, enjoyed the DiSE camps, learning a lot with topics ranging from goal setting to nutrition.
She adds: "I also found that my mentor Rachel was really supportive, knowledgeable and friendly and I always enjoyed her visits to my club."
As Lauren and Joseph target the next stages of their rowing careers, it's great to hear that DiSE has contributed towards their progress. What would they say to junior rowers with similar ambitions, thinking about applying for DiSE?
Joseph says: "The lessons and skills it teaches you are extremely valuable and will definitely be beneficial later in life, especially when progressing to university and U23 rowing."
Lauren agrees, saying: "I would highly recommend the course to any eligible junior rowers who would like to improve their all-round rowing performance!"
Applications for the September 2021 intake are now open and close on 15 July
The Diploma in Sporting Excellence programme
The Diploma in Sporting Excellence (DiSE) programme is a part-time course that is designed to run alongside the athlete's main programme of study (Btec/A levels). Athletes who have the talent and determination to progress into the GB Rowing Team can apply for a place on the programme in their J16 year to commence the programme in their J17 year. The qualification, which carries 64 UCAS credits, is awarded as a pass on successful completion of all units. The award covers a range of topics including rowing performance and nutrition through to lifestyle and financial planning.
With 30 places available this year, the course offers an education programme aimed at supporting young athletes to develop and achieve their full potential, as well as gaining a practical sporting qualification.
Graduates from the programme, include GB rowers Jack Beaumont and Jess Leyden.
How does the course work?
Athletes train as normal at their club and study for the DiSE (which is awarded through Hartpury College) via the central programme, where delivery is at camps, trials and via distance-learning and club visits with DiSE mentors.
Loretta Williams, Programme Manager for the DiSE, says: "In addition to the face-to-face sessions there are online forums and learning opportunities available for the athlete to engage in.
"One of the most valuable parts of the centralised programme is the partnership established between the club, the athlete and the British Rowing mentors."
Athletes studying A levels or Btecs at Hartpury College can also apply for a place on DiSE, and should apply directly through the college for this place.
How do I apply?
In order to apply for British Rowing's centralised programme, athletes must have met one of the performance criteria set which is reviewed yearly to ensure it reflects current standards. The criteria is in line with the Junior GB Assessment process, World Class Start testing and Para Talent ID programme.
Applications for the September 2021 intake are now open and close on 15 July.
If you are interested in applying, or have any questions about the programme, you should contact Loretta Williams, Programme Manager for DiSE here in the first instance. You can also apply using the form here.