Rowers' Lockdown Challenge Week 3
Avoid the frustration of lockdown and stay active with our Rowers' Lockdown Challenges: this week it's the five minute challenge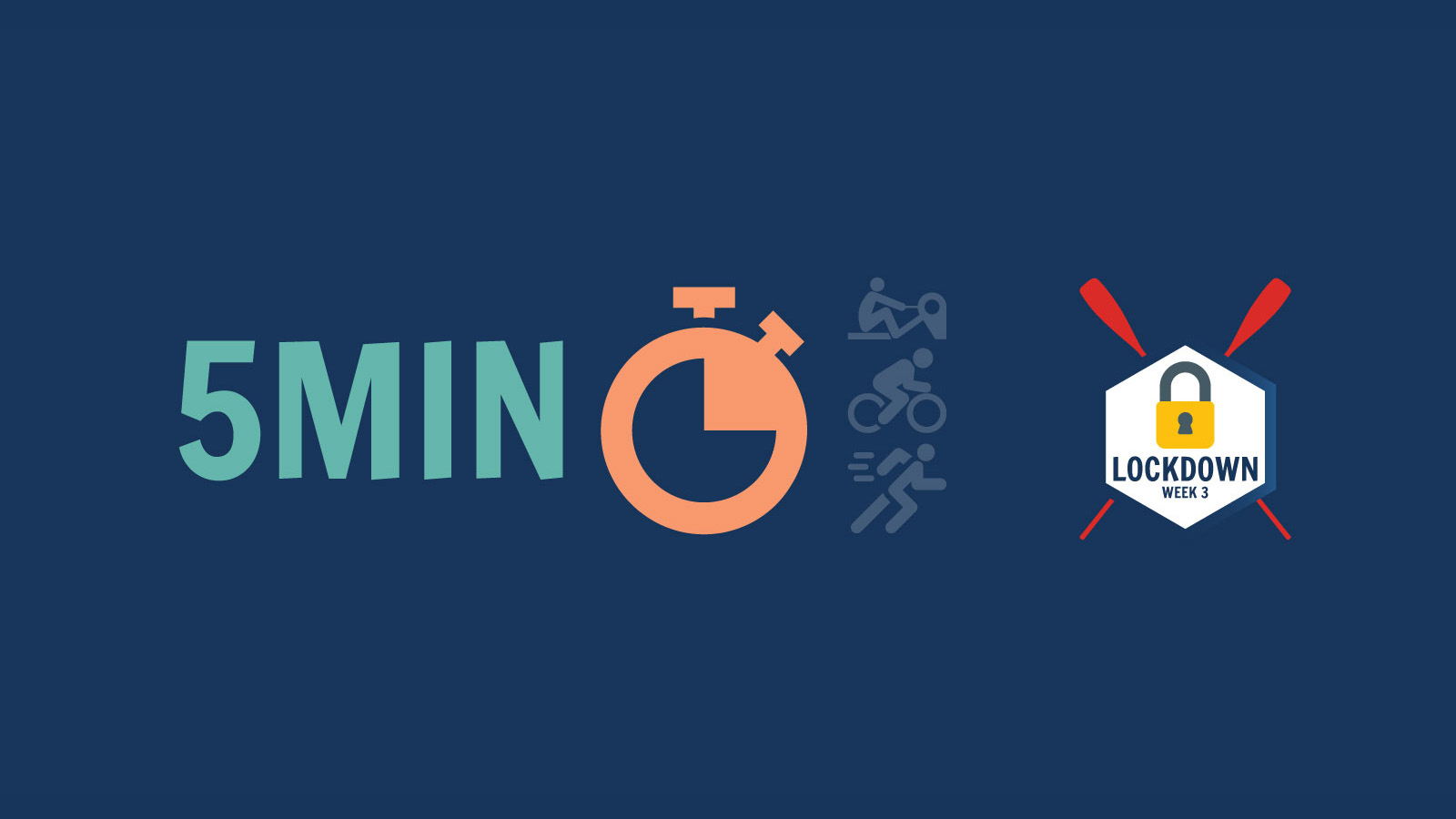 Avoid the frustration of lockdown and stay active with our Rowers' Lockdown Challenges. Each week, whilst rowing clubs are closed, we'll be setting a workout challenge for rowers around the country. Congratulations to all our winners from Week Two who are listed below.
Week three's challenge is the 5 minute Challenge – just cycle, run or indoor row for five minutes, record how many metres you completed and upload it onto our Challenge Hub page. You can record the distance using a GPS tracking app (such as Strava or Garmin Connect) or your rowing machine monitor.
We'll pick ten random winners from all the entries and they will win a British Rowing 750ml bottle.
We will also send ten British Rowing 750ml bottles to the school or University club with the highest number of entries.
There's no entry fee so get involved so enter as many times as you like (only your best time will show on the leaderboard).
Entries for week three of the challenge will close at 9am on Tuesday December 1st 2020
Remember, it's all for a bit of fun during the lockdown so please respect your fellow rowers and we'll keep an eye for any suspicious results from time to time. We may ask you to share a record of your workout to show you really completed it so please take a photo or screenshot.
Icon Credits: Free Pik and Pixel Perfect from Flaticon and Luis Prado from Noun Project
Week Two Winners
Congratulations again to Birmingham Rowing Club who are the winners of a Q&A session with GB Rower, Jack Beaumont! Can anyone knock Birmingham RC off their perch in week three?
Our individual winners, selected at random from all entries, each will receive a British Rowing mug:
Christopher Anton (Birmingham Rowing Club)
Sarah Avril (Birmingham Rowing Club)
Suzanne Briggs (No club)
Carlo Calcagni (No club)
Daniela Hackett (Birmingham Rowing Club)
Sean Houghton (Birmingham Rowing Club)
Anthony P Lorrimer (Nottingham Rowing Club)
Dominic Parnell (Team Keane Sculling School)
Rhian Prichard (Birmingham Rowing Club)
Lydia Swift (Bedford Rowing Club)
If you're a winner – check your inbox as our team will be in touch shortly to help you claim your prize.
Terms & Conditions
This prize draw (the 'Prize Draw') is open to anyone who enters via Challenge Hub into any of the categories of the "Rowers' Lockdown Challenge – Week 3" by 9am on Tuesday, December 1st 2020.
Participants will be deemed to represent the Affiliated Rowing Club submitted into Challenge Hub on entry.
The winner of the club prize will be the Affiliated School or University Rowing Club with the largest number of times in submitted entries.
Entries received outside this time period will not be considered.
Entrants into the Prize Draw shall be deemed to have accepted these Terms and Conditions.
Employees of British Rowing and their family members may enter times into the Challenge but will not be eligible for the Prize Draw.
The winners will be chosen at random from all of the entries. The prizes are non-exchangeable, non-transferable and are not redeemable for cash or other prizes.
The winners will be informed by email before 5pm on Friday, 4th December 2020 and must provide a postal address within the UK to claim their prize. If a winner does not respond within 14 days of being notified by British Rowing, then the prizes will be forfeited and British Rowing will be entitled to select another winner. The prizes will be sent to the winners by post.
The winner of the Affiliated School or University Rowing Club prize will be contacted by email before 5pm on Friday, December 4th 2020 via the email address listed for the club on the British Rowing administration system. If a winner does not respond within 14 days of being notified by British Rowing, then the prizes will be forfeited and British Rowing will be entitled to select another winner.
If a winner rejects their prize or their entry is invalid or in breach of these Terms and Conditions then the winner's prize will be forfeited and British Rowing will be entitled to select another winner.
Promoter: British Rowing Ltd, 6 Lower Mall, London W6 9DJ