The Women's Head: biggest female rowing race this weekend in London
On Saturday 7 March, over 2,500 athletes will race on the River Thames in the 80th Women's Eights Head of the River Race. Daniel Spring reports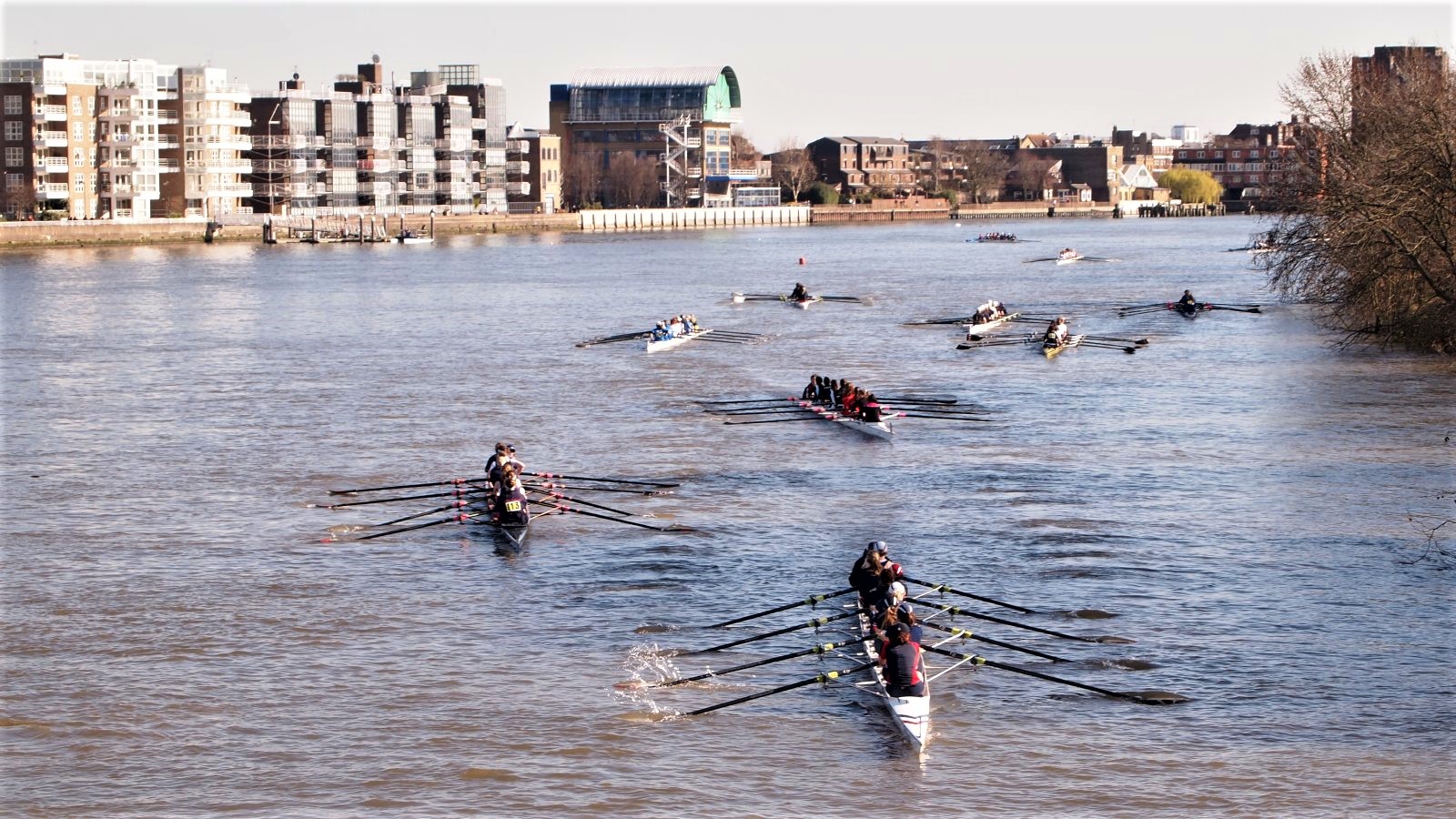 Saturday 7 March sees over 2,500 athletes race the 80th Women's Eights Head of the River from Mortlake to Putney – the largest women's rowing race in the world. This year's competition has attracted crews from across the UK and Europe, all chasing one of 16 pennants on offer. (There is now a reduced field – see race update as of Thursday 5 March here.)
The Status Pennants were revamped for last year's cancelled race so there is still the opportunity for crews to make history as the first winners under the new rules.
The weather has been unkind to rowers recently, with a large number of events cancelled. This means that, not only have crews been missing out on on-water training, but there's also not much of a form guide.
Leander Club (start number 1) were champions in 2018, and with last year's race falling foul to the weather, they go into the 2020 race as defending champions. They have a strong crew, all of whom have raced for Great Britain at senior or U23 level.
Oxford Brookes University are on form after defeating both the Light Blues and Dark Blues in recent Boat Race fixtures
The 2020 Women's Eights Head of the River Race offers a rare opportunity to compare the two potential Boat Race crews, with Cambridge University (2nd) aiming for their fifth consecutive University Pennant, and Oxford University (52nd) racing in the event for the first time since 2012.
Competing in the Open category, Oxford Brookes University (6th) are on form after defeating both the Light Blues and Dark Blues in recent Boat Race fixtures on the Tideway. There will be a strong challenge for the Light and Dark Blues for the University Pennant from Edinburgh University (7th) and the University of London (5th), winners at Quintin Head.
Starting 51st are City of Oxford College. This is a crew of Chinese athletes, studying at City of Oxford College as part of a scheme developed by Sir Steve Redgrave. The crew is full of athletes who raced at the World Rowing Junior Championships last year, including three junior world champions.
The Junior Pennant always produces close racing, and this year looks to be no exception, with Henley Rowing Club (14th), Headington School (22nd), and Marlow Rowing Club (25th) all starting in the top 25. Henley are the defending champions, with Headington and Marlow both having recorded impressive wins this season.
In the Senior category, Thames Rowing Club (12th) take on some high-quality student crews from the likes of Imperial College (3rd) Exeter University (13th) and Brookes (16th) and University of London (15th) 'B' crews.
Coxing the Women's Head
Coxing the course is a real test – Olympic champion and former GB cox Phelan Hill provides some top tips here.
The Club Pennant is split into Open, Small, Medium and Provincial categories. Starting in the top 10, and competing for the Open Club pennant, are Molesey Boat Club (4th), Leander Club 'B' (9th) and Tideway Scullers School (10th). The Provincial Pennant should be a great battle between Nottingham Rowing Club (19th) and Cantabrigian Rowing Club (20th). In 2018 these two crews were separated by just one second. Among the Small Club entries, St Andrew Boat Club (58th) have won the last couple of races and face a strong challenge from Nottinghamshire County Rowing Association (37th).
There are over 30 masters crews this year – one of the largest entries to date – with Pauline Rayner from Thames RC racing in a G composite. Pauline first took part in the Women's Eights Head back in 1954.
The race is due to start at 2:30pm, with the victory ceremony taking place at 6:45pm in front of Thames Rowing Club, where the prizes will be presented by 2012 Olympic champion, Sophie Hosking MBE.
Keep updated on the latest news and weather reports by following @BritishRowing and @WEHORR on Twitter