Fullers Head of the River Fours preview
The Fours Head is scheduled to start on Saturday 23 November at 12.45pm with a reduced entry owing to conditions. Martin Gough highlights some of the crews to watch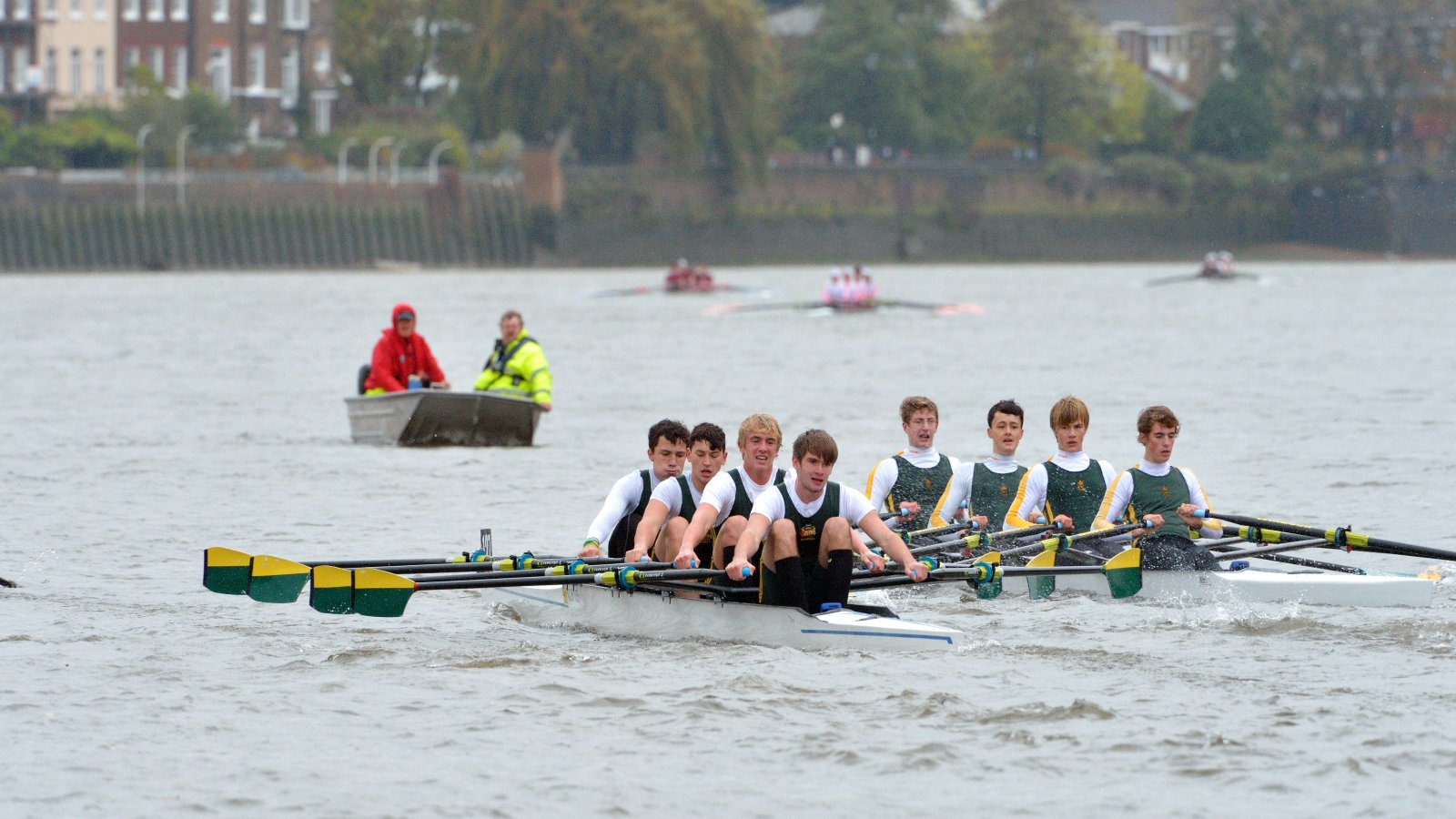 Rowers from senior international level to club athletes and juniors are set to take part in a reduced version of the Fuller's Head of the River Fours, while the Veteran Fours Head is likely to go ahead as planned this weekend after a fraught week of watching the weather.
The stream on the tidal Thames has been strong following recent rain and although it has eased significantly this week, HoR4s have reduced their entry by 100 to 380, by asking less experienced crews to scratch in each category. This should allow more space for marshalling because of the challenging conditions.
Vet Fours have issued extra advice to the 215 crews entered for Sunday's race to beware the effects of land water running against the first of the incoming flood tide, although that is expected to stop before the race takes place from the Mile Post to Chiswick Staithe, just above Chiswick Bridge.
Leander Club will definitely not be racing on Saturday, however. They were one of the clubs that missed out as HoR4s entries filled up in just 15 days. The club won four pennants last year, including the two fastest men's and the fastest women's crew.
In their absence, the overall headship looks likely to be a battle between the Great Britain quad that won the world under-23 title in Florida last summer and a crew from the Swiss Rowing Federation, which includes three senior internationals.
The Swiss crew finished a surprise fifth last year and rumour has it they have spent a fortnight training together, while the GB quad – racing as composite of four clubs – planned to get together at Tideway Scullers School on Friday for the first time since winning gold in Sarasota in July.
"We decided in the summer to do Fours Head," said the quad's coach Kieran Clark. "Some of the reason behind it was that it was our only chance to race the GB senior internationals [from Leander] but it's turned out like this."
Clark, who is head coach at Tideway Scullers, feels the women's quads will be one of the most competitive events. A TSS crew boasting two U23 internationals plus two Pairs Head winners will take on a quad comprising three of the GB world U23 champion quad, rowing as Molesey BC/Edinburgh University. There is a strong-looking Swiss entry in this event too.
The headship looks likely to be a battle between the Great Britain quad that won the world under-23 title in Florida last summer and a Swiss crew
The School/Junior coxed and coxless fours events will see St Paul's and Westminster Schools aiming to defend their respective titles but the other junior pennants look likely to have new winners this year.
Five senior internationals will race for Oxford Brookes University in Band 1 Coxed Fours but their closest rivals as fastest crew in this boat type are likely to come from the Academic category, where the top boats from the universities of Oxford and Cambridge duke it out.
Harry Brightmore has coxed Brookes to victory (or a share of it) in each of the last three eights Head of the River Races in March but has not taken part in HoR4s for five years.
"Fours Head is one of the races where the GB guys come back to their clubs so we're putting four guys who are doing great into a coxed four to see how we go," he said.
"We would have been racing GB team-mates so it's a bit of a shame Leander aren't there but this is a huge fixture in the Boat Race calendar and Oxford and Cambridge will be going at it hammer and tongs."
Crews to watch
Men's quads
1 – Tideway Scullers/Edinburgh Univ/Nottingham RC/Durham Univ
(Sam Meijer, Josh Armstrong, Matt Heywood, George Bourne)
2 – Swiss Rowing Federation
(Barnabe Delarze, Roman Röösli, Jan Schaeuble, Andri Struzina)
Women's quads
91 – Edinburgh University/ Molesey BC
(Lucy Glover, Molly Harding, Lola Anderson, Lucy Primmer)
92 – Tideway Scullers School
(Susannah Duncan, Saskia Budgett, Katie Wilkinson-Feller, Fran Rawlins)
93 – Swiss Rowing Federation
(Frédérique Rol, Patricia Merz, Sofia Meakin, Eline Rol)
Men's coxless fours
10 – Molesey BC
(George Stewart, Will Stewart, Oscar Lindsay, Ollie Salonna)
11 – Swiss Rowing Federation
(Markus Kessler, Paul Jacquot, Nicolas Kamber, Nico Stahlberg)
Women's coxless fours
134 – Cambridge UWBC
(Tricia Smith, Laura Foster, Larkin Sayre, Sophie Paine)
Men's coxed fours
32 – Isis (Oxford Univ)
(Felix Drinkall, Tobias Schröder, Charlie Buchanan, Augustin Wambersie, cox: Toby De Mendonça)
33 – Goldie (Cambridge Univ)
(Freddie Davidson, Callum Sullivan, Arthur Doyle, Ben Freeman, cox: Charlie Marcus)
71 – Oxford Brookes Univ
(Rory Gibbs, Matthew Tarrant, Josh Bugajski, Morgan Bolding, cox: Harry Brightmore)