British coastal rowers take on the world in Hong Kong
British crews are racing at the World Rowing Coastal Championships in Hong Kong from 1-3 November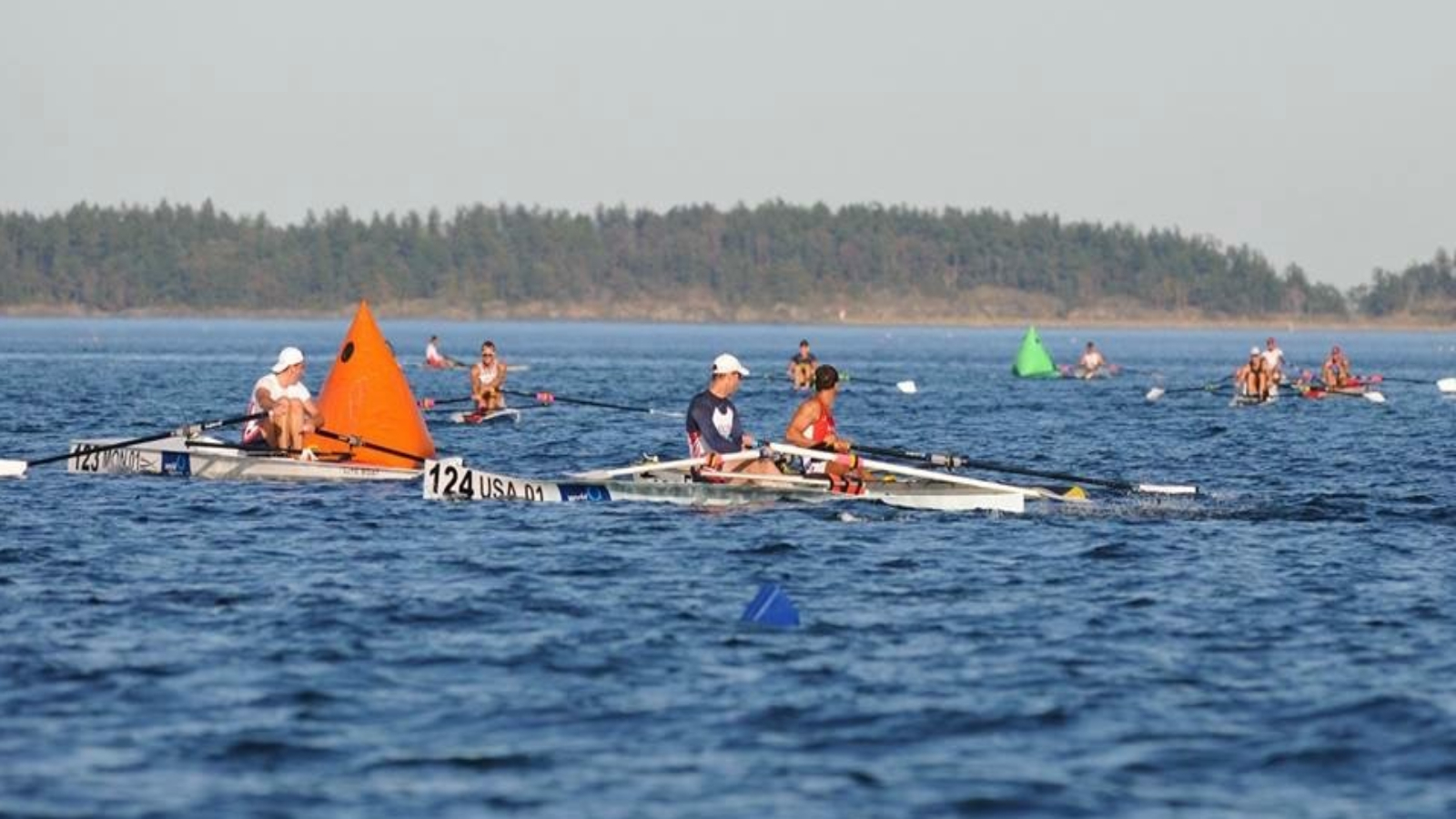 Racing started today with hundreds of coastal rowers – including British crews – competing in Hong Kong's Victoria harbour by the city's iconic city skyline.
Six heats were held earlier with three GB crews earning places in Sunday's A final. In the men's double sculls, crews from Bexhill / Deal RC and Scarborough RC / Royal Hong Kong Yacht Club came third in their respective heats to go through. There was success too for UL Tyrian in the women's quadruple sculls, coming second in their heat to book their A final berth.
All you need to know about the World Rowing Coastal Championships
Around 500 coastal rowers from 29 countries – including 43 British rowers from 11 clubs – are racing in the 2019 World Rowing Coastal Championships from 1-3 November in Hong Kong's Victoria harbour.
This is the first time the championships has been hosted in an Asian country since the first event in 2007.
The seven different boat classes include the coastal mixed double sculls, introduced last year, plus coastal solos, doubles and quadruple sculls for men and women.
When will they be racing?
The Championships take place through to Sunday 3 November with Monday 4 November held as a reserve day.
Competing on a 4km course with buoyed turns, racing opened with the heats on Friday and continues through to Saturday. The B finals are scheduled to start on Saturday afternoon, progressing through to Sunday morning.
The A finals take place over a longer 6km race course and are scheduled to begin at 10:45 on Sunday morning. The 2019 Championships will finish with the final of the mixed double sculls.
Who is representing GB?
A total of 22 British crews are racing in Hong Kong, with entries in all seven boat classes.
UL Tyrian Club have the biggest squad with eight crews, including men's solo world champion Eduardo Linares Ruiz, who represented Peru last year, but racing in purple and gold this time.
There are four British crews entered for the men's coxed quad sculls with three from UL Tyrian and one from Jersey Rowing Club. The women's equivalent has one GB crew entered, from UL Tyrian.
The most popular boat class is the men's double sculls where GB has five entries including Bexhill's Mark Mitchell, Olympian Peter Wells from UL Tyrian plus crews from as far away as Guernsey, Deal and a Scarborough RC / Royal Hong Kong Yacht Club composite.
UL Tyrian Club have the biggest squad with eight crews, including men's solo world champion Eduardo Linares Ruiz
In the women's boat classes, Jenny Glass from Dolphin Rowing Club returns, competing in the women's solo and pairing up with Anne Wren Effenberg in the women's double sculls.
Bryony Jones from Llanion Warriors is down for the women's solo and also teams up with Ricky Rouille in the mixed double sculls, together with three other GB mixed crews.
Who else will be there?
Crews from 29 countries have entered, including rowers from American Samoa, Brazil, Denmark, Ireland, Russia, Ukraine and Vanuatu, with the many Hong Kong crews hoping to keep the home supporters cheering.
The men's solo has the highest number of entries with 45 competitors while the men's double sculls is second highest with 42 entries.
All three medallists from last year's race are returning with 2018 world champion Eduardo Linares Ruiz, defending his title. Germany's Lars Wichert, 2018 silver medallist, and Italy's Simone Martini, a bronze medallist, will be hoping to change the colour of their medal this year.
Returning champions include Ukraine's Diana Dymchenko, who is attempting to win a third consecutive title in the women's solo category.
Dutch duo Janneke van der Meulen and Mitchel Steenman are also back to defend their 2018 title in the mixed double sculls, together with last year's silver medallists from France, Pierrick Ledard and Edwige Alfred and bronze medallist from Spain, Ander Martin who teams up with new partner, Maria Del Mar Ferrer Sanchez.
There is plenty of home interest for the spectators, with the Hong Kong contingent including Rio Olympians and 2018 Asian Coastal champions Carmen Lee, Yuen Yin Lee and Chiu Hin Chun.
How can I watch the racing?
There will be live-streaming of racing on www.worldrowing.com at the following times:
Saturday 2 November: 13:20 local time (05:20 GMT) – 16:05 local time (08:05 GMT)
Sunday 3 November: 10:35 local time (02:35 GMT) – 17:50 local time (09:50 GMT) with a transmission break between 13:30 and 14:25 local time (05:30 – 06:25 GMT)
About Hong Kong
The World Rowing Coastal Championships is taking place in Hong Kong's bustling Victoria Harbour. One of the world's busiest ports, this stretch of water is frequented daily by a myriad of vessels from commercial ships and cruise boats through to smaller pleasure craft.
The World Rowing Coastal Championship course is designed to challenge crews and test their skills with buoy turns and prevailing sea conditions.
Victoria Harbour offers all the drama of coastal racing and spectators can follow the action from both sides of the harbour.
Visit the World Rowing website for the full list of entries and more details.