'The Great River Race is a chance to challenge yourself and be part of something extraordinary!
The annual Great River Race on the Thames in September is a celebration of traditional boats of all shapes and sizes. Enter before 21 August to book your place!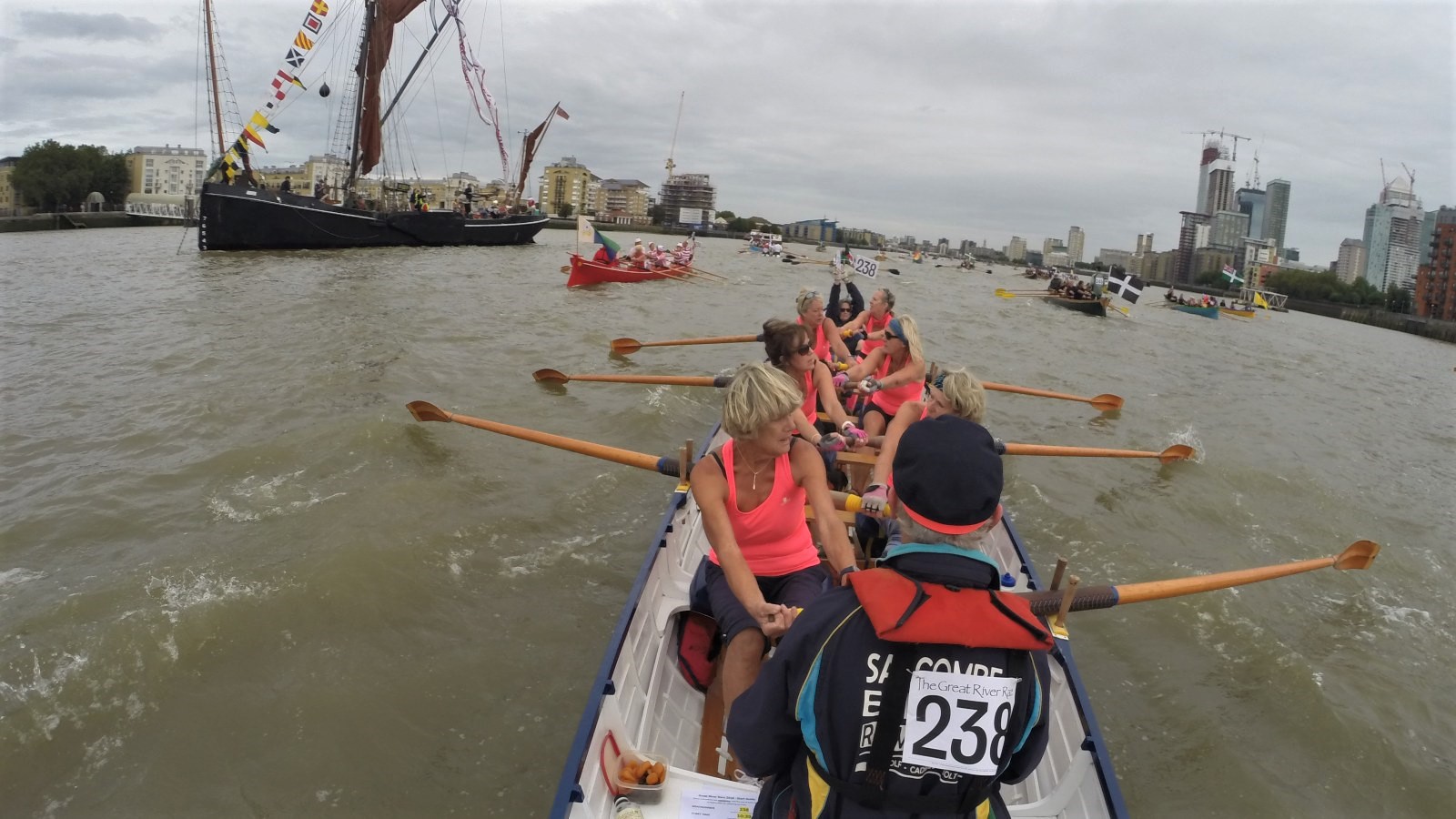 London's 21.6-mile river extravaganza – the Great River Race – is a colourful celebration of traditional boats, with crews often wearing fancy dress, and runs from Docklands to Ham on Saturday, September 14.
Last year, the Great River Race attracted over 2,000 competitors in 329 traditional boats, with crews coming from as far away as America, Kuwait, the Netherlands and Romania, as well as all corners of the UK.
Crews enter different categories with 35 trophies available in boat classes that include Celtic longboats, currachs, Cornish gigs, Thames skiffs – to name a few. There is even a trophy for the crew that's demonstrated sportsmanlike behaviour during the race.
Last year, a women's crew from Salcombe Estuary Rowing Club won the veteran women's section of the Great London River Race – the first Cornish gig crew to win this category. They were also second fastest overall in the women's category.
Crew member Sam Wyatt talks about her experience at the 2018 Great River Race below.
Why did you decide to enter?
Sam: Our team decided to take part because Salcombe has a long tradition of doing so, and we are part of a section of our club that enjoys and trains for long-distance events.
How did the crew come together?
Our crew has been rowing together competitively in the gig world for many years, taking part in the World Pilot Gig Championships in the Scillies – we have also rowed together in regattas up and down the coast of Devon and Cornwall.
What started out as a social Friday evening row to keep fit has grown into a passion for competitive racing with training sessions on the water through the winter and long-distance practice rows two or three times a week.
Our crew are now all over 50, most over 60 and our brilliant stroke oar is over 70 – we feel very privileged to still enjoy being competitive, let alone competing in races of over 20 miles!
Enjoy the opportunity to be part of such an amazing event and look at the sights as you row past
Had you all rowed the marathon distance in your training?
To start with, our training sessions were usually for an hour using interval training techniques, however we needed to build stamina as well as fitness and increased our practice sessions to two hours twice a week.
What was the best thing about the day?
Rowing past the iconic sights of London along the banks of the Thames and being part of an event that encompasses such diverse and positive rowers of all ages, abilities and nationalities. There is a huge sense of camaraderie amongst the rowers taking part.
Being part of the Great River Race is an opportunity to make memories, challenge yourself and be part of something that is extraordinary and great fun!
And the most challenging?
Staying on the dance-floor right until the end of the celebrations after the race!
What would your top three tips be for a successful day at the Great River Race?
Preparation – enjoy the opportunity to be part of such an amazing event and look at the sights as you row past – party hard afterwards!
Find out more about the Great River Race here.