200th Cornish pilot gig boat unveiled
The 32 foot long pilot gig boat was built by Louis Hunkin of Fowey for the Sidmouth club in Devon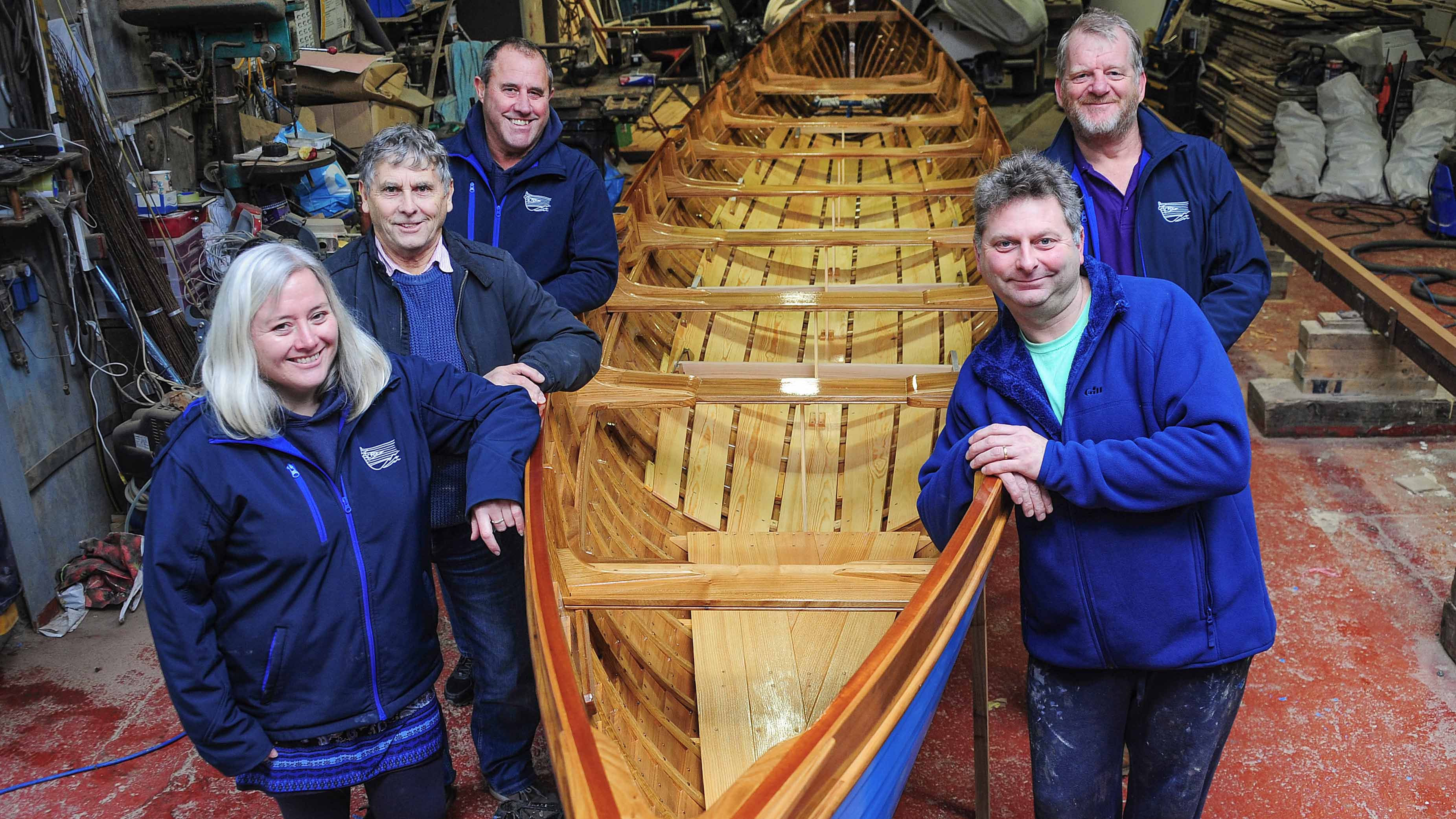 The Cornish Pilot Gig Association has announced a milestone event in the sports rapid growth as it measured, and officially approved, the 200th wooden Cornish pilot gig.
All Cornish pilot gigs built today follow the lines of the gig 'Treffry', a 32 foot long pilot gig built in 1838. The Cornish Pilot Gig Association (CPGA), who oversees and maintains this one class design, sent their standards team to a boat yard in Fowey to measure the 200th pilot gig built Louis Hunkin.
Shane Sullivan, Chairman of the CPGA, said: ''This is a real milestone for our sport. In just over 25 years the sport has exploded, growing from twelve boats to 200, and this rapid growth shows no signs of slowing. Excluding the overseas clubs, we now have approximately 8,000 active rowers spread across 71 clubs in ten UK Counties. – making Cornish Pilot Gig rowing and racing one of the fastest growing sports in the Southwest, if not the UK.''
The 200th gig, built by Louis Hunkin of Fowey for the Sidmouth club in Devon, officially passed its final inspection on Friday, 5 January 2018. This is Hunkin's fifth solo build although he has built twelve with his father, Maurice Hunkin at the family boat building yard – W.C. Hunkin and Sons of Fowey.
If follows gig 199 built by Patrick Bird in London and named 'Hurricane'. Son of the legendary gig builder Ralph Bird who was one of the founders of the CPGA back in 1986 and helped to lay down the specification for all gigs.
Next up is number 201 built by David Currah of Looe. This gig being built for Looe will be Currah's sixteenth solo build having amassed 27 building with his father, Jim Currah at Looe.
The gigs are clinker built (of elm) and copper fastened. Nearly 4,000 nails and over 3,000 roves, go into the Gig boat with over 800 feet of elm being used. When complete a Gig is 32 feet long with a beam of at least 4'9".
Jeremy Mitchell, Marketing and Communications Director at St Austell Brewery, long term sponsorship partners of the CPGA, commented: "It has been a real privilege to have been involved with gig rowing from the earliest days and to have watched it grow so phenomenally into the truly international sport that it is today. The launch of the 200th traditionally-built gig boat is testament to the guardianship that the CPGA has provided across the years, nurturing the rebirth of a key part of our Cornish heritage and we're really looking forward to welcoming the new Sidmouth gig onto the water."
A complete package for a gig, trailer, oars, cushions and cover is in excess of £32,000, so for all the clubs their gigs are something that they work hard to raise funds to purchase.
The official launch date and name for the 200th gig will be confirmed shortly by the Sidmouth club.
For more information please contact [email protected].