GB's Peter Sheppard trains prize winners Staines BC
Staines BC women's and junior squads welcomed GB Rowing Team U23 and Juniors Chief Coach Peter Sheppard for a guest coaching session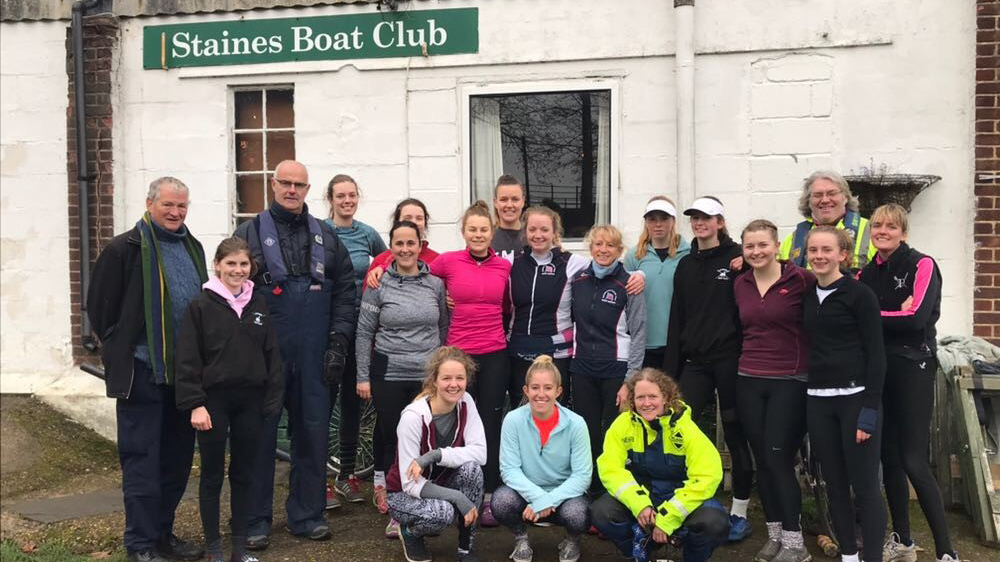 Staines BC welcomed GB Rowing Team U23 and Junior Chief Coach Peter Sheppard to Riverside Drive on Sunday, 3 December for a guest coaching session with the women's and junior squads.
The club was drawn at random as winners of a prize draw for entering the British Rowing Senior Championships by 6 October. Georgina Watling of Staines BC tells us about the day.
"We started the session with a quick debrief and then out into the eight for a long steady state session in the cold!" she said.
"After watching us for a while, Pete gave us some incredibly useful tips about where to apply the power in the stroke and gave us a visual marker which was very helpful. He also gave individual pointers and was very encouraging when changes were made.
"He spent time with our junior girls' quads and, later, with the junior boys' eight, who all said they felt they made huge improvements during the session."
The session was a huge success with rowers involved saying:
"A new perspective is always useful, especially from such an experienced set of eyes. Pete has given us a lot to think about during the long miles of winter training.  We look forward to implementing his advice in the new year, especially at the Women's and Schools' Head Races in the Spring.  Thank you to British Rowing and Pete!"
"He was very quiet, thoughtful and spent a while watching us, and then would then just come out with one or two brilliant pointers that seemed to make the boat flow so much better when we made the changes. A fab session!"
"It was really inspiring to have somebody who works in rowing at the top level, take time to come down and provide coaching to aspiring athletes. His hints, tips and guidance provided a fresh insight into our technique and gave us new methods of improving this to further develop in our training."
Watling concluded: "Thanks again for making this all happen, it was a wonderful and very unexpected experience."
If you are interested in rowing for Great Britain, then find out how you can take your skills to the next level through our talent identification programmes.