Great River Race extravaganza as crews prepare for racing
The Royal Dolphins are entering their eighth adaptive crew into this year's Great River Race. We meet the current crew and find out how they got the rowing buzz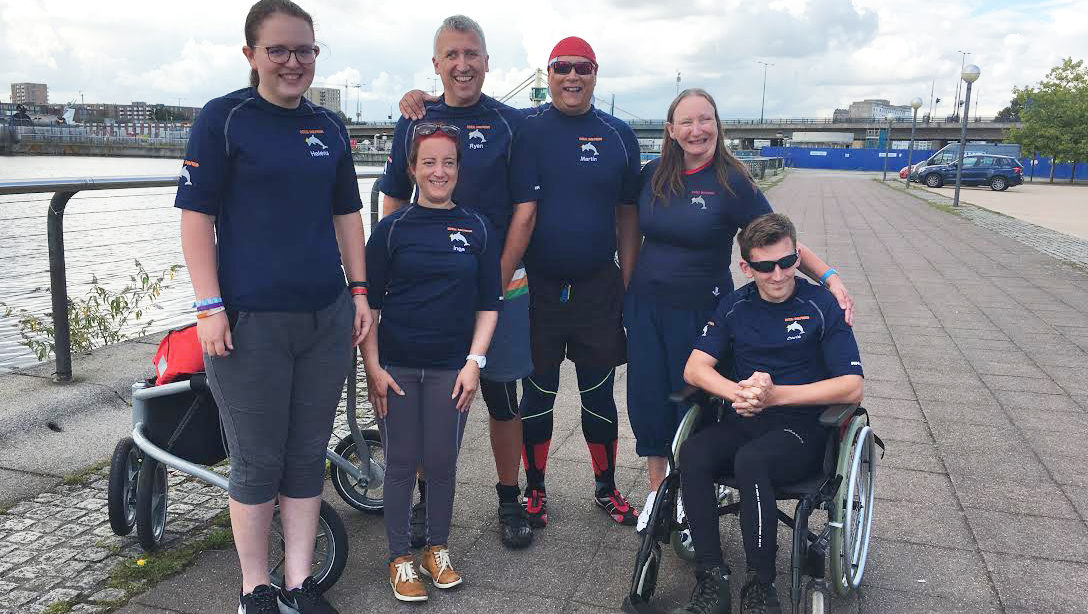 On Saturday, 9 September over 330 crews will descend on the Thames for the 21.6-mile Great River Race. Open to traditional boats only, a festival atmosphere is guaranteed with many crews wearing fancy dress and colourful wigs.
Crews will launch at Millwall Riverside, navigating through Tower Bridge – the first of 28 bridges on the upstream course. The last bridge is at Richmond, signalling the end of the race 1.2 miles later.
Based at the Royal Docks, the Royal Dolphins have competed in seven Great River Races and love the challenge of the longer race. They all have different disabilities but they have one thing in common – a passion for rowing.
So how did this year's crew get into rowing?
1 – Inga
I'm 38 years old. I had wanted to row for a while and being in a team with like-minded people, who all have disabilities, means you don't get judged for not keeping up. We respect and motivate each other.
I was born prematurely and as a result have got scoliosis and a curved left foot. I can't run fast or jump so any sport involving a ball was out of the question for me. I've never thought of myself as a sporty person but my perception of myself changed when I joined the Royal Dolphins at Royal Docks Adventure.
Being able to use my body for a sport I love, despite my mobility issues, is an amazing feeling. I've been with the team for one year now and my mobility and balance have definitely improved. I feel stronger and ready for anything.
2 – Martin
I am 44. In May 2005, I was involved in a near-fatal car collision. I was rushed to hospital via air-ambulance and was without oxygen for over 20 minutes. They had to resuscitate me twice, before they operated.
As a result of the crash, I've damaged my left frontal brain and left eye as well a few more injuries.
In 2006, I found out about rowing via the brain injury charity Headway and read a brochure suggesting people come and try.
Rowing gets me out for a day which makes me calmer, gets me fitter and I meet similar people with brain injuries, in one shape or other. The instructors are a great help, good fun and they push us further.
Being able to use my body for a sport I love, despite my mobility issues, is an amazing feeling – Inga
3 – Chris
I'm 28. I had a head injury when I was in year eight at secondary school. I fell off a zip wire straight onto my head and was in a coma for 10 months. When I came round I had to relearn everything.
I was quite sporty before my accident but I'd never really considered rowing as a possibility. However, when I was involved with a Headway-affiliated group, I heard that they had been for a rowing taster session so in 2010 I started rowing. This year, is my eighth Great River Race. I haven't stopped because rowing combines sport and therapy at the same time.
4 – Ryan
I am 50 years old with a wife and two daughters. In 2009, I had a sore throat which attacked the brain and I was rushed into hospital. I suffered a cardiac arrest followed by a hypoxic brain injury which left me blind with poor balance, poor dexterity and a slight speech impairment.
I was a keen sportsman prior to my seizure, a martial artist plus I had a handicap of four in golf. I was also a keen cyclist. I tried cycling after my injury but found this hard to get back into. I discovered rowing and fortunately came across the Royal Dolphins at the Royal Docks. I enjoy it so much that I am taking part in my second Great River Race this year. My fellow crewmates are all like-minded people who enjoy a challenge and want to keep on pushing their boundaries.
Rowing gets me out for a day which makes me calmer, gets me fitter and I meet similar people with brain injuries – Martin
5 – Helena
I'm 20 years old. I developed Complex Regional Pain Syndrome (CRPS) in my right leg after a kayaking accident in 2013. I was in a wheelchair in 2016 and wanted to take up a Paralympic sport but this is difficult as CRPS isn't always recognised.
I found out about rowing from a friend with the same condition, so in September 2016 I read about the facilities at the Royal Docks on the British Rowing website, sent an email and, soon enough, I was introduced to the Royal Dolphins. I haven't looked back since! This will be my first Great River Race.
This year's Royal Dolphins crew also includes Victor, who will be rowing, and newcomer Sarah, who is the reserve.
The 2017 Great River Race starts at 12.45pm on Saturday, 9 September. If you are near the Thames on the day, why not keep a look out for the Royal Dolphins and give them a cheer.
Discover more about the Great River Race here.
Find out how to get involved in adaptive rowing here.