Success for scullers at the British Rowing Sculling Festival
The British Rowing Sculling Festival 2017 took place at the National Water Sports Centre between 19 and 20 August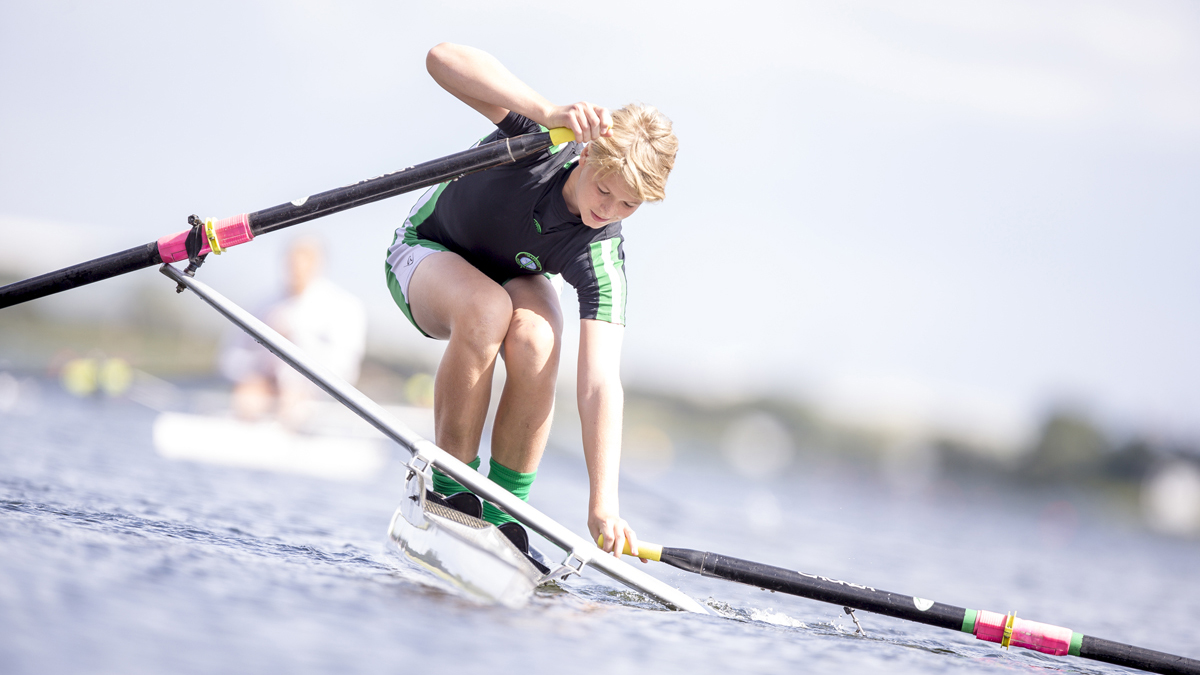 On Saturday, 131 rowers took to the water in single sculls to test their speed, manoeuvrability and boat control across an omnium of events. Points were awarded for each test on Saturday which then were used to seed crews into semi-finals on Sunday.
The weekend started on Saturday morning with time trials for the main and beginner events – beginner events for athletes in their first year of rowing. The main event rowers raced over 3,800m, with beginners racing over a shorter 2,000m. Both groups then went on to complete a series of skills tests including back down and stop, standing 360 turn in a boat and hands off at the catch. While many rowers were successful at completing all the skills first time round, a number of rowers capsized mid-test and went for a swim in the warm waters of the lake. This certainly didn't wipe the smile off the rowers' faces as they moved on to complete a 250m time trial.
Later in the afternoon, rowers raced side-by-side over 250m completing the final part of the omnium event ahead of Sunday's semis and finals.
>>> Full results from the British Rowing Sculling Festival
On Sunday, the semi-finals got underway at 9am with the beginners racing over 1,000m, while the main event rowers raced over 2,000m. The semi-finals seeded the rowers for finals that got underway at 1pm. Strong performances were shown by many of the young scullers in good conditions on Sunday, under the Nottingham sunshine and with only a light breeze.
The winners of the events were:
Women's Beginner: Georgia Martin, Gloucester Hartpury
Men's Beginner: Oscar Turner, Reading Rowing Club
Womens' Main Event – Senior: Molly Johnson, Isle of Ely
Women's Main Event – U23: Molly Johnson, Isle of Ely
Women's Main Event – J18: Molly Johnson, Isle of Ely
Men's Main Event – Senior: Matt Haywood, Nottingham RC
Men's Main Event – U23: Matt Haywood, Nottingham RC
Men's Main Event – J18: Max Parker, Nottingham RC
Pete Sheppard, Chief Coach U23 and Juniors, said: "It has been a brilliant weekend of racing at the British Rowing Sculling Festival. I'm really pleased to see so many young scullers who have demonstrated consistently their skills in handling and manoeuvring their boat, as well as being able to put in some strong race performances. This combination of skills and pace is what we are looking for from rowers who want to progress along the talent pathway to the GB Rowing Team. We've seen a good mix of entries from World Class Start athletes, university students and local rowing clubs at this year's Sculling Festival. It demonstrates the depth of high-class rowing and coaching across the country."
Sheppard concluded: "The coaches and umpires worked really well together all weekend to ensure all the rowers had an enjoyable experience on and off the water. This event wouldn't be possible without their support and enthusiasm so a big thank you to them all."
We are always keen to understand how we can improve our events so ask anyone who attended the Sculling Festival to complete this short online survey.
British Rowing's official photographer at the event was Drew Smith.