Birmingham RC continues to move 'Forward' in driving Explore Rowing participation development
On Saturday 7th of November, Birmingham Rowing Club hosted a celebratory boat naming ceremony at Edgbaston Reservoir, thanks to a recent £15,000 grant from Sport England via British Rowing.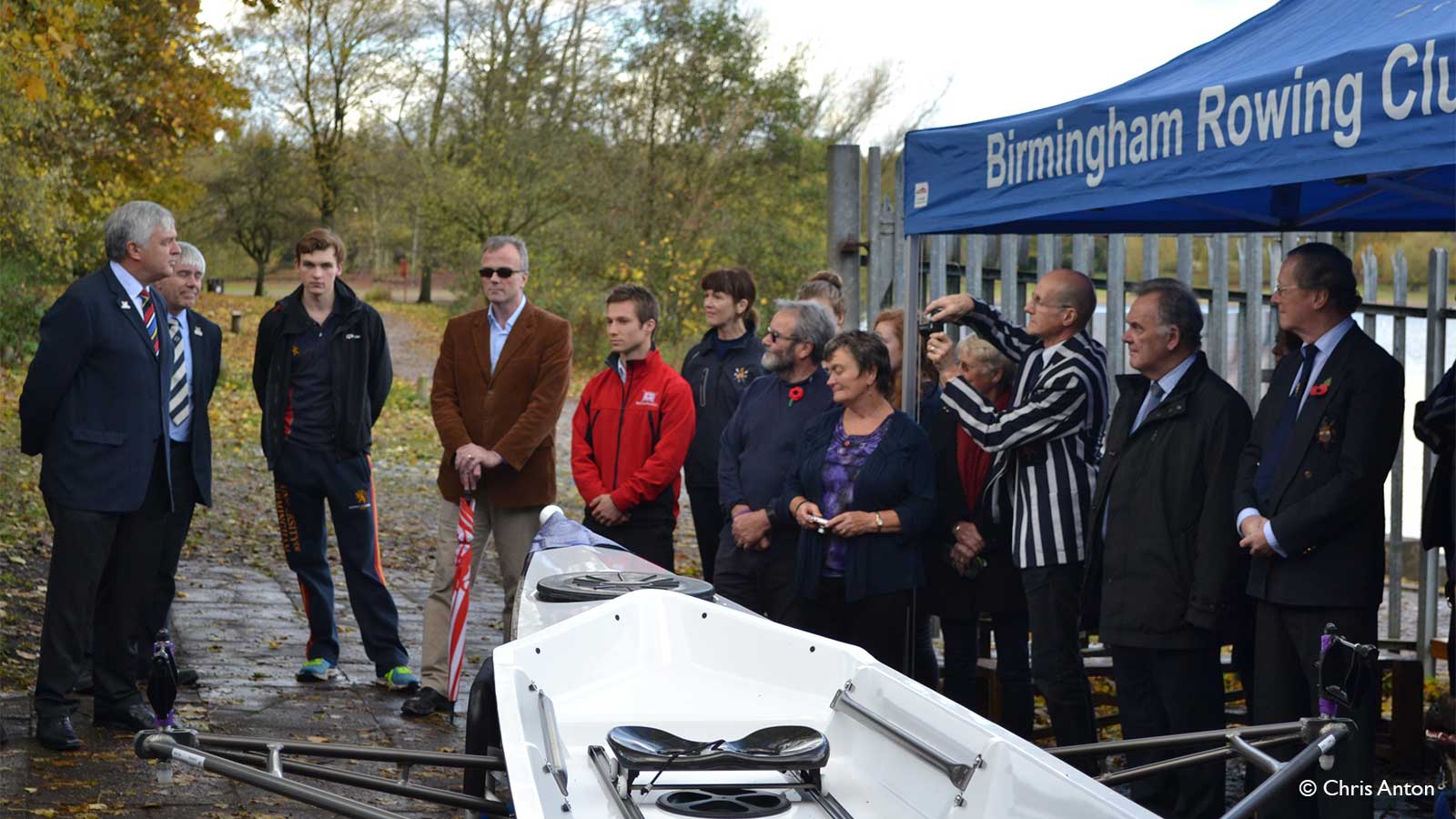 The long standing club have recently purchased two new stable rowing quads / fours and equipment to develop their growing Explore Rowing program in the city. Over the past couple of years the club has worked in partnership with Edgbaston Watersports Centre and B-ROW to offer a stage 1 and stage 2 Learn to Row course. This structure has engaged with over 100 participants into the sport of rowing and has created a real pathway for residents onto the water.
Recently the club has also been able to offer a 'day time' rowing session, which has successfully engaged University of the Third Age participants an d created a regular Monday morning social coffee row. Chris Farrell, British Rowing Strategic Officer stated 'It is great to see the club has access to more Explore Rowing equipment and is able to drive forward with its Explore Rowing Program. The club has been really successful at developing it's learn to row offer and this new equipment will only enhance the offer in the city.  A big thanks has to go to the excellent work of the Explore Rowing co-ordinator Maggie Jameson and club captain Sarah Gregory for continuing to develop an Explore Rowing offer at the club.'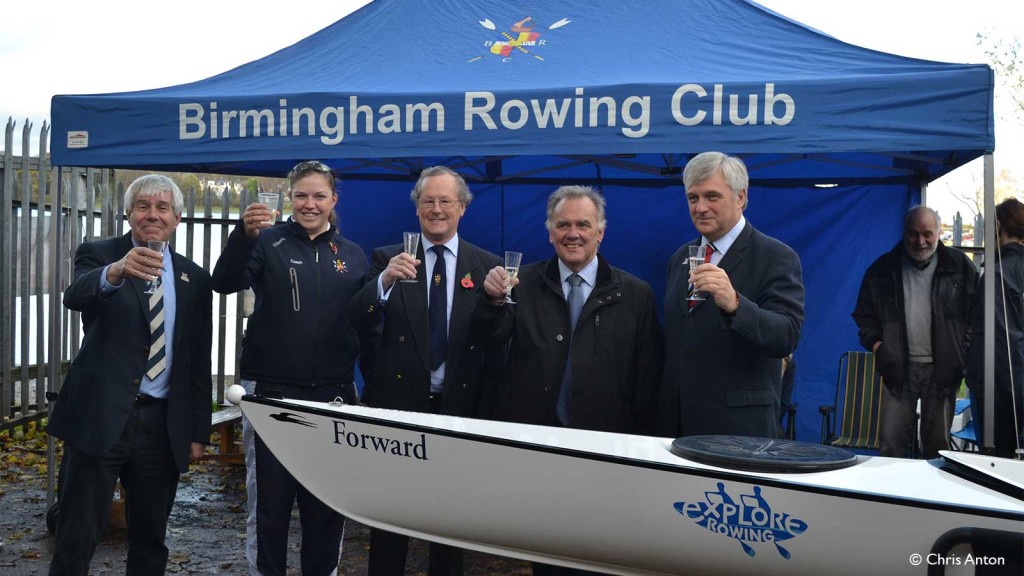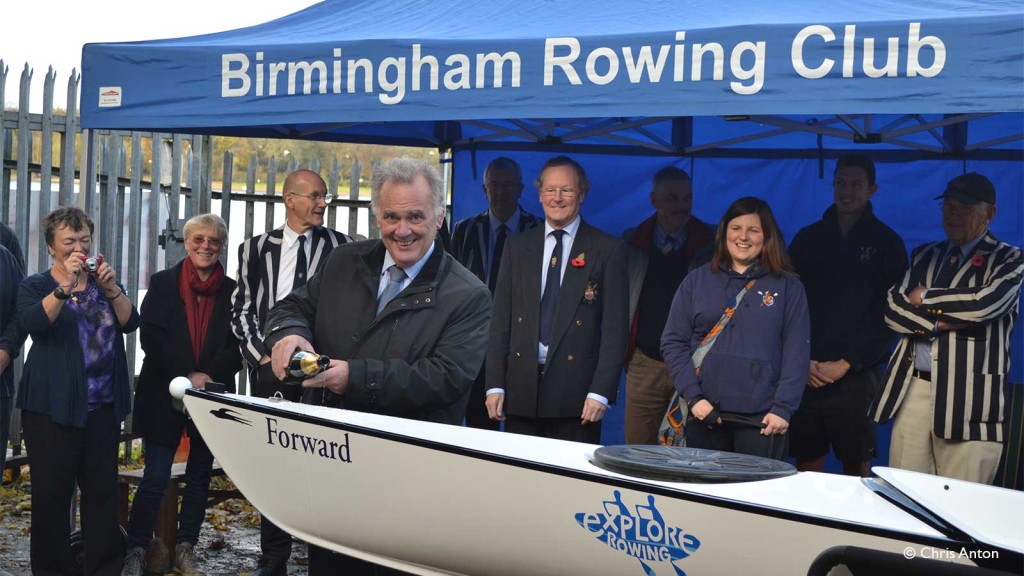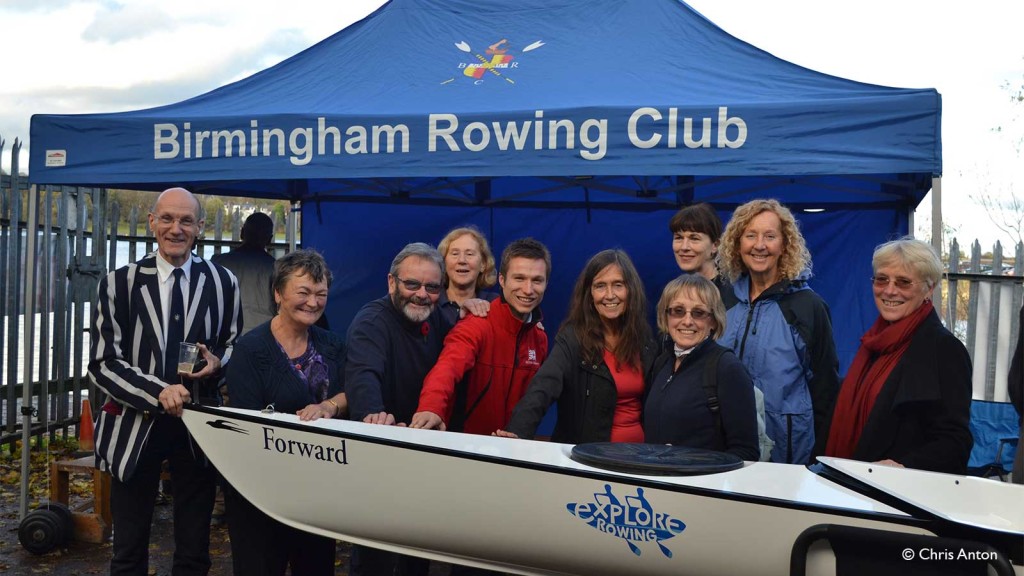 The naming ceremony marked the announcement of the name for the first explore boat 'Forward'. Sir Albert Bore, Leader of Birmingham City Council and Councillor of the Ladywood Ward where Birmingham Rowing Club is situated.
This name was unique to Sir Albert as it represents the motto of the City of Birmingham, however it also makes reference to the long term future ambitions of the rowing club and their long term facility.
Other guests consisted of Gary Harris, (Deputy Chairman of British Rowing), Simon Dickie (British Rowing Youth and Community), Perter Veitch, (President of the Club), Sarah Gregory, (Club Captain), Chris Llewellyn, (Club Chairman), Chris Anton (B-ROW Chairman) and Chris Farrell, (British Rowing Strategic Project Officer). Also attending was newly elected University of Birmingham President Alexander Hoyle, Dr David Low (University of the Third Age co-ordinator), Maggie Jameson (Club Explore Rowing coordinator) and many of the Birmingham Rowing Club members and friends.
Gary Harris, Deputy Chairman of British Rowing stated 'I think that the event was a great success and Sir Albert seemed to enjoy himself. The new equipment will allow the club to offer anyone of any age or ability the opportunity to come Explore Rowing and get on the water and embrace the excellent sport we offer in the city.'
The second boat will be named in 2016 where Birmingham Rowing Club hope to offer a update on their exciting new facility development work.
Pictures Copyright of Chris Anton.