Sensational Sculling Festival!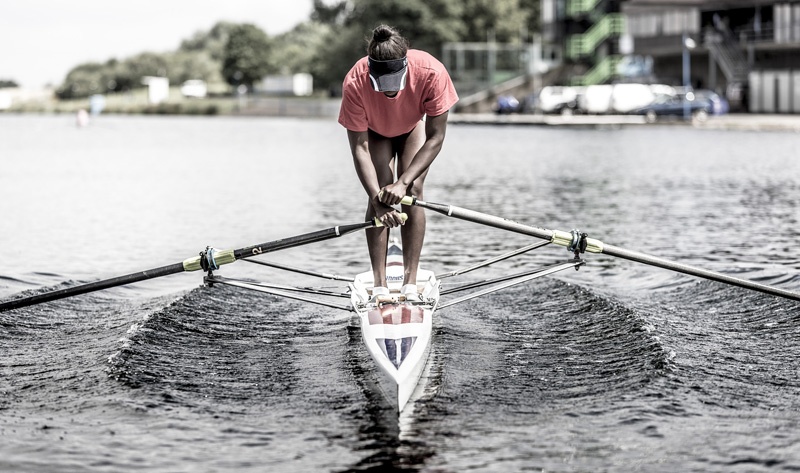 Scullers from across the country enjoyed perfect conditions at the National Water Sports Centre in Nottingham for British Rowing's third annual Sculling Festival last weekend.
Described as an 'omnium of events', the festival ran over two days and provided scullers with an opportunity to compete in skills tests and race over various distances over the multi-lane course. Competitors gain penalty points during the competition, with the target being to have the least number of points at the end.
The event kicked off with a time trial on the Saturday morning giving the competitors a ranking for the rest of the weekend. The skills testing took place on Saturday afternoon followed by 250m side-by-side sprint racing with a BBQ for all competitors, coaches and volunteers.
As in previous years, the Sculling Festival attracted a wide range of rowers at various stages in the sport. Whilst there were some experienced scullers and U23 medallists, others were very new to sculling.
Competitors can choose to enter the main event, or the beginner event with slight differences in the competition format between the two categories.
In the beginner men's event, Finn Stevenson from the University of London proved dominant throughout the majority of the events and took the overall honours for the category with 4.5 points, ahead of Matt Jenner from Minerva Bath who had 8.5.
Afterwards Finn said, "I thought it was a really fun event to be a part of and a great opportunity to test and improve my sculling."
In the main event, prizes are awarded to the overall winner of J18, U23 and senior categories.
Agecroft's Hugh Gallie won the overall senior title with a first-place finish in the 2,000m racing while Samuel Champion from Cambridge 99 took the J18 award following a strong performance in the 250m sprint. The U23 title was won by Nottingham's Joshua Tolley after success in the 'manoeuvrability' skill test.
Meanwhile Jo Wratten from Tees Rowing Club took the honours in the women's senior category, despite one of the most spectacular capsizes during the skills testing.
After collecting her trophy, Jo said, "What a brilliant weekend to be involved with. I've had so much fun and even enjoyed my dip in the lake! The range of events were all competitive, challenging and exciting."
Summing up the event, Jo Cotgrove, who umpires at numerous events across the country said, "This was a very different event from the rest of the racing season and there was a really relaxed atmosphere.
"Judging the skills elements was completely different from anything else I tend to get involved with but the athletes seemed to enjoy them. It was great to be part of the event."
Full results from the regatta are available at https://sites.google.com/a/gbrowingteam.org.uk/british-rowing-sculling-festival/
Report by James Lee
Photos by Drew Smith
Overall winners
Main event
Men's winners
Senior – Hugh Gallie, Agecroft
U23 – Joshua Tolley, Nottingham
J18 – Samuel Champion, Cambridge 99
Women's winners
Senior – Jo Wratten, Tees RC
U23 – Sam Courty, Bath University
J18 – Zoe Taylor, Reading RC
Beginner event
Men's winner – Finn Stevenson, University of London
Women's winner – Georgia Statham, University College London