A week to go to the World Championships
Next Sunday sees the start of the World Rowing Championships in Aiguebelette, France. – an event which doubles as the 2015 Olympic and Paralympic qualifying regatta.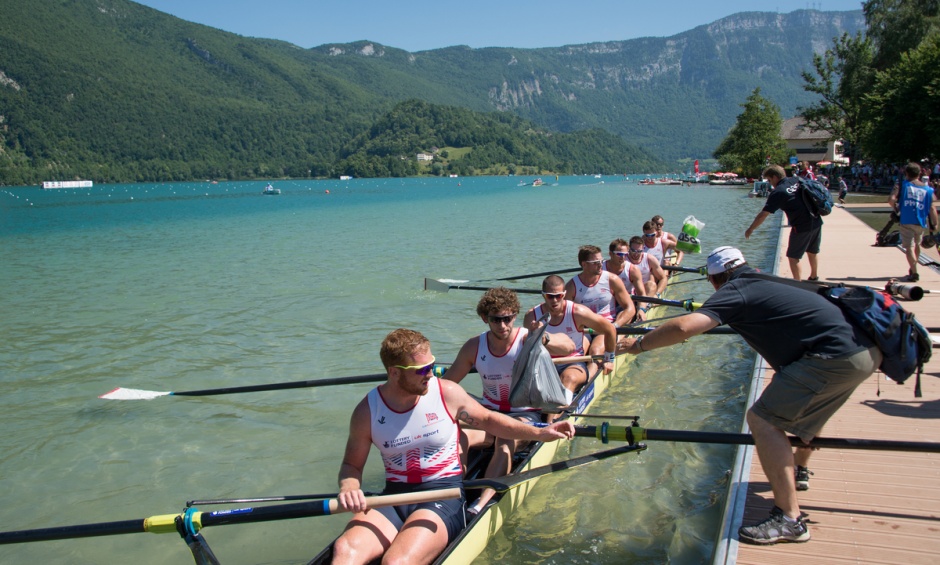 A total of 24 GB Rowing Team crews featuring 75 rowers (32 women and 43 men plus four reserves) have been entered for the event from 30 August – 6 September.
A record 1300 athletes from 77 countries will take part at these Championships with the USA fielding the biggest entry with crews in all 27 boat categories. The men's single scull, with 41 entries, is the biggest field.
FISA President Jean-Christophe Rolland said: "FISA (World Rowing) has grown to 142 member federations and by the end of this year's congress we will have at least 146. This growth internationally is reflected in the number of countries participating at the World Rowing Championships, and I am very pleased to welcome rowers from all corners of the globe and especially the newer rowing nations to Aiguebelette".
Sir David Tanner, GB Performance Director said: "Aiguebelette is an iconic rowing venue, famed for its physical beauty and great racing conditions.
"The GB Rowing Team is 'ready to go' and looking forward to taking on the best in the World, fresh from our finishing training camps. The extra fizz at this year's Championships comes from the battle for Olympic and Paralympic qualification slots – the strength of our Team comes from its depth of standard and professional attitude, backed by superb support from the National Lottery at home".
Finals will take place across four days. Para-rowing finals will be on Thursday 3 September, followed by the international class finals on Friday 4 September and the Olympic class finals split across Saturday and Sunday 5 and 6 September.
The GB Rowing Team won ten medals in 2014 – four golds, four silvers and two bronzes. GB won 2014 gold medals in the women's pair, men's four and eight and the para-rowing mixed coxed four.
BBC TV Coverage of the event will be: Finals live on BBC One (5 September, 13:00-14:30 BST) and BBC Two (6 September, 12:00- 14:15 BST)