Llandaff Regatta 2015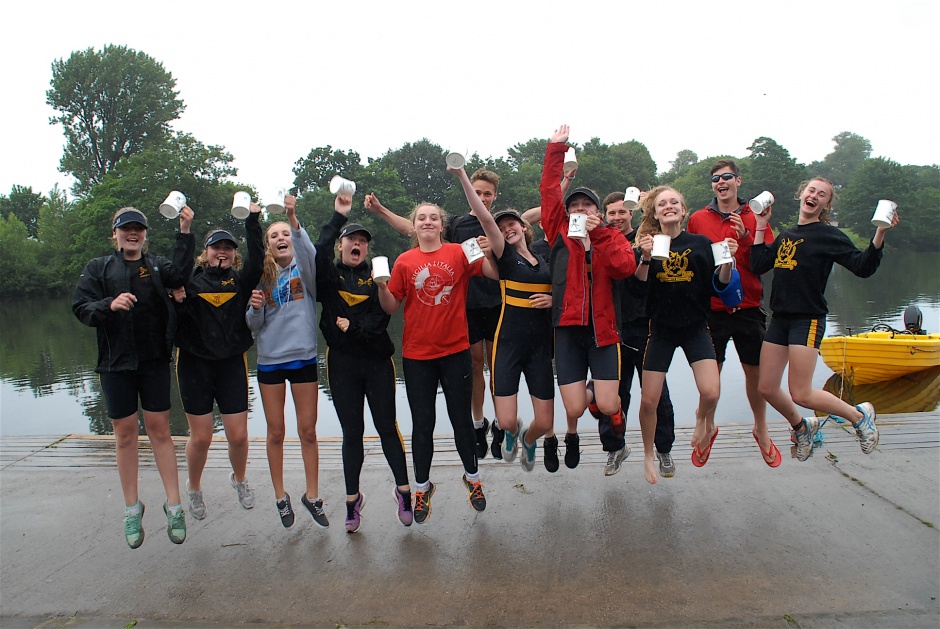 A fleet of 351 boats from 21 clubs launched out in 260 races over the weekend in the Welsh capital, with 1,000m racing in Saturday's sunshine and rowers braving the rain in Sunday's 500m sprint.
The biggest winners were host club Llandaff with 16 victories over the weekend, followed by Avon on 10, who scored all their wins in the sprint, Monmouth on nine and Evesham on eight
Both sprint novice four finals came down to a matter of feet in two of the regatta's closest races. Penarth beating Llandaff by two feet in the men's race after three heats to get there, while City of Swansea squeezed home ahead of Ross by four feet in the women's decider.
The regatta can be held up as a perfect example of a greenfield event set in the heart of a major city but for rowers crossing the finish line last weekend, the first priority was to hold it up hard, or risk crashing over the spectacular weir that sits at a 45 degree angle across the River Taff.
"It's an amazing backdrop, with the cathedral overlooking the clubhouse" said regatta spokeswoman Mary Yee. "We take great care with the weir, it was considered in our risk assessment and we warn crews about it. There have been a few incidents in the past, but these days we marshal it really closely with a safety launch."
Thames clubs were much in evidence, with entries from City of Oxford, Oxford Academicals, Wallingford, Griffin and Abingdon, while the West Country, the West Midlands and Wales were also well represented.
There were five dead-heats in preliminary rounds with Llandaff beating Bristol Ariel in Saturday's men's novice fours in the re-row before going on to win the event.
However, Bristol Ariel's women were celebrating after one of the closest finals, overturning two Saturday defeats to Oxford Academicals in the sprint IM3 fours, as they squeezed home by just two feet. Bow rower Sarah Morris said: "What a race! Revenge is definitely sweet. Helen, our cox, called for a last push and we just floored it."
Avon County's HCST coach Aaron Sims saw his charges win several sprint pots, and said: "The Juniors raced incredibly today and picked up 10 wins! We have been fortunate to receive a grant from the National Schools Regatta which has funded a new double 'Bellatrix'. Its really worth every penny as it helped our junior girls win the J15, J16 and J18 categories."
Trainee umpire Sian Rees said after starting tens of races: "I've got wet feet from wearing trainers in the rain, but it's been really interesting, seeing racing from another angle." "People seem to have real respect for the umpires. It's a beautiful stretch of river, the regatta has gone really well, with a good entry, and there have been three categories of more than nine entries."
Wales's senior cap Emily Doherty was a late sub in Llandaff's junior mixed IM2 sprint eight as they showed the club's seniors the way home by 1/4L."There was a lot of banter beforehand, but it's bragging rights to the young guns," she laughed.
Cardiff Met student and regatta marshall Hannah Makepeace added: "The rain's been a bit heavy, but it's done nothing to dampen the rowers' spirits."
For more information visit www.llandaffrc.com/regatta
Report and photos by Nick Hartland