GB Rowing Team men's eight cruise into world cup final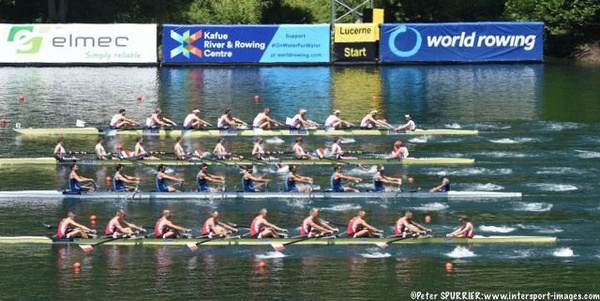 The GB Rowing Team men's eight cruised into Sunday's world cup final in Lucerne, Switzerland, today by winning their heat in 5:29.23.
Germany, the Olympic Champions, won the opposing heat, setting up a rematch of last weekend's Henley final which the British, World Champions for the past two years, won.
Matt Gotrel, Constantine Louloudis, Pete Reed, Paul Bennett, Mohamed Sbihi, Alex Gregory, George Nash, Will Satch and cox Phelan Hill took the lead from the outset, controlled the race and had enough pace to brook no opposition in the final quarter. Poland were second and France third.
"Henley was only part of the journey and if we had lost here today that wouldn't have been worth much", said cox Phelan Hill. "We wanted to carry on with the momentum here and that was a good, solid start. That certainly wasn't our best today but now we have tomorrow to do a bit of fine-tuning".
Of the 16 GB crews in action today, nine won their heats. Eight crews moved into semi-finals and three qualified direct to the finals here – the men's eight, lightweight men's pair and Imogen Walsh in the lightweight single scull.
The depth of field in Lucerne means that Will Fletcher and Richard Chambers will race again in a quarter-final today in the lightweight men's double scull despite winning their heat.
Conditions on the fabled Rotsee in Lucerne were peerless in the early morning with the breeze picking up from the North in the later part of the opening session.
Olympic Champions Helen Glover and Heather Stanning as well as Kat Copeland with Charlotte Taylor were amongst those who moved smoothly to the semi-finals by winning their opening heat. Double scull Olympic Champion, Katherine Grainger and Vicky Thornley also got through in second place to an experienced Belarusian combination.
Matt Langridge and James Foad won their heat, returning here from the injury which kept them out of Varese, and the men's four joined them in progressing with a heat victory. Alan Campbell put in a strong performance to take top spot in his men's single scull heat ahead of the European champion Dramir Martin.
GB crews will this afternoon contest the quarters of the light men's double, repechages of the women's single – in which Beth Rodford races – and both open weight pairs featuring the second-ranked British crews of Rebecca Chin and Karen Bennett and Oli Cook and Stewart Innes.
Eight British crews are already through to tomorrow's semi-final programme (starting at 12.30 UK time). The women's eight repechage will also be tomorrow.
In addition to the already-qualified crews, Sunday's finals will also include the men's coxed pair and the women's quadruple scull for whom there are direct finals here.
BBC coverage of those finals will be live on the Red Button 09.15 – 11.10 and 12.30 – 14.15 and there will be a highlights show on BBC 2 on Monday at 15.00
SCROLL DOWN FOR MORE
====================================================================
RACE REPORTS
Helen Glover and Heather Stanning, the Olympic and World Champions, were untested throughout their opening heat this morning on Lucerne's Rotsee. They led Canadians Jennifer Martins and Cristy Nurse by a decent margin throughout to win in 7:08.39.
The New Zealand world U23 Champions Grace Prendergast and Kerri Growler won the preceding heat in 7:05.24 and the Danes Hedvig Rasmussen and Anne Andersen won the final of three heats in 7:09.27 in which Karen Bennet and Rebecca Chin were third in a time of 7:24.99. As only two crews progressed direct to tomorrow's semi-final Bennett and Chin now race a repechage later today.
Glover said: "That was OK. It's a fairly nice day today, nice conditions. It's good to have an early start and get our race done already, get used to being back in Lucerne which is a different environment."
Stanning added: "It's always – well, usually – good racing conditions here, flat water and warm weather. We always enjoy racing in Lucerne."
Karen Bennett said: "We are pleased with that. We did better than in Varese and were right in the mix.
We're progressing all the time as a pair so it's good to have another race this afternoon."
James Foad and Matt Langridge made sure of taking the sole semi-final spot in their men's pair heat . They had their noses just ahead of Jack Hargreaves and Nicholas Wheatley before powering through the second half to win in 6:31.97. Australia were second and Finland third.
Oliver Cook and Stewart Innes were second at 500m in their opening heat which featured World Champions Eric Murray and Hamish Bond of New Zealand who duly won in 6:28.02. Cook and Innes were overhauled by Serbia just before halfway and finished third to race a repechage this afternoon. David Hunt and Shaun Keeling of South Africa and Roel Braas and Mitchel Steenman of Holland won the other two heats.
Innes said: "That was good fun, it's always nice to race against the World Champions. Now we have
another big race this afternoon."
Alan Sinclair, Scott Durant, Tom Ransley and Nathaniel Reilly O'Donnell were winners in 5:55.66 of their opening men's four heat, holding off a late challenge from the Belarusians in the adjacent lane. They had led throughout and qualified for tomorrow's semi-final with Belarus and Spain. Italy were winners of the preceding heat in 5:52.27 and Australia won the third and final men's four heat in 5:56.38.
Sinclair said: "Job done. We got through the best way possible in terms of position but we have a lot more to do, we're not quite at our best yet. We'll work on that and get better over the weekend.
Italy led out the opening heat of the lightweight men's pair featuring Jono Clegg and Sam Scrimgeour. Italy were silver medallists in Varese last month but Armando Dell'Aquila has been joined here by a new partner, Petru Zaharia.
At halfway the GB boat was down on the Italians by almost two seconds but had reduced the gap to a few tenths by halfway. Only one place was available in the A final and it was Denmark's Emil Espensen and Steffen Jensen who came up to challenge strongly in the second half as Italy faded. Victory, though, to the GB boat by 6:30.42 to Denmark's 6:32.19 and a place in tomorrow's final.
Will Fletcher and Richard Chambers led through all the 500m timing points today to win their lightweight men's double scull heat in 6:25.15. in the final 500m, they were unruffled by Turkey and Switzerland who also went through to the quarter-finals later today. With 26 crews entered for this event here in Lucerne it is the only one for which quarter-finals are necessary.
Poland's Joanna Dorociak and Weronika Deresz were the early leaders of the equivalent women's event featuring Charlotte Taylor and Kat Copeland for the GB Rowing Team. The British duo, winners in Varese last month where they set a world best time, moved into a narrow lead just before halfway. Poland continued to challenge in the second half before Taylor and Copeland moved into the lead that gave them the win in 7:01.75 and the only available place for tomorrow's semi-final.
In the opening phases of the open men's double scull heat featuring John Collins and Jonny Walton Italy were out front and tracked by the GB boat with Poland and third.
Collins and Walton were almost a length behind Romano Battisti and Francesco Fossi of Italy but keeping ahead of Poland and Estonia. In the second half they maintained their position and moved into tomorrow's semi-final in second in 6:26.97 with an easy scull to the line ahead of Poland who were finalists in Varese. Germany, Croatia and New Zealand were winners of the other three heats.
Walton said: "That was really good, we couldn't have wished for a better race really. We knew it would be a three-boat race with the Poles and the Italians but we managed to keep the Poles at bay. It could have been quite interesting if it was just one through but we were just able to ease back into it, it was nice."
The Czech Republic's Krystina Fleissnerova and Lena Antosova were swapping the lead with GB in the opening 250m of the women's double scull heat featuring Olympic Champion Katherine Grainger and Vicky Thornley. In the second quarter Belarus came up to challenge and only a whisker separated them from GB at halfway.
Ekaterina Karsten and Julia Bichyk, in the Belarusian crew, have huge international lracing pedigrees and they continued to trouble the GB duo. With 250m to go the Karsten and Bichyk picked up their pace to edge into the lead and win in 6:50.33 to Grainger and Thornley's 6:50.97. Germany and New Zealand won the other two heats. Grainger and Thornley are safely through to tomorrow's semi-final as two boats qualified from each heat.
Thornley said: "That was a bit frustrating. We're not happy about coming second behind Belarus at all but they came through us just us in the last few metres. We have work to do again but it is very close across the field".
Denmark, the reigning World Champion and European bronze medallists, were in the lead by just a canvas at halfway in the lightweight men's four heat in which GB's crew were racing with Jamie Kirkwood in the bow, replacing Joel Cassells from the Varese line-up, and with Mark Aldred at stroke rather than Chris Bartley.
As the race moved into the final quarter the Danes managed to ease out their lead with Poland in third and menacing for the second of only two qualifying slots for tomorrow's semi-finals. Both Denmark and Great Britain made it a fight all the way to the line with the Danes taking the honours and the GB boat two-thirds down on them to finish in second in 5:51. New Zealand, France and Switzerland were the other three heat winners.
Mark Aldred said: "That was our first hit-out in that combination and it was a solid race. Obviously you always want to win but getting into the top two is the main job so we could avoid coming back this afternoon. We are still improving every time we come on the water so it is exciting. We'll be looking to find another gear for tomorrow's semi-final, they are great conditions for rowing."
With a quarter of Alan Campbell's open men's single scull heat gone, it was clear that only 2012 bronze medallist Campbell, European Champion Dramir Martin or Norway's former Olympic Champion Olaf Tufte had what it takes to take top spot and move into tomorrow's semi-finals. Tufte had the early edge over the others with Campbell in second just after halfway.
In a somewhat bizarre scenario, with Campbell having moved out into the lead in the third quarter, the remainder of the field decided to give up the chase allowing Campbell to move serenely to victory in 6:56.92 and to take the only qualifying slot for tomorrow's semi-final. The others will have conserved their energy for this afternoon's repechage.
Campbell said: "The progression system is that little bit hotter. It gave you a real incentive to go out hard to get that one semi-final place. I've avoided coming back this afternoon so I've given myself a little bit of time off, which I'm quite happy with".
Beth Rodford is GB's single sculler here in Lucerne having moved to that boat from the women's quadruple scull line-up in Varese. Genevra Stone of the USA, silver medalist in Italy last month, led throughout to win ahead of Varese bronze medallist Tatiana Kukhta of Belarus. Rodford moved up the field from sixth at halfway to take fourth in 7:47.80.
Imogen Walsh, in the lightweight women's single scull, made a contrasting start and led as her heat moved through its first quarter. By halfway she had a significant lead over Denmark's Runge Holmegaard. The British European Champion carried on regardless and won in 7:32.57 from Holmegaard's 7:40.22. More importantly Walsh had bagged the only qualifying slot for tomorrow's final.
The GB women's eight made a great start in their opening heat. They led the World silver medallists from Canada in the opening 500m. In the Canadian boat Cristy Nurse and Jennifer Martins had doubled up from the earlier women's pair heats.
By halfway the Canadian boat had edged ahead but only by a smidgen – 2:59.15 to 2:59.69. In the final 500m the Canadians were ahead by half a length. As the boats came into view from the grandstand the two leading boats were still only that distance apart before the Canadians put on the pace and went through to win and claim the only final qualifying slot in 6:02.35 with GB just under a length down in 6:05.07.
Katie Greves, Louisa Reeve, Jess Eddie, Donna Etiebet, Vicky Meyer-Laker, Olivia Carnegie-Brown, Ro Bradbury, stroke Zoe Lee and cox Zoe de Toledo looked less disappointed than in losing to the Canadians at Henley last week but still eager to step up.
Lee said: "Our aim is always to row to our own pattern and create our race. We want to keep moving on through this regatta as it is the last one before the Worlds. We still have some things to learn and and others to try out. Today was a solid start compared to a scrappy final race at Henley".
In the ensuing men's eight heat, the GB Rowing Team crew was ahead at halfway with the other three boats – France, Italy and Poland – tightly bunched behind them but over a length down. Matt Gotrel, Constantine Louloudis, Pete Reed, Paul Bennett, Moe Sbihi, Alex Gregory, George Nash, Will Satch and cox Phelan Hill were then able to control the race in the second half and end by able to cruising into the line to win in 5:29.23 from Poland and then France.
Cox Hill said: "I think that compared to this time last year, that we are more on the front foot".
Satch added: "I think we are in a pretty good place after Henley. We are not used to back-to-back racing but I think we came through that pretty well".
SCROLL DOWN FOR MORE
===========================================================
RESULTS

(Events featuring GB Rowing Team crews only. For full results – www.worldrowing.com)
HEATS
OPEN
WOMEN
Pair – Heat 2
1. Helen Glover/Heather Stanning (GREAT BRITAIN) 7:08.39
2. Jennifer Martins/Cristy Nurse (Canada) 7:12.94
3. Kirsten Wielaard/Jose Van Veen (Netherlands) 7:20.08
4. Ashlee Rowe/Kristen Froude (New Zealand) 7:22.59
5. Sara Davids/Miriam Davids (Germany) 7:24.34
6. Julia Waermer/Daniela Schultze (Germany) 7:28.08
Pair – Heat 3
1. Hedvig Rasmussen/Anne Andersen (Denmark) 7:09.27
2. Naydene Smith/Lee-Ann Persse (South Africa) 7:16.71
3. Karen Bennett/Rebecca Chin (GREAT BRITAIN) 7:24.99
4. Nuria Dominguez Asensio/Anna Boada Peiro (Spain) 7:25.48
5. Karla Milosevic/Marcela Milosevic (Croatia) 7:33.83
6. Leonora Kennedy/Monika Dukarska (Ireland) 7:44.68
Eight – Heat 2
1. Canada 6:02.35
2. Katie Greves/Louisa Reeve/Jess Eddie/Donna Etiebet/Vicki Meyer-Laker/Olivia Carnegie-Brown/Rosamund Bradbury/Zoe Lee/Zoe De Toledo (cox) (GREAT BRITAIN) 6:05.07
3. Germany 6:12.80
Single scull – Heat 3
1. Genevra Stone (USA) 7:27.79
2. Tatsiana Kukhta (Belarus) 7:32.44
3. Julia Michalska (Poland) 7:38.61
4. Beth Rodford (GREAT BRITAIN) 7:47.80
5. Wiebke Hein (Germany) 7:50.83
6. Olivia Loe (New Zealand) 7:57.68
Double sculls – Heat 3
1. Yuliya Bichyk/Ekaterina Karsten (Belarus) 6:50.33
2. Katherine Grainger/Vicky Thornley (GREAT BRITAIN) 6:50.97
3. Kristyna Fleissnerova/Lenka Antosova (Czech Republic) 7:01.72
4. Ulla Varvio/Eeva Karppinen (Finland) 7:06.00
5. Inger Kavlie/Marianne Madsen (Norway) 7:09.03
OPEN
MEN
Pair – Heat 2
1. James Foad/Matt Langridge (GREAT BRITAIN) 6:31.97
2. James Hargreave/Nicholas Wheatley (Australia) 6:42.14
3. Joel Naukkarinen/Antti Kilpelaeinen (Finland) 6:45.87
4. Markus Kessler/David Aregger (Switzerland) 7:00.07
Pair – Heat 3
1. Eric Murray/Hamish Bond (New Zealand) 6:28.02
2. Milos Vasic/Nenad Bedik (Serbia) 6:37.89
3. Oliver Cook/Stewart Innes (GREAT BRITAIN) 6:39.16
4. Alexander Sigurbjonsson Benet/Pau Vela Maggi (Spain) 6:50.75
5. Thijs Van Luijk/Sjoerd De Groot (Netherlands) 6:51.74
Four – Heat 2
1. Alan Sinclair/Scott Durant/Tom Ransley/Nathaniel Reilly-O'Donnell (GREAT BRITAIN) 5:55.66
2. Vadzim Lialin/Dzianis Mihal/Mikalai Sharlap/Ihar Pashevich (Belarus) 5:56.02
3. Javier Garcia Ordonez/Jaime Canalejo Pazos/Marcelino Garcia Cortes/Antonio Guzman Del Castillo (Spain) 5:58.80
4. Edouard Jonville/Benoit Demey/Matthieu Moinaux/Julien Despres (France) 6:05.74
Eight – Heat 1
1. Matt Gotrel/Constantine Louloudis/Pete Reed/Paul Bennett/Moe Sbihi/Alex Gregory/George Nash/William Satch/Phelan Hill (cox) (GREAT BRITAIN) 5:29.23
2. Poland 5:33.20
3. France 5:35.54
4. Italy 5:45.55
Single scull – Heat 2
1. Alan Campbell (GREAT BRITAIN) 6:56.92
2. Olaf Tufte (Norway) 7:27.92
3. Damir Martin (Croatia) 7:32.38
4. Giacomo Thomas (New Zealand) 7:33.99
5. Mehdi Harrouch (Tunisia) 7:46.08
Double sculls – Heat 4
1. Romano Battisti/Francesco Fossi (Italy) 6:15.69
2. John Collins/Jonathan Walton (GREAT BRITAIN) 6:26.97
3. Dominik Czaja/Maciej Zawojski (Poland) 6:33.02
4. Sten-Erik Anderson/Kaur Kuslap (Estonia) 6:45.59
LIGHTWEIGHT
WOMEN
Single scull – Heat 1
1. Imogen Walsh (GREAT BRITAIN) 7:32.57
2. Runge Holmegaard (Denmark) 7:40.22
3. Judith Anlauf (Germany) 7:48.67
4. Guilia Pollini (Italy) 7:50.83
5. Kate Johnstone (South Africa) 7:53.19
6. Olga Svirska (Latvia) 8:02.25
Double sculls – Heat 4
1. Charlotte Taylor/Kat Copeland (GREAT BRITAIN) 7:01.75
2. Joanna Dorociak/Weronika Deresz (Poland) 7:09.56
3. Frederique Rol/Patricia Merz (Switzerland) 7:17.37
4. Maki Noda/Miharu Takashima (Japan) 7:19.66
5. Wahyuni Wahyuni/Maryam Daimoi (Indonesia) 7:57.58
MEN
Pair – Heat 2
1. Jonathan Clegg/Sam Scrimgeour (GREAT BRITAIN) 6:30.42
2. Emil Espensen/Steffen Jensen (Denmark) 6:32.19
3. Petru Zaharia/Armando Dell'Aquila (Italy) 6:55.20
4. Nadir Sahi/Engin Ozkan (Turkey) 7:01.31
Four – Heat 4
1. Kasper Winther/Jens Vilhelmsen/Jacob Barsoe/Jacob Larsen (Denmark) 5:49.76
2. Jamie Kirkwood/Peter Chambers/Chris Bartley/Mark Aldred (GREAT BRITAIN) 5:51.17
3. Rafal Serwiak/Mariusz Stanczuk/Lukarsz Siemion/Milosz Bernatajtys (Poland) 5:53.19
4. Aleksey Vikulin/Anton Kuranov/Maksim Telitcyn/Alexander Chaukin (Russia) 6:00.98
5. Zhongming Huang/Chiu Mang Tang/Chun Shek Leung/Ki Cheong Kwan (Hong Kong) 6:02.27
Double sculls – Heat 6
1. Will Fletcher/Richard Chambers (GREAT BRITAIN) 6:25.15
2. Huseyin Kandemir/Enes Kusku (Turkey) 6:30.23
3. Michael Schmid/Daniel Wiederkehr (Switzerland) 6:32.42
4. Ardi Isadi/Ihram Ihram (Indonesia) 6:39.32
SCROLL DOWN FOR MORE
===========================================================
CREW LISTS (Includes club, home town, date of birth)
GB Rowing Team for World Cup 11I
Lucerne, Switzerland, July 10-12.
OPEN
WOMEN
Pair – two boats
Helen Glover (Minerva Bath RC/Penzance/17.06.86)
Heather Stanning (Army RC/Lossiemouth/26.01.85)
Coach: Robin Williams
Karen Bennett (Leander Club/Edinburgh/05.02.89)
Rebecca Chin (Agecroft RC/Deganwy/11.12.91)/
Coach: Robin Williams
Eight
Katie Greves (Leander Club/Oxford/02.09.82)
Louise Reeve (Leander Club/London/16.05.84)
Jessica Eddie (London RC/Durham/07.10.84)
Donna Etiebet (Sport Imperial/London/29.04.86)
Victoria Meyer-Laker (Leander Club/Premnay/18.03.88)
Olivia Carnegie-Brown (Oxford Brookes Univ BC/Oxford/28.03.91)
Rosamund Bradbury (Leander Club/Banstead/17.12.88)
Zoe Lee (Imperial College BC/Richmond/15.12.85)
Zoe de Toledo (Cox) (Leander Club/London/17.07.87)
Coach: James Harris
Double Scull
Katherine Grainger (St Andrew BC/Glasgow/12.11.75)
Victoria Thornley (Leander Club/Wrexham/30.11.87)
Coach: Paul Thompson
Single scull
Beth Rodford (Gloucester RC/Gloucester/28.12.82)
Coach: Nick Strange
Quadruple Scull
Melanie Wilson (Imperial College BC/London/25.06.84)
Kristina Stiller (Tees RC/Yarm/23.06.87)
Frances Houghton (Univ of London Tyrian Club/Oxford/19.9.80)
Jessica Leyden (Leander Club/Todmorden/22.02.95)
Coach: Nick Strange
OPEN
MEN
Pair – two boats
James Foad (Molesey BC/Southampton/20.03.87)
Matt Langridge (Leander Club/Northwich/20.05.83)
Coach: Rob Dauncey
Oliver Cook (Univ of London BC/Windsor/05.06.0)
Stewart Innes (Leander Club/Henley-on-Thames/20.05.91)
Coach: Rob Dauncey
Coxed Pair
Callum McBrierty (Leander Club/Edinburgh/13.08.92)
Mat Tarrant (Oxford Brookes Univ BC/Shepperton/11.07.90)
Henry Fieldman (cox) (Molesey BC/Barnes/25.11.88)
Coach: John West
Four
Alan Sinclair (Leander Club/Munlochy/16.10.85)
Scott Durant (Oxford Brookes Univ BC/Lancaster/12.02.88)
Tom Ransley (Leander Club/Ashford/06.09.85)
Nathaniel Reilly-O'Donnell (Univ of London BC/Durham/13.04.88)
Coach: Christian Felkel
Eight
Matt Gotrel (Leander Club/Chipping Campden/01.03.89)
Constantine Louloudis (OUBC/London/15.09.91)
Pete Reed (Leander Club/Nailsworth/27.07.81)
Paul Bennett (Univ of London BC/Leeds/16.12.88)
Mohamed Sbihi (Molesey BC/Surbiton/27.03.88)
Alex Gregory (Leander Club/Wormington/11.03.84)
George Nash (Molesey BC/Guildford/02.10.89)
Will Satch (Leander Club/Henley-on-Thames/09.06.89)
Phelan Hill (cox) (Leander Club/Bedford/21.07.79)
Coach: Jurgen Grobler
Single Scull
Alan Campbell (Tideway Scullers School/Coleraine/09.05.83)
Coach: John West
Double Scull
John Collins (Leander Club/Twickenham/24.01.89)
Jonny Walton (Leander Club/Leicester/06.10.90)
Coach: Mark Banks
LIGHTWEIGHT
WOMEN
Single scull
Imogen Walsh (London RC/Inverness/17.01.84)
Coach: Paul Reedy
Double Scull
Charlotte Taylor (Putney Town RC/Bedford/14.08.85)
Kat Copeland (Tees RC/Ingleby Barwick/01.12.90)
Coach: Paul Reedy
LIGHTWEIGHT
MEN
Pair
Jonathan Clegg (Leander Club/Maidenhead/14.07.89)
Sam Scrimgeour (Imperial College BC/Kirriemuir/28.01.88)
Coach: Rob Morgan
Four
Jamie Kirkwood (Leander Club/Cresswell, N'bland/30.08.89)
Peter Chambers (Oxford Brookes Univ BC/Coleraine/14.03.90)
Chris Bartley (Leander Club/Chester/02.02.84)
Mark Aldred (London RC/Birmingham/18.04.87)
Coach: Rob Morgan
Double Scull
Will Fletcher (Leander Club/Chester-le-Street/24.12.89)
Richard Chambers (Leander Club/Coleraine/10.06.85)
Coach: Darren Whiter
SCROLL DOWN FOR MORE
=================================================
CONTACT DETAILS
For background information about the The GB Rowing Team contact the Press office via [email protected] or 07831 755351
For picture requests please contact: [email protected]
GB Rowing Team website, including full rower biogs: www.gbrowingteam.org.uk
Follow us on:
Facebook: www.facebook.com/gbrowingteam
Twitter: www.twitter.com/gbrowingteam
Youtube: www.youtube.com/gbrowingteam
=================================================
THE GB ROWING TEAM is supported by the Lottery through UK Sport and has Science in Sport as a supplier. SAS Analytics is the Official Analytics Partner of British Rowing and the GB Rowing Team