Charities Join Forces for the Great Big Cornish Gig Project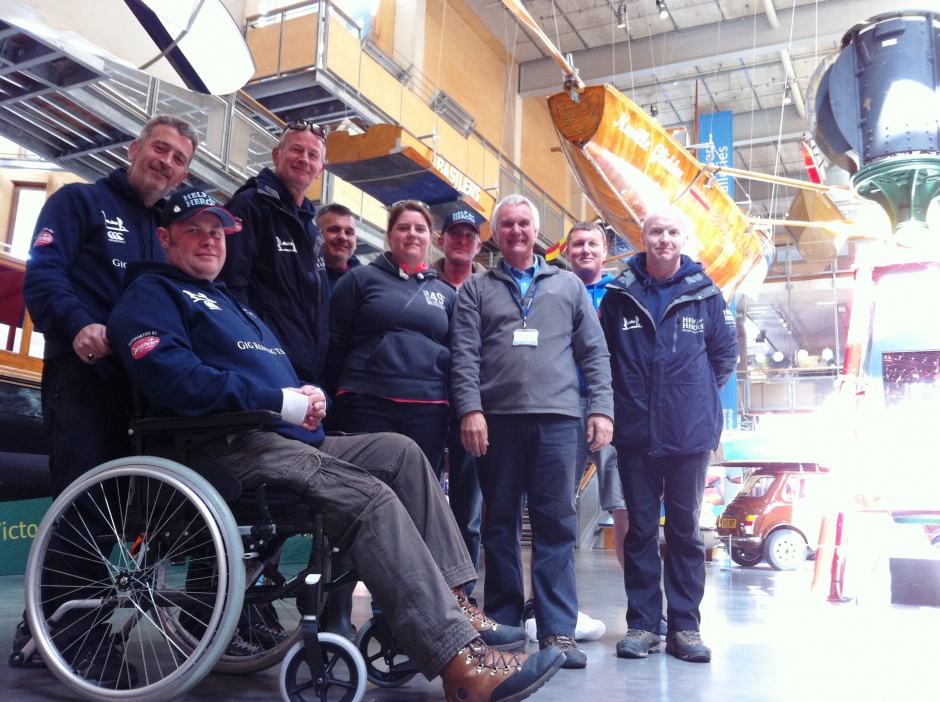 National Maritime Museum Cornwall, Help for Heroes and a number of other organisations have joined forces to develop a unique boatbuilding project which will open up gig rowing to new audiences.
The Great Big Cornish Gig Project, core funded by the Armed Forces Community Covenant Grant scheme, will see wounded, injured and sick (WIS) serving and veteran forces personnel train in boatbuilding skills, build a gig and ultimately row their gig to the Scilly's and compete in the 2016 World Pilot Gig Championships.
The project launches on 1 June with beneficiaries from the Plymouth-based Help for Heroes Recovery Centre, and Hasler Company, the Royal Navy's rehabilitation unit, training before starting on the construction of the gig. The build will take place in the Museum's dedicated workshop supervised by professional boat builder, Andrew Nancarrow.
The brain child of Mike Selwood and Andy Wyke from National Maritime Museum Cornwall, this project has taken months of planning, funding applications and development. A year on from its inception, the Museum and the organisations behind the project are looking forward to delivering a first for the sport, for Cornwall and most importantly a first for wounded serving and veteran personnel.
Mike Selwood, Project Manager behind the build says: "The real inspiration for all of this is down to one man, a Royal Marine, called Al Henderson. Al was undertaking a rehabilitation boat building course through Hasler Company and Falmouth Marine School at our boat storage site at Ponsharden. I knew he'd been through tough times, we got chatting, one thing led to another and whilst being introduced to his mentor the idea of really doing something for the community of wounded veterans came to me."
"If, at the end of the project in May 2016, we have opened up new opportunities to wounded military personnel, inspired a new audience to the heritage behind these Cornish boats and built a gig that is not an obstacle to those who want to row it, we will have achieved everything we aimed for."
A NVQ modular programme delivered by Falmouth Marine School supports the project, offering the opportunity for participants to complete an NVQ level 3. A further programme of leisure pursuits available one day a week ranging from water and land based activities is supported by the Falmouth A&P Group.
Jock Easton, General Manager at Help for Heroes, Plymouth says: "We're delighted to be part of this. To offer a recovery pathway to our personnel through this unique opportunity and to be part of something that can influence the gig rowing scene is quite exceptional. Some of the team taking part have just returned from competing in the World Pilot Gig Championship on the Isles of Scilly. It's brilliant for them to have the chance to build a gig they may race in the future."
Richard Doughty, Director of National Maritime Museum Cornwall concludes: "This exceptional project clearly shows how a bright idea, supported by a partnership of likeminded people can deliver something quite extraordinary. It is truly exciting to be part of something that potentially will change the face of Cornish Pilot Gig racing. The opportunity to open up the sport to a wide range of participants is unique and one we are all very keen to accomplish and deliver."
Once built, rowed out to the Scilly's and raced in the World Pilot Gig Championships, the gig will be donated to Help for Heroes.
To keep up to date with the project, keep an eye on the Museum's website at www.nmmc.co.uk and facebook and twitter page for time-lapse footage, stills and news about its developments.
– ENDS –
Notes to Editor:
National Maritime Museum Cornwall
Founded in 2003, the multi-award winning Museum in Falmouth has 15 galleries, over five floors beautifully illustrating the past, present and future of this island nation. Winner of the Telegraph Family Friendly Museum of the Year award 2014, Cornwall's best museum 2014 as and silver winner of the UK Heritage Attraction of the Year at the 2014 British Travel Awards, the Museum features a number of stunning exhibitions dedicated to the sea, boats and Cornwall. It is not government funded and is supported through 100% voluntary donations and commercial activities. www.nmmc.co.uk
Help for Heroes
Help for Heroes provides direct, practical support to wounded, injured and sick Service personnel, veterans, and their families. This is provided through grants to individuals and other Service charities, capital build projects and support for life at our four Recovery Centres. www.helpforheroes.org.uk [email protected]
Hasler Company
Hasler Company is the first of its kind – a Royal Navy unit dedicated to the specific and complex needs of seriously injured and ill service personnel who require bespoke programmes to aid their recovery. www.rmctf.org.uk
A&P Group
Falmouth is the largest ship-repair complex in the UK with 3 large graving docks and extensive alongside deepwater berthing providing capacity for vessels up to 100,000 tonnes. www.ap-group.ac.uk [email protected]
For further information, please contact:
Tamsin Loveless, Head of Communications & Development on 01326 214536 Email [email protected] or
Michael Sweeney, Communications Manager on 01326 214588 Email [email protected]