The English Indoor Rowing Championships 2015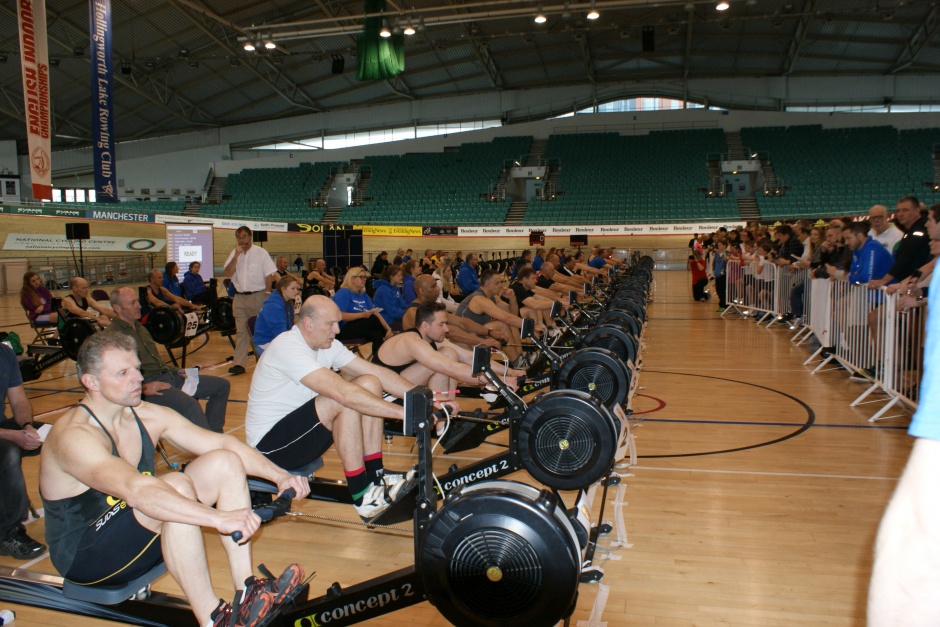 Around 700 athletes from the United Kingdom, Ireland and even Germany, Malta and the Faroe Islands converged on the Manchester Velodrome on Sunday 29 March to compete in the English Indoor Rowing Championships (EIRC). Organised by Hollingworth Lake Rowing Club, this was the largest number of entries in its 17-year-history.
The fastest men's time of the day was by Sam Blythe from Fitness Matters, Exeter. He scored 6:06.9 over 2k. Liverpool UBC's Leanne Knight proved the fastest woman over 2k, finishing in 7:11.9 – more than 15 seconds ahead of Claire Weston from Sub 7.
The age difference at the EIRC was very much evident between the youngest and oldest competitors. Eight-year-old Emie Hewitt competed in the WJ11 category, while Charles Morley, aged 83, represented Sub 7 and competed in the men's 70+ category. Despite their age differences, Emie and Charles had something important in common – the desire to compete and achieve their best.
Just a few years younger than Charles, at the tender age of 80, Geoffrey Knight of Gambaru Fitness in Harrogate, attended the event with the aim of setting a new world record in the men's 80-84 Hwt category. The existing record was broken in style with a time of 7:40.4.
Among the many schools attending the EIRC, a team of 13 Year 5 and Year 6 children made the drive up the motorway from St Matthew's C of E Primary in Stroud, Gloucestershire. Their coach, John Pritchard was "immensely proud of the young athletes who train every week and put their hearts and souls into the competition".
The EIRC sees many first time competitors, but also those who have supported the event for many years.
Marjorie Roome, recent world championship bronze medallist, has been competing at the event since 2003 and took away a gold medal.
First time competitor, Peter Priestly, aged 66, with Seal Personal Training, suffers from Parkinson's disease and has only been ergo training for two months. As well as enjoying the experience of the day, Peter said the ergo training is a great therapy for his condition.
The level of commitment and training that had gone in to the preparation to compete was evident at every level. From the Royal Navy team and the two competitors who had flown in from the Faroe Isles, through to the many juniors in individual and team events – all competed hard to achieve their best and win. The hundreds of supporters who cheered and shouted throughout the day were a great driving force and provided a charged atmosphere throughout every race.
The event was a great success, reflecting the hard work of the organisers, and the wonderfully friendly and competitive spirit of the athletes and supporters alike.
More details and results – www.eirc.org.uk
By Andrew Lowe
Photographs by Andrew Archbold