Northwich Spring Head 2015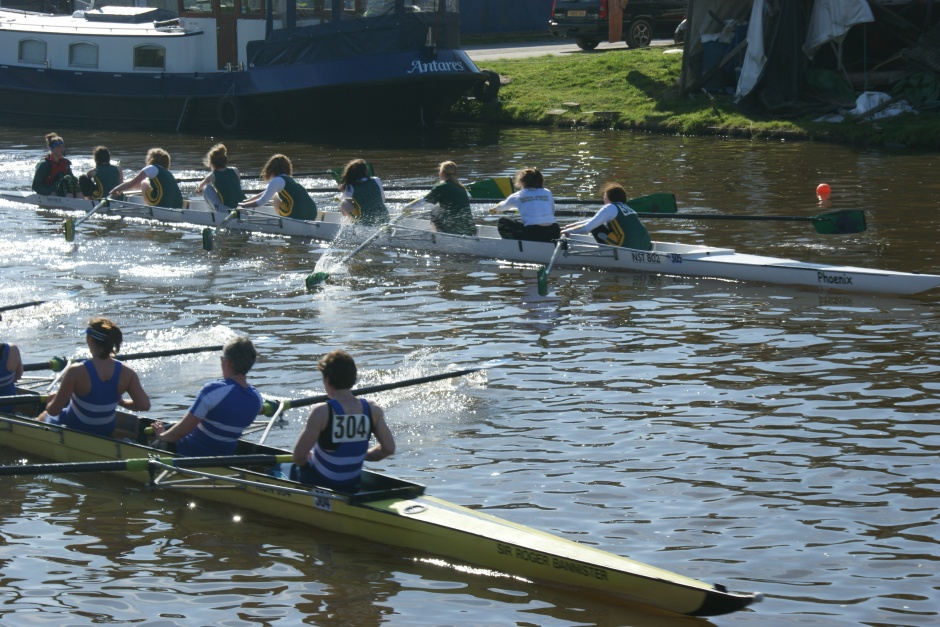 On Bank Holiday Monday, 6th April, the last North West Head Race of the season was a great day of competition for the 296 entries representing 25 clubs. The cold spring morning, with fog enveloping surrounding fields, underwent a transformation to glorious warm afternoon sunshine. The three divisions were raced over 2,350m on the gently meandering River Weaver.
The first division was solely for single scullers. The 96 competitors took full advantage of the width of the river, overtaking at every opportunity. At times the course had the appearance of a 3 lane motorway with boats weaving past each other to gain precious seconds. The division was won by a J17 sculler from Sir John Dean's College with an impressive time of 9:13.1. The hosts, Northwich RC, had 6 category winners in the division, setting the standard for an impressive 15 wins throughout the day, more than any other club.
Sir John Dean's College also dominated the second division with a win by the J18 Four. As well as the division, the crew also won the Walter Benyon Trophy, awarded to the fastest crew of the day with a time of 7:52.5. The J18 Fours took the first four positions in the division, ahead of Eights and Quads.
Competing teams from Merchant Taylors' School and The Grange School (Hartford) had varying successes in the division. Merchant Taylors picked up medals for the IM3.2x, W.J15A.2x and W.J14A.2x, whilst Grange School won the J14.4x+ and W.J17A.2x.
As the sun warmed the crowds of supporters along the bank of the river, there was a growing sense of anticipation for the final races of the day. The third division was won by the Northwich RC IM3.8+, one of seven eights competing. York City RC, who had the second highest number of wins for the day from their 22 entries, were successful in the J17A.2x, J15A.2x, J15A.4x+ and MasC.2x.
With 20 of the 25 competing clubs winning at least one category, the event was an excellent showpiece for the sport. Well organised, and oversubscribed, the Head reflected how popular rowing is at every age, and how the desire to compete and succeed is at the heart of every club.
Results can be found here.
Article: Andrew Lowe
Photos: Andrew Archbold