Henley Royal Regatta to be Broadcast Live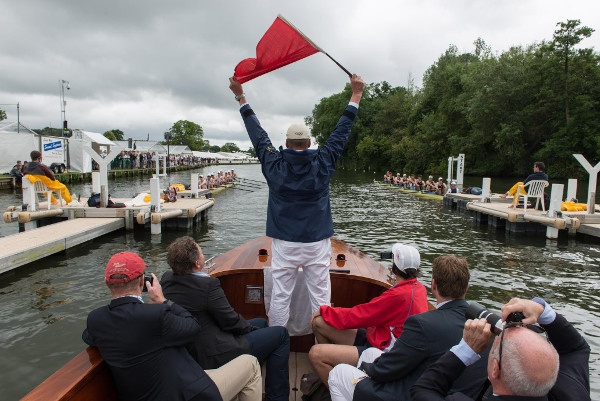 Henley Royal Regatta will be available to view around the world via a live stream in 2015, the committee of management of the world-famous regatta has announced.
All racing will be shown live and a daily highlights show will be available to watch on demand within an hour of the close of each day's racing from July 1-5. More than 250 races feature at the Regatta, which includes Olympians and emerging stars from around the world and is renowned for its gladiatorial match-racing.
This year's coverage will be produced in High Definition and streamed on the Henley Royal Regatta website, on the Henley Royal Regatta Official YouTube channel and will also appear on screens in the Grandstands within the Stewards' Enclosure. The coverage is presented by HRR in partnership with Sunset+Vine, a multi-award winning UK Independent TV sports production company and part of the Tinopolis Group.
The Regatta was last broadcast live in 1968 by the BBC, and highlights of the Regatta were last shown on television by ITV in 1976.
This year all races will be streamed live in their entirety from the afternoon of Friday 3rd July through to the finals on Sunday 5th July whilst the start, finish and key moments of all other races will be streamed live when a packed programme means that two races will be on the course at one time.
Sir Steve Redgrave, Chairman of the Royal Regatta, said: "This is a very exciting project in my first year as Chairman. I picked up the baton from my predecessor Mike Sweeney who initiated the project, which is now being led by fellow Regatta Stewards, Neil Chugani and Sir Matthew Pinsent."
"We have a small team that is now working hard with Sunset+Vine to produce a quality product which will bring the passion and excitement of Henley to a new audience".
Jeff Foulser, chairman of Sunset+Vine, commented: "We are delighted to have teamed up with Henley Royal Regatta to produce live broadcast coverage of this fantastic sporting event for the first time since 1968. There are not many opportunities to work with such an established, prestigious and well-known sporting event, which still offers a relatively blank canvas in broadcasting terms.
"This is hugely exciting, and we look forward to producing creative and innovative coverage of the event that can help bring the uniquely special experience of racing and spectating at the Regatta to a much wider audience around the world."
For more information, visit the Henley Royal Regatta website here.