Oxford Brookes women dominate in Henley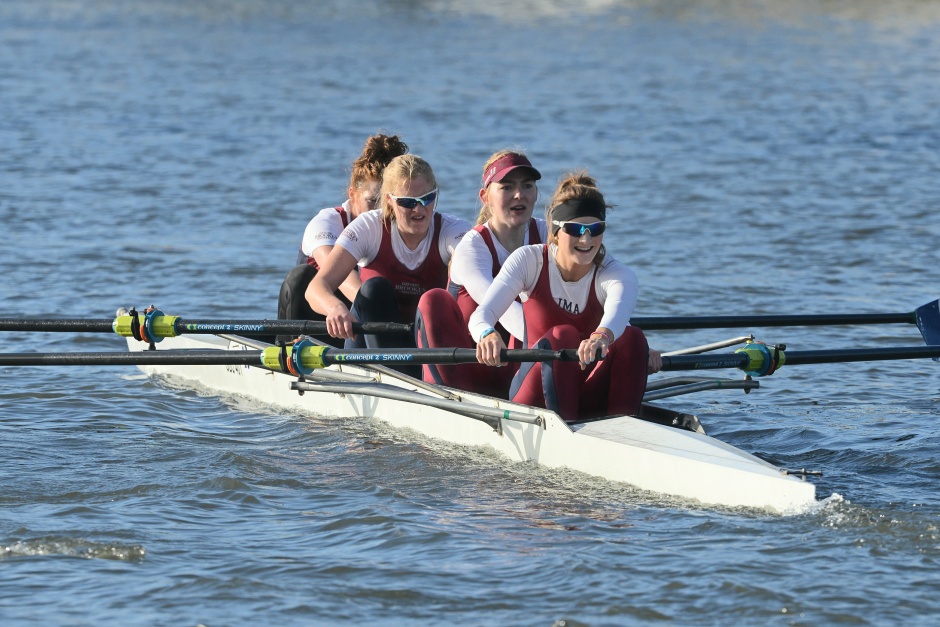 Henley Fours and Eights Head ran for the first time since 2011 on Saturday. The event has been cancelled owing to weather conditions for the last three years so the organising committee were delighted to run this year's 3,000m race in almost ideal conditions.
The event attracted entries from many of the local clubs, schools and universities including crews from as far afield as Southampton and Bournemouth. In total, 168 entries were spread across the three divisions, including a special category of 'mixed Valentine quads' which was won by a very fast crew from Upper Thames Rowing Club.
Upper Thames, racing on the home stretch also picked up wins including in the elite and IM1 coxless fours and both the masters B/D and masters E coxed fours.
The women's events were dominated by locals Oxford Brookes University with the squad winning WIM2 4+, WIM3 4+, WIM1 4, WIM2 8+ and WIM3 8+, the largest category of the event with 13 entries.
Coach Allan French commented: "As a squad we are keen to compete in head races such as Henley Fours and Eights for good racing this time of year and as great preparation for the Women's Head.
We were pleased to see the hard work ethic that the Brookes' crews took into their races throughout the day, producing some great results. We look to continue building on this in preparation for the Women's Head."
After travelling up from Bournemouth to compete, Betty Glover, women's captain of the university boat club, said, "Five am isn't my favourite wake up time, but the opportunity to race on the Henley course is something that as a club we couldn't turn down. The experience of racing in Henley makes the early starts and the long, cold day worth it!"
Locals Henley RC made a strong showing in the junior events with wins for the boys in J15 4x+ and J14 4x+ and for the girls in WJ18 8+, WJ18 4+ and WJ14 4x+.
Peter Knowles, Chairman of Henley Open Events who run the head, said: "The quality of the racing was very high and attracted a good crowd of spectators from the town. We had a strong entry, mainly from clubs due to half term.
"We would love to see you all at our sculling event over the same course in late October which also attracts a strong entry."
Provisional results from the event are now available at: www.henleyopenevents.co.uk/events/henley-fours-eights-2015.
Report by James Lee