Lakeland RC to bring rowing to Windermere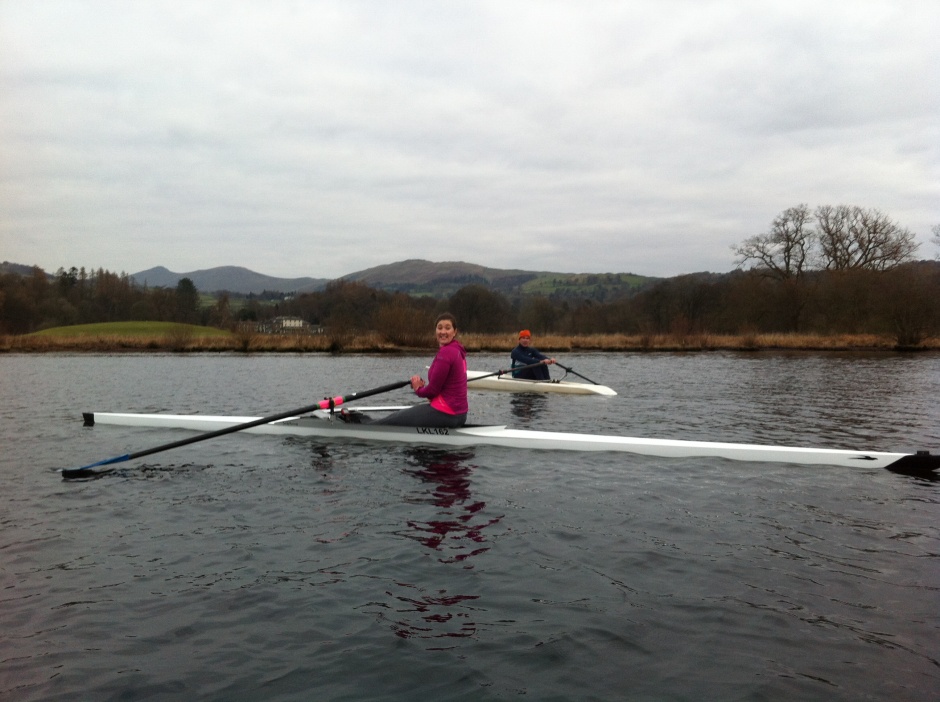 Lakeland RC has been awarded £10,000 by the Sir John Fisher Foundation, to start teaching people to row on Windermere.
Until 2007, there were no rowing clubs between Brampton and Lancaster, a distance of hundreds of square miles, stretching to the West Cumbrian coast.
Lakeland RC was set up by a small group of dedicated rowers in retirement, and since 2007 has grown as new members have been taught to row at the Club's northern base at Derwent Water Marina at Portinscale, near Keswick.
The club now has over 25 members, and is establishing a second base for people in the south lakes at Brockhole on Windermere.
They have been offered a place to row at the Lake District National Park's Brockhole visitor centre on Windermere and have been fundraising £20,000 to buy boats to begin running British Rowing Learn to Row courses.
Early last year, the club secured a Sport England Grant for £10,000 to buy its first stable quad. The new grant, from local charity the Sir John Fisher Foundation, will pay for a much-needed second stable quad and allows the project to start.
The club is working with local schools to bring rowing to the sports curriculum as well as teaching adults to row.
On Saturday 31st January 2015, club members and coaches will be attempting to row non-stop for seven hours in the reception of Kendal Leisure Centre, raising money for the club and teaching people to row on the gym's rowing machines. It's an opportunity for anyone to come along and try their hand at rowing from 10am to 5pm.
The club is also appealing to local businesses asking if they will sponsor a racing boat. It would mean their name would be on the side of a boat that would compete in races and be out on the water on Windermere for training as much of the week as possible. This would provide finer boats for new rowers to progress on to.
"This is fantastic news for the club," said Fiona Marley Paterson, Windermere Project Lead. "I never thought when I learned to row four years ago I'd end up trying to set up a club on Windermere. It's taken a lot of hard work to get to this point but it's so exciting. It all started with an email entitled 'slightly mad idea' but less than a year later we have boats on Windermere and can start teaching!
"I'm so grateful to the Sir John Fisher Foundation for making our dream a reality. This second boat means we can teach twice as many people to row in the same time and with the same number of volunteer hours. It also means we can run fun, friendly races for novices on Windermere.
"I've been overwhelmed by the support we've had from local people and organisations who can't believe there's so little rowing in this area. I never expected the waiting list to grow so big in just a few months but I think it's testament to the Cumbrian attitude. We love the outdoors, many move here for sport and the thought of taking on a new challenge is exhilarating."
Sophie Scott, a member of the club added: "Having discovered a love of rowing at University, I was keen to stay involved in the sport after I moved to Ulverston for work. I was really surprised once I moved here that there were really few rowing clubs in Cumbria, especially in the South Lakes area. The presence of a rowing centre at Windermere will give me the opportunity to take up the sport I love so much again, and I am so excited by the prospect on rowing in such a beautiful area. I am pleased that this new centre will also give others in the Furness area the opportunity to try this amazing sport and I am sure the Learn to Row courses will be successful in attracting more people to take up rowing. I for one can't wait to coach and row during these sessions, and see others benefit and enjoy this sport in such beautiful surroundings."
If you'd like to donate or learn to row in the South Lakes, contact lakelandrowingclubsouth@gmail.com or in the North Lakes contact info@lakelandrowingclub.com.
If you'd like your club's news to appear on the British Rowing website, please contact news@britishrowing.org.