A new facility for Molesey Boat Club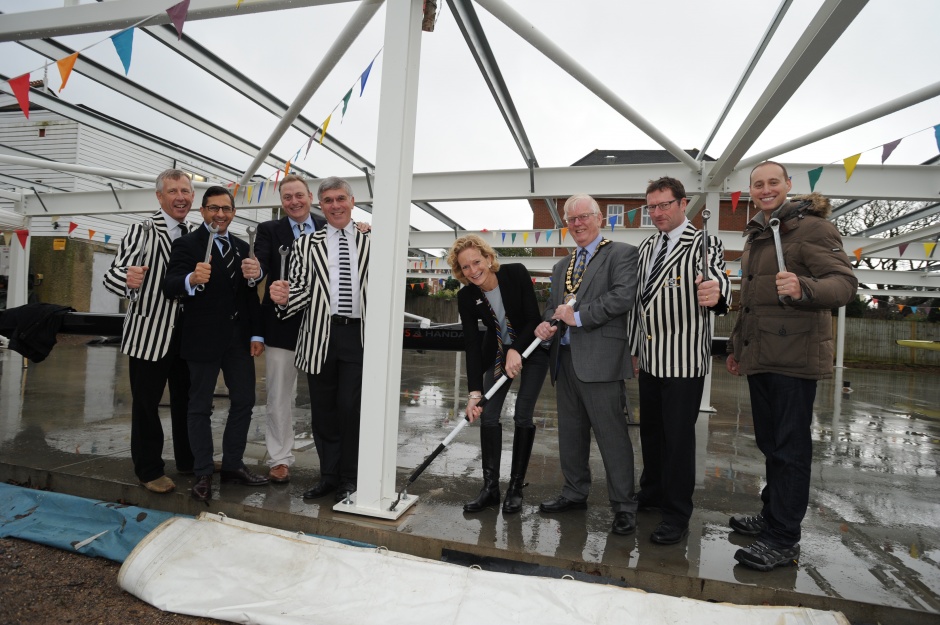 Molesey Boat Club's new rowing centre was topped out on Saturday 22nd November by Annamarie Phelps, the Chairman of British Rowing, alongside Elmbridge Mayor, Councillor Barry Fairbank.
Bill Raspin, MBC Chairman, said "The project was coming out of the ground as a result of a great team effort. Elmbridge Borough council officers and councillors have given us tremendous support, and a great deal of voluntary work has been put in by our members to make this happen."
The facility will provide a new eight-seater community rowing tank, which will help people learn to row by providing them with safe, stable conditions, and allow others to train when river conditions are dangerous.
"This is a wonderful addition to our sporting facilities", commented the Mayor, "and we are looking forward to it being used by clubs, schools and adults to get people more active in the borough".
It is hoped the new facility will be completed in the Spring of next year.
Annamarie Phelps, a previous member of the national GB rowing team, paid tribute to the considerable effort put into getting the project underway, and welcomed a new facility that will increase the accessibility of rowing for all.
For more information about the tank, or to make a donation, please visit www.moleseyboatclub.org
Photo L to R: Bill Raspin Chairman MBC, Neil Chugani CEO British Rowing, Ian Knight President MBC, Chris Daley, Annamarie Phelps Chairman British Rowing, Mayor of Elmbridge, Cllr Barry Fairbank, Andrew Graham, Simon Kay.