Indoor rowers clash in Cornwall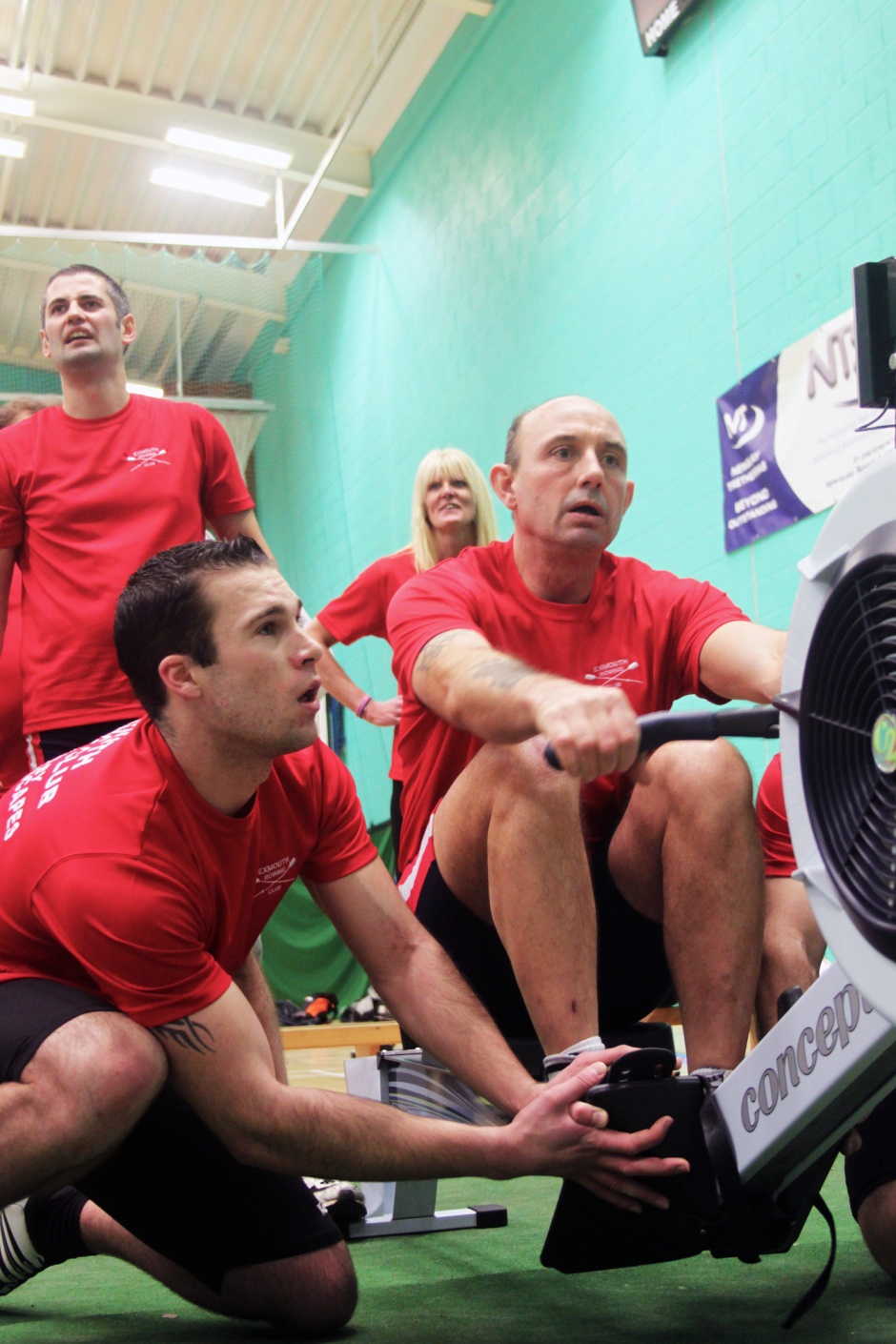 The Cornish Indoor Rowing Championships (CIRC) – which took place on Saturday 26th January – saw 69 athletes test themselves on Concept 2 machines in Newquay, Cornwall. The event was held again at Newquay Sports Centre, and run by British Rowing staff with support from a local volunteer who has been involved in the 'Sports Makers' scheme, run by the Cornwall Sports Partnership. Machines borrowed from Newquay Tretherras and Treviglas schools as well as the Sports Centre were used throughout the day, for junior races, adult 2,000m challenges, 500m sprints and a team relay.
First up were the junior races. Young rowers from Years 8, 9, 10 and 11 took part, using the 'Go Race Indoors' framework for competition. The best junior performance came from Hettie Bawden (Greenbank Rowing Club) who achieved over 100% of the British Rowing gold medal target for Year 9 girls.
Following the junior races it was the adults' turn to compete – this time over 2,000m. The ladies' event saw eight competitors race over three categories (Lightweight, Heavyweight and 40-49 Heavyweight). The fastest time of the day was from Caradon Gig Clubs Nicola Davey, who covered the distance in seven minutes and 28 seconds. Sarah Lewis from Greenbank Falmouth finished a close second, winning the lightweight category with 7:29.
The mens category saw some extremely close racing. Gig rower Simon Newton took the Open Heavyweight (HW) prize with a time of 6:22.4, just 0.4 seconds ahead of Exeter Rowing Club's Paul Minchell. The lightweight (LW) equivalent was won by Dan Rowse from Exeter RC with a time of 6.47.9. Three rowers contested the 16-18 year old category which was won by Harvey Stead of Exeter RC in a time of 6:26. The 40-49 HW category saw the fastest time of the day from Greenbank Falmouth's James Kerr (6:22.1) – 0.3 seconds quicker than the open heavyweight winner. The men's 50-59 HW was taken by Billy Baxter (6.49.2) and the 45-60 year old lightweight category by Dave Parsons (7:39.8). Matt Brewster once again took the Adaptive Legs, Trunk and Arms category – completing 2000m in 8:51.5. Ted Taylor from Newquay RC retained his 60+ LW title in 7.20.3, and Robin Corser took the 60+ HW in 7.36.8.
Eight Indoor Rowers battled out the event's 500m challenge, with all proceeds being donated to RNLI's 'SOS' day. The final event of the day saw seven teams compete over 2000m in a four-person relay, in three different categories.
The 2013 CIRC attracted more than double the number of entries as the 2012 event, especially in the male categories. This year, it was run as a 'Community Games' event in conjunction with Cornwall Sports Partnership. Community Games is a national initiative from the County Sports Partnership Network that brings together local communities to take part in sporting and cultural activities inspired by, and in celebration of, the London 2012 Olympic and Paralympic Games.
Thanks go to the Newquay Sports Centre for hosting and British Rowing staff for running the event. Pictures and results will be posted at http://westregionrowing.blogspot.co.uk/, and for all the latest from rowing in the West, you can follow @RowWestRegion on Twitter.
For more information on Cornwall Sports Partnership please see www.cornwallsportspartnership.co.uk.
Rhiannon Halliday, West Region Development Officer