Junior Indoor Rowers do battle in Cornwall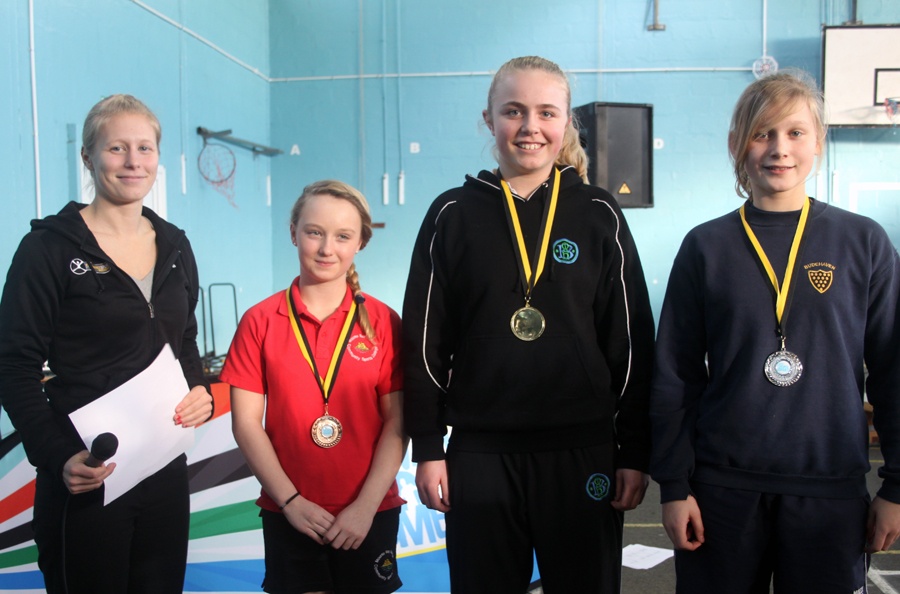 Over 130 schoolchildren gathered at Newquay Tretherras School, Cornall, on Friday 27 January for the Cornish Indoor Rowing Championships (CIRC) – one of the first events in the 2012 Cornwall School Games.
Participants in school years 7-13 competed in the event, which was organised by the Cornwall Sports Partnership and British Rowing staff using the 'Go Race Indoors' framework.
New for 2012 was a Year 12/13 race over 2,000m which saw 11 competitors from Truro-Penwith College and Truro School take part. In the female category Lucy Rawe of Truro-Penwith (who also rows for Looe Gig Club) took the gold, with 92% of the gold medal target. In the male category, the top three rowers all finished in under seven minutes, with Harry Preston, also from Truro-Penwith (and Falmouth Gig Club) taking gold with a time of six minutes and 43 seconds (104%).
The year 7-11 categories also saw some strong performances, with nine rowers scoring 100% or more.
The competition attracted entries from 11 secondary schools, with a large contingent from CIRC newcomers Redruth School. Several of these schools have strong partnerships with local rowing clubs, offering water-based sessions as well as Indoor Rowing.
A huge thanks to the following who made the event possible: Cornwall Sport Partnership; Newquay Tretherras School for providing the venue, equipment and sports leaders; Newquay Treviglas for their machines and Newquay Sports Centre.
The next Indoor Rowing competition in the West Region is the Plymouth City Championships on February 8, organised by coach Kevin Sellar. Following that is the UCP Marjon West Regional Schools Competition on March 6, which this year will incorporate the Devon School Games. It is also expected that several West Region schools will attend the National Junior Indoor Rowing Championships in London at the end of March.
On June 22, Gig Rowing will feature as part of the Cornwall School Games event, at Newquay. Schools are being encouraged to partner with local community clubs and form teams to enter in four different categories. It is hoped that forming these links will create a legacy from the games and allow more young people to access sport through community clubs.
For more information on Rowing in the West Region contact rhiannon.halliday@britishrowing.org.
Rhiannon Halliday