Performance Talent
Providing support to expand the ambitions of talented rowers.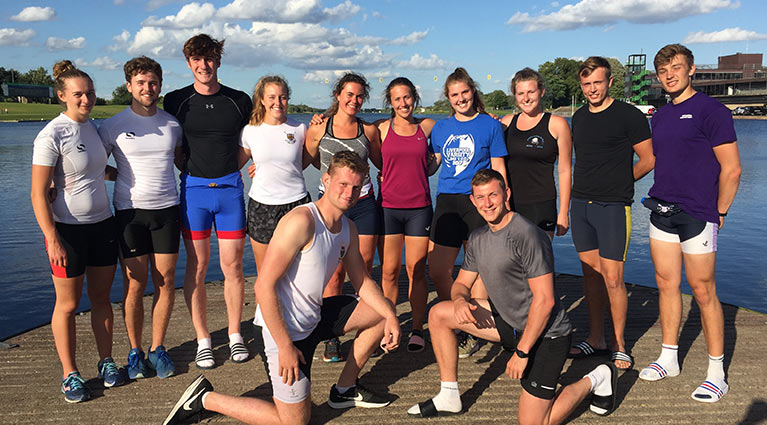 Want to see where rowing can take you?
The Performance Talent (PT) programme passionately believes in supporting and expanding the ambitions of talented rowers between the J15 and U23 age groups regardless of their background or circumstances, to achieve their ambitions with a particular focus on female rowers.
How does the programme work?
We use specific opportunities to spot rowers who show talent characteristics. Rowers showing potential will be invited with their coaches to work more closely with PT Coaches. PT Coaches will work with the rower, coach and club to support the rower's ambitions keeping track of their development and giving guidance on the most appropriate areas for improvement.
How do you apply to join the programme?
To join the programme you must be invited through one of the following ways.
Continued Support
Find out more about the support for rowers attending any of the Performance Talent activities with our Rower Report project.
FAQs
Do I need rowing experience?
Yes in the majority of cases, you will need to have had some rowing experience. If you live elsewhere and have not rowed before why not look at the World Class Start Programme.
I don't meet your criteria. Does this mean I cannot row for Great Britain?
NO! The Performance Talent programme is just one way to aim for the GB Rowing Team. Many of our Olympians learnt to row at school, university or a local club.  Find out about the other ways to get into rowing by checking out the Go Rowing page.
Why do you have age criteria?
To become an Olympian takes time so we want to recruit people that have the years ahead of them to learn and develop the skills that can take them to the podium.
Why do you have minimum height criteria?
Many of the most successful rowers are tall. This is because their long levers (arms and legs) help to gain maximum propulsion and make the boat go faster.  The Performance Talent programme is, therefore, looking for people with this attribute.
Do I have to row for a certain club or move if I get selected for the Performance Talent programme?
No, not initially. To start with we will support you at your host club, by working with your coach and club to provide the best opportunities for you. If and when the time is right we would encourage you to attend one of the High-Performance Programmes around the country.
If you have any questions or would like to know more about the Performance Talent Team please contact James Andrews, Head of Performance Talent.