Information
Information about the Mizuno British Rowing Indoor Championships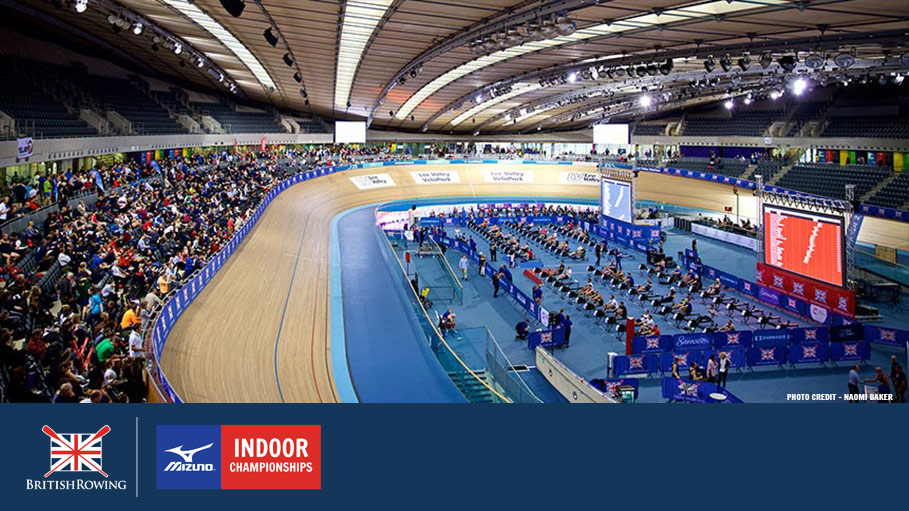 | Event Information | |
| --- | --- |
| Dates: | TBC |
| Time: | Racing, 9am-6.30pm (subject to schedule) |
| Location: | Lee Valley VeloPark |
Event Information:

Dates:
TBC
Event Information:

Time:
Racing, 9am-6.30pm (subject to schedule)
Event Information:

Location:
Lee Valley VeloPark
Competitor Information
| Important documents | |
| --- | --- |
| Event entries | When available |
| Event information | When available |
| Invictus Category Information | When available |
| Draw | When available |
| Race timetable | When available |
| Competitor Handbook | When available |
Important documents:

Event entries
When available
Important documents:

Event information
When available
Important documents:

Invictus Category Information
When available
Important documents:

Draw
When available
Important documents:

Race timetable
When available
Important documents:

Competitor Handbook
When available
Race categories
Adult
Adult race categories
2,000m
500m
Adaptive/Para 2000m
Adaptive/Para/Invictus 4 minutes
Adaptive/Para/Invictus 1 minute
Adaptive/Para/Invictus 4 minutes
Adaptive/Para/Invictus 1 minute
Junior
Junior race categories
Year 7: 2 minutes
Year 8: 3 minutes
Year 9: 4 minutes
Year 10: 5 minutes
Year 11: 6 minutes
Sixth form: 2,000m
500m
Adaptive/Para Timed Race
Adaptive/Para 4 minutes
Adaptive/Para 1 minute
Relay
Relay race categories
Adult 4,000m
Adaptive 4,000m
Junior timed relay: 8 minutes
Junior timed relay: 8 minutes
Filming and media
All competitors at the Mizuno British Rowing Indoor Championships need to be aware that the event may be streamed live online and that other media, including photographers, will be at the event and have been permission to publish images and content captured at the event online and in print.
If there are any concerns that you, your athletes or the parents of your athletes have in the run up to, or during the event, please contact the Event Welfare Advisor.
Safeguarding
The Organising Committee of the Mizuno British Rowing Indoor Championships recognises their duty of care to ensure that all reasonable steps are taken to provide a safe environment for all those attending the event in whatever capacity. For more information click here.
Transport
The best way to travel to BRIC is via public transport as there is no car parking available. The closest station is Stratford International and the closest underground station is Stratford.
If you are a blue badge holder please contact Jonna de Vries about parking.