British Rowing Lockdown Webinar Series
Staying connected with our regular series of webinars for the rowing community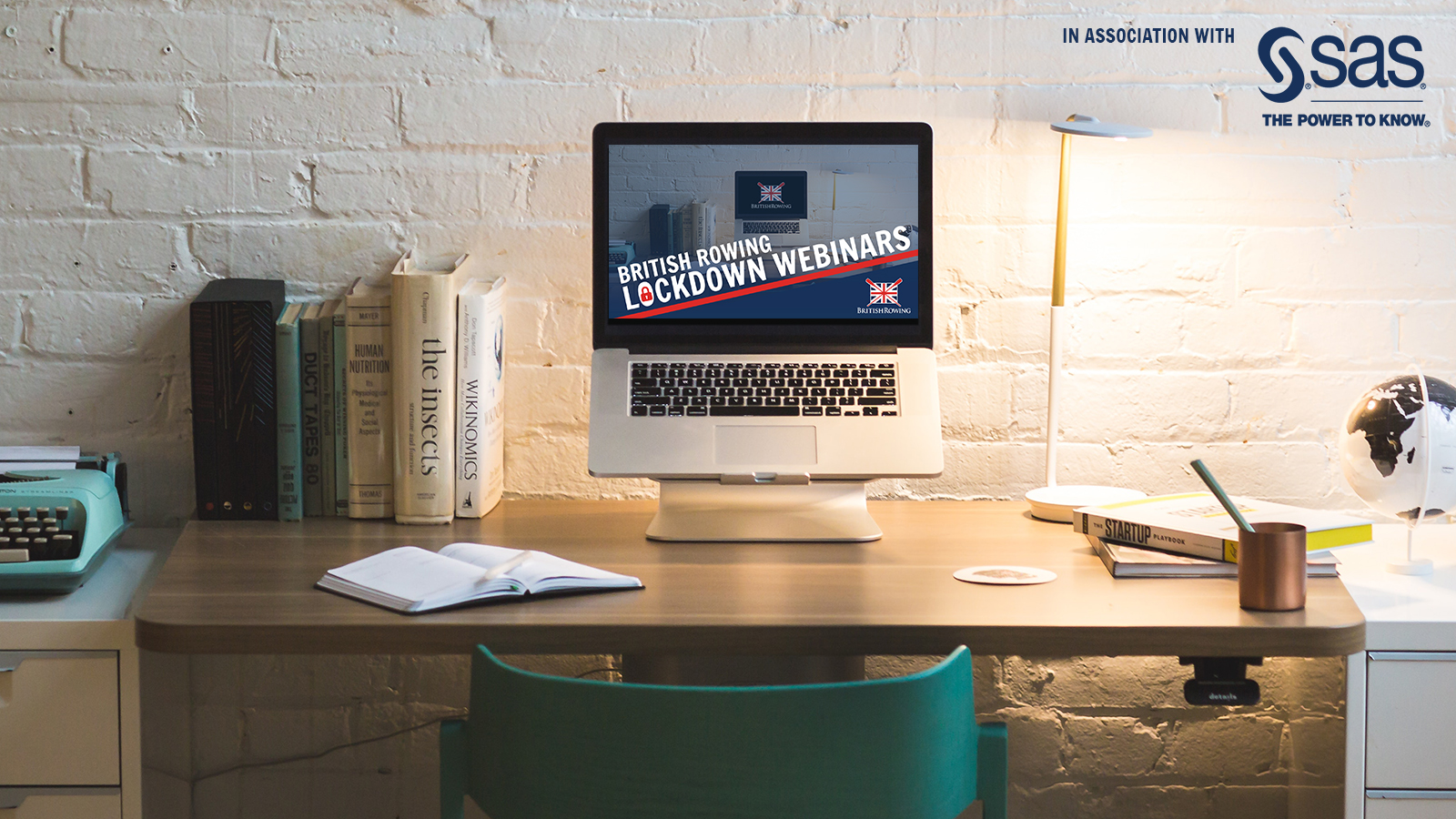 With the unprecedented events currently occurring in the UK and across the globe, British Rowing plans to host a series of webinars to keep the rowing community engaged. Topics will vary from week to week as we bring in coaches, athletes and more to help inspire and update you during this time. Keep checking back as we update this page with future webinars.
Upcoming webinars
| Date | Webinar | Speakers | Link |
| --- | --- | --- | --- |
Watch back previous webinars
Date
Webinar
Speakers
01/07
Coronavirus: Return to Coaching
The second webinar in our Return to Rowing series is focusing on coaches and anyone in a club who manages and supports coaches. The webinar will give you the chance to ask questions about how clubs can support their coaches, how coaches are reacting to government guidance and the challenges of returning to coaching, with some advice and experiences from our coaching panel.
Kate O'Sullivan (Deputy Chair British Rowing), Pete Sheppard (Chief Coach U23's and Juniors), Vicky Parry (Chair National Coaching Committee) & Rachel Hooper (Coach Developer and Regional Rep North West Region)
📽️ Video
️🖥️ Presentation
💁Handouts, 🚴‍♂️Review your Coaching Sessions, 💻Coaching People Online
30/06
Playing your part: Getting your club back up and running safely. 
In this webinar, you will hear stories from clubs about how their members have volunteered to help people get back out on the water and what you can do for yours.
Marieke Bal (BR Head of Membership), Nick Steel (Maidenhead RC),  Darrel Samanjoul (WAGS & Avon County RC) & Kathyrn Carlyle (Bewdley RC)
📽️ Video
️🖥️ Presentation
22/06
An insight into a coaches journey
James Harris (Coach of the Silver Medal GB W8+ at Rio 2018) talks to Martin Cross Olympic Rower and World Rowing commentator about the threads of his journey; Coaching, Personal and Education and how he has found a balance in his life to succeed along the journey.
James Harris (GBRT High Performance Coach ) & Martin Cross (Olympic Rower and World Rowing commentator)
📽️ Video
️
18/06
Technical Spotlight: Sweep Rowing
Hugo and Richard bring their vast amount of experience and technical knowledge to give athletes, coaches and anyone else interested in moving a sweep boat tips and tricks in how to improve their ability.
Hugo Gulliver (Chief Coach, University of London BC) and Richard Chambers (Women's High Performance Coach, Oxford Brookes University BC)
️📽️ Video
️🖥️ Presentation
09/06
Stay Healthy, Stay Happy
With the entire globe weathering COVID-19, it's important now more than ever we look to maintain our hygiene to stay healthy and happy! Join Perse as she looks at potential dangers around hygiene commonly associated with rivers and rowing. Including how you can help reduce the likelihood of illness in yourself and prevent spreading to others.
Persephone Wynn (Course Manager – Senior Club Coach)
📽️️ Video
️ 🖥️ Presentation
❓ Questions and Answers, 📄 Sepsis, ✋ Dealing with blisters
04/06
Returning to rowing – your chance to ask questions
Last week we published our latest guidance for clubs on considerations for a return to rowing. The guide will be updated as further advice and information becomes available. We recognise this is a tricky time for clubs and we hope that this advice has been helpful for you. To help you further, we have scheduled a webinar with a panel of experts from British Rowing. This webinar will give you the opportunity to ask questions of our panel about coronavirus, the advice for clubs and how the next steps will be managed.
Andy Parkinson (British Rowing CEO), Dr. Ann Redgrave (Chief Medical Officer) & Nick Hubble (Chair, Sport Committee)
📽️️ Video, Questions & Answers
02/06
Confidence: is it real or is it all in our minds? Ten practical and realistic steps that we can all take to focus on the mental side of rowing.
We all know that mental skills in sport are as important as the physical side of rowing. Finding out how to push yourself through the pain barrier, learning how to work in a crew, preparing to get the most out of yourself when racing and figuring out how to balance sport, life and work are all processes that we develop for ourselves and learn how to get better at. But did you know that even at the very top level of sport, elite athletes from across all sports will still struggle with questions about how best to train and compete? In this webinar, Olympic silver medallist and two-time World Champion Annie Vernon (author of Mind Games: Determination, Doubt and Lucky Socks – An Insider's Guide To The Psychology Of Elite Athletes  – 2019) will unpick the mental side of rowing and show how it's both absolutely critical for performance – and is also a lot easier than simply trying to train harder and fit more sessions into the week.
Annie Vernon (Olympic silver medallist and two-time World Champion, Author of Mind Games: Determination, Doubt and Lucky Socks – An Insider's Guide To The Psychology Of Elite Athletes  – 2019)
📽️️ Video
 
❓ Questions and Answers
28/05
An Athlete's Journey with Jessica Leyden
Jess Leyden is one of the country's most promising young rowers having won World Championships gold at both junior and U23 level. She has made a rapid rise through the ranks and has two seasons in the senior squad under her belt. Join Loretta Williams as she chats with Jess, the first ever GB rower to win an international women's single scull title, about her rowing career to date.
Jessica Leyden (Current GBRT Women's Squad, 2017 World Rowing Bronze Medalist, 2016 World U23 Rowing Gold Medalist and 2013 World Junior Gold Medalist) with host Loretta Williams (British Rowing Programme Manager – DiSE and Level 4)
📽️️ Video
 
26/05
The trials and tribulations of turning athletes from other sports into rowers
People from other sports can offer power and athleticism. In this webinar, World Class Start share some of their thinking, practises and experiences in making these people rowers and integrating them into crews.
Tom Young (World Class Start Coach – Strathclyde Park) & Helen Brown (World Class Start Coach – Twickenham)
️📽️ Video
️🖥️ Presentation
❓ Questions and Answers
21/05
Nutrition for Rowing
This session will look at how nutrition can support your training and performance, health and wellbeing. Tania, a lecturer in nutrition from the University of Bath, will discuss the importance of nutrition as part of the athlete lifestyle, discussing her experiences of working with athletes on their dietary choices as both a nutritionist and a rowing coach.
Tania Griffin (University of Bath, Lecturer in Nutrition)
📽️️ Video
❓ Questions, Answers & Useful Links
19/05
Recovery from Training
Join Lizzie Jacobs where she will cover tips on recovery. Including why it is important and some of the key recovery strategies that can be used around training and/or competition.
Lizzie Jacobs (GBRT Sports Science Intern)
📽️️ Video
️🖥️ Presentation
❓ Questions and Answers
14/05
Creative Strength Training
In this webinar, Ben will use his experience gained from working with the Saracen Rugby Academy and the GB Rowing Performance Pathway to give tips on how athletes can continue to complete strength training without the use of an equipped gym.
Ben Sheath (GBRT Strength & Conditioning Coach)
📽️️ Video
️🖥️ Presentation
❓ Questions and Answers
12/05
High PERFORMING Coaching
Loretta Williams, Programme Manager for the L4 Programme leads a panel discussion with some Level 4 Coaches about key concepts that can be explored and developed when creating a high performing coaching environment. Discussions will highlight formal development opportunities through the Level 4 and Post Graduate Diploma in Professional Sports Practice.
Loretta Williams (British Rowing Programme Manager – DiSE and Level 4)
️📽️ Video
️🖥️ Presentation
❓ Questions and Answers
07/05
ClubHub – An introduction for new users.
ClubHub is British Rowing's online membership management system. It is a free tool for affiliated clubs to help you manage the everyday tasks involved in running your club. This webinar introduces some key features and explains how they will make your lives easier, giving you more time to do the things you love – like rowing!
Phil Pring (British Rowing Community Support Manager)
📽️️ Video
❓ Questions and Answers
30/04
Technical Spotlight: The Sculling Frontend
Between them, Mark and James have coached the last three winning Henley Royal Regatta Fawley Challenge cup crews; Mark with The Windsor Boys School in 2017 and 2018 and most recently James with Leander Club in 2019.  In this webinar, they discuss their thoughts on the sculling front end and how little movements can make a huge amount of difference.
Mark Wilkinson (Head Coach at The Windsor Boys School) & James Loveday (Performance Development Coach – Paralympic Programme)
📽️️ Video
️🖥️ Presentation
❓ Questions and Answers
28/04
What's right for right now?
High Performance Coach Nick Baker and Paralympic Cox Erin Kennedy reflect on the approach taken by the GB Paralympic Squad with the current lockdown. In this session, they will look at building a creative, functional and fun virtual team environment. They're programme priorities for the summer whilst exploring what's important for you and your athletes. As well as asking the question; "How Much is too much?" in regards to contact type and volume whilst understanding the individual's needs.
Nick Baker (High Performance Coach, Para) & Erin Kennedy (Cox of the Gold Medal winning PR3 4+ from the 2018 & 2019 World Rowing Championships)
️📽️ Video
23/04
Creative Training Ideas at Home
British Rowing's Henley Royal Regatta Charitable Trust Coaches work in schools and clubs to develop participation activities. Much of their work centres around creating fun activities that engage and retain participants. In this webinar, they will share some of their thoughts and philosophies on developing fun activities and what can be taken from this into the home environment.
Amy McCarthy (City of Sunderland RC), Jess Harris (Dorney Boat Club), Ellie Sadler (Star RC)
📽️️ Video
️🖥️ Presentation
21/04
Lockdown life with GB Rowers Eleanor Piggott, George Rossiter & Matt Rossiter
Join Eleanor Piggott, George Rossiter & Matt Rossiter of the GB Rowing Team with host Camilla Hadland (World Rowing Commentator) as they discuss their current experience in lockdown. Life now during the changes, adaptions they are facing with training and how they are keeping focus for the future. 
Eleanor Piggott, George Rossiter & Matt Rossiter with host Camilla Hadland (World Rowing Commentator)
📽️️ Video
16/04
Tips for Improving Hip Mobility
This session moves on from the Movement Patterns webinar and looks at exercises that can improve your hip mobility and the progression of a hip mobility program that an athlete may go through.
Steve Leonard, English Institute of Sport & GBRT Physio
📽️️ Video
️🖥️ Presentation
❓ Questions and Answers
14/04
Assessing Movement Patterns
This session looks at how you can assess your movement patterns and gives tips on how to analyse it at home thinking about how this affects the rowing stroke.  Looking at deviations from the gold standard and stressing where the issue may originate from.
Rachel Hooper, Head of Rowing Grange School, Women's Training Day Lead Coach (NW) and Regional Coaching Commissioner (NW), DiSE Consultant & Coach Educator
📽️️ Video
️🖥️ Presentation (Part 1 / Part 2)
❓ Questions and Answers
09/04
Checking In
The current COVID19 health crisis offers the ultimate test, to put the UK Sport promoted principles of  People First'  and 'It's More Than Medals' in place.  These principles are the new currency in our British Rowing High-Performance Environment.
This session looks at how we can CHECK-IN with our athletes, peers, parents and other key stakeholders to support them in this most volatile period of our lifetime. A coaching conversation that puts the person at the very heart of it.
Jurg Gotz. Jurg has supported Elite Athletes, Coaches and Practitioners on their journey to win medals at the Olympic Games and other major international events through 6 Olympic cycles from 1990 to 2012.
📽️️ Video
️🖥️ Presentation
❓ Questions and Answers
07/04
The Rower Development Guide Explained
Join us as we introduce you to the new and improved updated version of the Rower Development Guide. In this session, we'll talk through setting up the unique guide and some of the content contained within.
James Andrews, Head of Performant Talent & Peter Sheppard, Chief Coach (U23s & Juniors)
📽️️ Video
️🖥️ Presentation
❓ Questions and Answers
If you have any suggestions for future webinars you'd like to see please complete this form. 
British Rowing encourages juniors to participate in its online training. However, we recognise that relevant safeguards need to be put in place so they remain safe while participating. All juniors under 18 should read and agree to comply with British Rowing's Acceptable Use Statement for Webinars, and should also ensure they have consent from their parent/carer to participate in the webinar.
Once registered for a webinar you can view them through your web browser or via the GotoWebinar App available for free on the Google Play Store or Apple App Store.