All you need to know about… RACE membership
British Rowing membership is changing. Find out more about our new RACE membership below.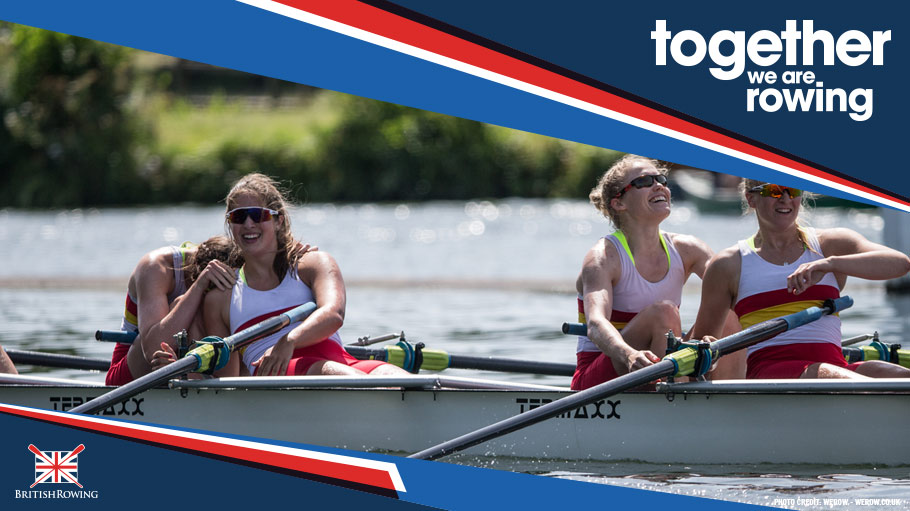 British Rowing RACE membership is for competitive rowers, dedicated to training, focused on the next race and always looking to improve their performance.
RACE is one of four new membership types – RACE, ROW, COACH and SUPPORT – that will replace the current British Rowing Gold, Silver and Platinum categories.
These changes will be the first in a series of improvements to the British Rowing membership, aimed at better recognising and rewarding the key roles within our sport, creating a foundation on which to further expand our membership offer, and making it more relevant to you, our members.
To help you better understand the changes we're making, we've put together the answers to some common questions below. Don't see the answer you're looking for? Email us at membership@britishrowing.org.
The move to the new membership framework is due to take place on Tuesday, 20 November, when our new online member management goes live. Keep an eye on your inbox over the next week for important updates about your membership.
RACE membership – your questions answered
Who is RACE membership for?
RACE membership is for competitive rowers, especially those who want to enter British Rowing affiliated competitions.
What are the key benefits?
As a RACE member, you'll receive a Race Licence for 12 months, allowing you to compete in hundreds of British Rowing affiliated competitions nationwide. You'll have online access to your own RACE profile, Personal Ranking Index and race history.
You'll also benefit from specialist personal accident and third-party liability insurance, providing valuable cover both while you're training on and off the water, and while you're competing in affiliated competitions. You'll receive a formal policy certificate outlining exactly what you're insured for when you join or renew.
RACE members get access to British Rowing's world-leading training resources, courses and guidance to help you perform at your best, six editions of Rowing & Regatta magazine a year, and new-and-improved monthly emails with the latest from the rowing world.
You'll also get discounts from sports retailers, on the high street and online, and other British Rowing partners.
At the same time as the new membership categories, we're also launching a new online system to help members manage their relationship with British Rowing. This will sit on the same platform as our new British Rowing ClubHub Portal, so if your club signs up to use this you'll be able to manage both your British Rowing and club membership in one place.
How much will RACE membership cost?
Adult RACE membership is £58.00 a year, with a 50% discount for classified Adaptive rowers, making it £29.00 a year.
For students in full time education, RACE membership is £37.00 a year (a 35% discount on Adult membership). For Juniors (Under-18s) race membership is £29.00 a year (a 50% reduction on Adult membership). Overseas rowers will be charged £10 year.
With the exception of Overseas membership, these prices are unchanged from the current prices.
How do I become a RACE member?
If you're already a British Rowing Gold member, you will be moved automatically over to RACE membership.
If you're not already a member, you'll be able to join as a RACE member when we launch the new membership types
Why create a RACE membership?
The racing community is our largest group of members, and racers have very specific goals, wants and needs. We wanted to specifically recognise this group of rowers, and start to make this type of membership more relevant to them, through the benefits we provide, the communications we send and the way membership is presented.
The initial launch of RACE membership is just the start, and we'll be actively seeking input from our members to enhance
Will I get one of the new membership cards – and when?
RACE members get a new, improved membership card and joining pack when they next renew, or when taking out British Rowing membership for the first time.
Our new membership card is plastic and pre-printed so, by very popular demand, you won't have to assemble it yourself, and it won't fall apart if you accidentally put it through the washing machine!
The card will have your details, photo, and any relevant qualifications printed onto it (eg. first aid or coaching qualifications). You'll update and upload this information online, through our new system.
Why should I become a member of British Rowing?
As well as providing products and services to support you, your membership of British Rowing plays a vital role in supporting the sport. We are a non-profit organisation, so all income from your membership fee is invested back into the sport at a grassroots level.
This means your membership provides direct support and assistance to rowers and coaches, and to the many hundreds or community, school and university clubs across the country. It drives the development of coach education and training, and helps provide critical functions to the sport, including anti-doping, safeguarding and competition management.