All you need to know about… COACH membership
British Rowing membership is changing. Find out more about our new COACH membership below.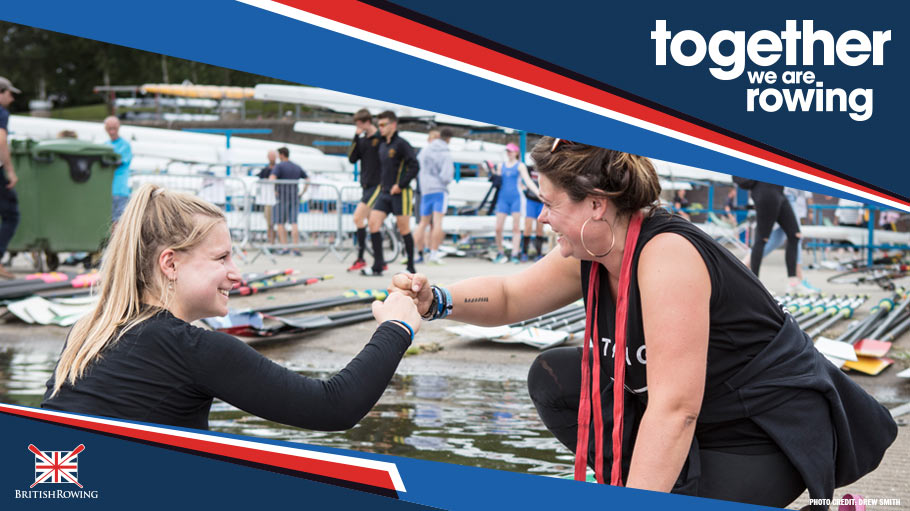 British Rowing COACH membership has been specially designed to support and reward qualified rowing coaches.
COACH is one of four updated membership types – RACE, ROW, COACH and SUPPORT – that will replace our current Gold, Silver and Platinum categories.
Our new membership framework has been created to better recognise the different roles within our sport, and to create a foundation to further develop the membership offer in the near future.
COACH membership was developed in close collaboration with British Rowing's National Coaching Committee, specifically to support to the growing community of coaches with a British Rowing qualification.
To help you get a better feel of what COACH membership is all about, we have put together the answers to some common questions below. Don't see the answer you're looking for? Email us at membership@britishrowing.org.
The move to the new membership framework is due to take place on Tuesday, 20 November, when our new online member management goes live. Keep an eye on your inbox over the next week for important updates about your membership.
COACH membership – your questions answered
Who is COACH membership for?
COACH membership for the community of around 2,000 qualified coaches – ie. anyone with a formal coaching qualification from British Rowing, from Session and Club Coach right the way up to Advanced Coach.
What are the key benefits?
As a COACH member you'll get access to tailored courses, workshops and exclusive content to help you to provide structured training and guidance to aid your rowers' development.
COACH members benefit from being covered by our specialist personal accident and third-party liability insurance, and also receive an extra level of cover in the form of professional indemnity insurance. This insures against incidents arising from advice provided as a coach or educator. COACH member insurance is arranged by Howden, the UK's largest independent insurance brokers. More information can be found on our dedicated insurance micro-site here, and a policy certificate will be included in your COACH membership pack.
COACH membership also gives you the chance to join a community of coaches that operate within affiliated clubs, allowing you to benefit from the experience and expertise of each other and from senior coaches within the sport.
It includes exclusive opportunities to learn from British Rowing's High-Performance coaches, plus the opportunity to be recognised and nominated for the British Rowing Coach of the Year Awards.
COACH membership includes great discounts from sports retailers, on the high street and online, as well as six editions of Rowing & Regatta magazine a year.
We're also launching a new online system to help members manage their relationship with British Rowing. This will sit on the same platform as our new British Rowing ClubHub Portal, so if your club signs up to use this you'll be able to manage both your British Rowing and club membership in one place.
How much will COACH membership cost?
COACH membership is £31.00 a year, or £58.00 if you also want a Race Licence to row in affiliated competitions.
How do I become a COACH member?
If you already have a British Rowing coaching qualification and are a current British Rowing Silver member, you will be moved directly over to COACH membership.
If you have a coaching qualification and are a current British Rowing Gold member, you'll be moved to RACE membership so you can continue to race in affiliated competitions, but you'll also receive all the benefits of COACH membership, including the additional professional indemnity insurance.
If you are not a current British Rowing member but would like to become a COACH member, all you need to do is provide proof of your coaching qualification when buying your membership.
What if I coach, but I don't have a British Rowing qualification?
COACH membership is for qualified coaches, but we appreciate that there are lots of non-qualified coaches who are highly experienced and play a vital role in the sport, so we will be providing a process and criteria through which these coaches can also apply for COACH membership. We will also have a process by which coaches with a recognised overseas qualification can apply for COACH membership.
For more casual coaches and coaching assistants, we recommend British Rowing SUPPORT membership, details of which will be available once the system is live.
Why have you developed COACH membership?
Firstly, because the coaching community asked for it. A significant amount of research was used to inform its development, including a coaching survey which received over 800 responses.
We also recognise the fundamentally important role that coaches play in the sport, and the commitment of those that develop and formalise their expertise through British Rowing qualifications, and are keen to continue to support this group through a specialist form of membership.
Will I get one of the new membership cards – and when?
We'll provide all COACH members with a new membership card when they next renew their membership, or when they join for the first time. The new plastic cards will come pre-printed with your information and photo, as well as any relevant qualifications. This will also double-up as proof of your coaching qualifications, which can be provided when requested by clubs.
Why should I become a member of British Rowing?
As well as providing products and services to support you, your membership of British Rowing plays a vital role in supporting the sport. We are a non-profit organisation, so all income from your membership fee is invested back into the sport at a grassroots level.
This means your membership provides direct support and assistance to rowers and coaches, and to the many hundreds or community, school and university clubs across the country. It drives the development of coach education and training, and helps provide critical functions to the sport, including anti-doping, safeguarding and competition management.