Mark Davies
Chairman of British Rowing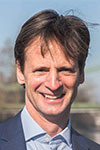 Mark Davies was appointed Chairman of British Rowing in March 2018, taking on his role from 1 April 2018.
He was previously Chairman of ArcheryGB, and a Trustee of SportsAid. Currently, he is chairing an Onside Youth Zones project in Hammersmith to build a state-of-the-art facility for underprivileged children, and is a Governor of Holyport College, a state boarding school in Berkshire.
He began his career in the City with JPMorgan, before moving on to spend five years working in media – broadcasting and producing for BBC Sport on Radio Five Live and News24, and writing about cricket and rowing for the Daily Telegraph. He became part of the team that set up and launched Betfair, the sports betting company, in June 2000, and he spent the next decade as the public face of that business, working with Governments and sports bodies round the world.
He got his first taste of rowing as an undergraduate at Christ's College Cambridge in 1990, and went on to cox in both Cambridge and England colours, including two Goldie races, a two-foot win over Wales in the Home Countries International, and ignominious defeat in a Henley final for which he hangs his head to this day.
Although a keen sculler during the years he spent living in Australia, he now limits his day-to-day involvement to indoor rowing at home, where he lives with his wife, Miranda, and their four children aged 16 to 10.
You can get in touch with Mark, via email, on: mark.davies@britishrowing.org.