Level 2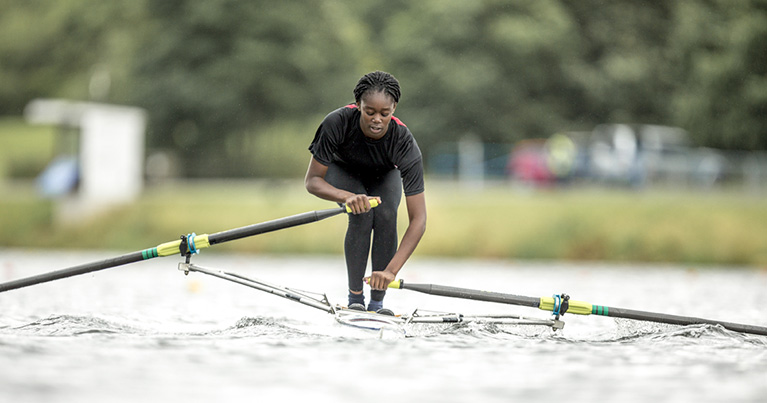 British Rowing would like to see all coaches supporting their rowers to be competent with Level 1 before moving on to any specific rowing training. Successful completion and positive experiences of the level 1 stages is likely to keep the rower interested and engaged to stay in the sport.


Developing confidence to get in and out of the boat and demonstrate simple skills.
More info
In any boat type Sculling or Rowing.
Getting afloat
As a crew:
Carry the boat, turn and place on water.
Independently:
Place the blades in the correct swivel and tighten.
Adjust to correct backstops position.
Grip and posture
Correct sculling / rowing grip.
Square and feather using the fingers.
Maintain good posture for whole stroke sequence.
Confidence and balance skills
Building on all the exercises for Level 1 but increased targets and quality.
Can do a roll up.
Manoeuvrability
Tap turn a boat.
Turn the boat 360 in 55-60 sec.
Get onto a stake boat, use passing blades forward technique to maintain straight course.
Can show looking over both shoulders when steering.
Stopping skills
Successfully carry out an emergency stop from strong paddling speed.
Sequencing
Demonstrate hands, body and slide on recovery.
Demonstrate the recovery in a fixed seat boat.
Arms only, body lean (hip pivot).
Quarter, half, three-quarter, full slides with correct body and hand position at each point – where appropriate for the boat type.
Catch and connection
Place blade correctly as the last part of the recovery phase.
Can lift their weight off the seat while pushing from the catch position five times.
Square extraction whilst paddling.
Introduce feathering with early re-squaring.
Recovery follows hands, body, slide model with good posture.
OR
Fixed seat recovery with good posture.
Hands are held so that blades are clear of the water on most strokes.
Squaring is completed by three quarter slide in preparation for the catch.
Demonstrates good ratio and rhythm at low rate.
Performance
Distance per stroke:
Water 1,000m @ 24
Rowing machine 1,000m @ 24

Developing flexibility, strengthing and stability to promote physical literacy and correct movement pattern.
More info
Core Engagement
Can successfully complete Testing Core 2. (See Core Workshop).
Flexibility
Can successfully complete all exercises from Intermediate Flexibility.
Can hold the ideal position for the Thomas Test. (See British Rowing Technique Workshop).
Strengthening
Can complete all exercises from Intermediate Strengthening.
Can consistently engage their glutes before hamstrings using the Glute Test. (See British Rowing Technique Workshop).
Stability
Can complete all exercises from Intermediate Stability.

Developing physical activity to maintain a consistent elevated heart rate for a short period of time.
More info
Ergo
On water
General Fitness
Can complete 30 minutes of continous cross training comfortably with an elevated heart rate. (e.g. swimming, running, cycling etc.).

Developing knowledge to allow the rower to become independent.
More info
Rowing terms
Understand the meaning of:
Equipment
Basic equipment maintenance:
Checking nuts and bolts.
Attaching riggers.
Understand how adjustment of foot stretcher and height effects position in boat, comfort, stroke length, posture.
Ergos
Knowledge of how and where to set ergo drag
Competition
Have a basic understanding of how regattas & head races work.

Begin to take ownership of their training as well as their behaviour and responsibilities within the sport.
More info
Cold Water Immersion & Hypothermia
No matter how good a swimmer you are, sudden unexpected immersion in cold water can cause an initial cold shock that affects muscular co-ordination and impairs the ability to swim. Heat loss from immersion can quickly cause hypothermia. Any of these factors can lead to drowning. Everyone has a responsibility to assess and manage the risk of immersion in cold water and to know what to do if it occurs.
(Section 8.1 of RowSafe) Everyone is expected to:
Have studied the effects by completing the British Rowing Cold Water & Hypothermia online learning module
Know and watch for the symptoms of mild hypothermia (such as complaints of feeling cold and tired, poor comprehension, disorientation, poor concentration, irrational behaviour, violent outbursts and confusion)
Understand the effects of cold water immersion and hypothermia
Be prepared for those effects if immersed in cold water
Wear clothing appropriate to the conditions (see Keep warm and Introduction to Coxing and Steering online learning for those people who are involved in coxing)
Sunburn, Heat Illness and Exhaustion
(Section 8.2 of Rowsafe) Everyone is expected to:
Understand the effects of hyperthermia (heat illness and heat exhaustion) and sunburn (see Avoiding Heat Illness in the Club Coach material and NHS Choices Introduction).
Be prepared for those effects if exposed to heat or sun.
Use a high factor sunscreen and wear clothing appropriate to the conditions (see Introduction to Coxing / Steering online learning).
Carry drinking water and remain hydrated.
Observe fellow rowers and watch out for signs of hyperthermia or sunburn (see under "Coaches" below).

For level 2 rowers, events should be focused on development and gaining experience or continued participation for more experienced rowers who have decreased the amount of training they are able to do.
More info
This could include:
Skill events e.g. J14 Omnium at British Rowing Junior Championships.
Ball Cup
Explore Series
Tours
Local races, including regattas and head races.
Challenge events, e.g. The Great Tyne Row, Great River Race, Tideway Heads.
British Rowing Sculling Festival (Novice categories).
Beginner categories of national events e.g. J14's at BRJC or National Schools, Beginner/Novice events at BUCS events or National Masters.
British Rowing Beach Sprints.
Workshops & Learning Opportunities