Level 1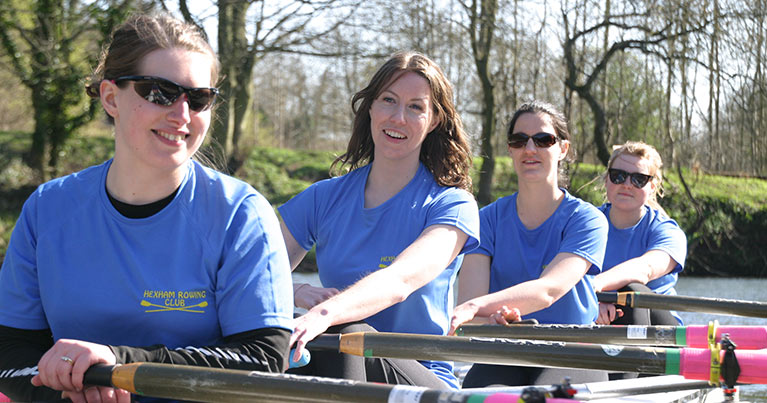 Level 1 is the initial level in a rower's development and ALL rowers should be competent with this level before progressing onto Level 2. Successful completion and positive experiences of Level 1 is likely to keep the rower interested and engaged to stay in the sport.


Developing confidence to get in and out of the boat and demonstrate simple watermanship skills.
More info
In any boat type Sculling or Rowing
Getting afloat
With help:
Carry the boat out, turn and place on water.
Place the blades in the correct swivel and tighten.
Adjust to correct backstops position.
Explain the rules on direction of boating.
Get in and out correctly.
Grip and posture
Correct sculling grip.
Correct rowing grip.
How to sit in a boat.
Confidence and balance skills
Confidence drills are an important part of a rowers development to help establish better stability and an understanding of how movement affects the boat to make them a more effective rower. Can perform all of:
Circles
Rigger dips, sitting
Rock and remove hand(s)
Rigger dips, standing
Stand up in boat
Slapping or chopping
Balance, blades off the water in the safe position
Manoeuvrability
Paddle on and back down with one or two blades.
Basic understanding of how the boat will move.
Turn the boat full circle.
Stopping skills
Perform an emergency stop and sit in safe position.
Can carry out an emergency stop when backing down.
Sequencing
OR
Recovery sequence for fixed seat boats.
Catch and connection
OR
Correct catch position for fixed seat boats
Attempts suspension drills on rowing machines and in boats, and can lift off seat.
Able to sit at backstops / position for extraction and extract square blade when stationary (or place the blade between the pins).
Understands what ratio and rhythm in a boat is and why it is important.

Basic flexibility, strengthening and stability to promote physical literacy and correct movement pattern.
More info
Swimming Competence
(Section 3.6 of RowSafe) Ideally all participants in rowing should be competent and confident swimmers. However some may not be as competent. A Risk Assessment should be used to determine the appropriate procedures for participants with limited swimming ability:
It should be recognised that the ability to swim in a pool does not guarantee the ability to swim in cold, exposed waters. This is explained further in the on-line learning module on Cold Water and Hypothermia.
Ideally, everyone taking part in rowing should be able to:
Swim at least 50 metres in light clothing (rowing kit).
Tread water for at least two minutes.
Swim under water for at least five metres.
However, these times and distances could be extended so that they are appropriate to the venue where rowing takes place.
Core Engagement
Can engage their core and can successfully complete Testing Core 1. (See Core Workshop).
Flexibility
Can successfully complete all exercises from Basic Flexibility.
Strengthening
Can complete all exercises from Basic Strengthening
Can engage their glutes using the Glute Test. (See British Rowing Technique Workshop)
Stability
Can complete all exercises from Basic Stability

Conditioning physical activity to elevate heart rate.
More info
On water
Can maintain correct technique for a minimum of 500m of continuous rowing.
General Fitness
Can complete 20 minutes of continuous cross training comfortably with an elevated heart rate. (e.g. swimming, running, cycling etc.)
Can complete a number of the Dynamic warm up exercises to an appropriate level such as:

Jog.
High Knee Jog.
Walking Lunges.
Side Skip.
Jogging Leg Curl.
Squat Jump.
Walking Twist.
Can Walk.
Bounding Vertical Jumps.

Basic understanding of rowing terminology, safety standards and suitable clothing requirements.
More info
Rowing terms
Understand the meaning of:
Easy oar
Hold it up
Back stops
Front stops
Number off from bow
Recovery
Catch
Finish
Equipment
Identify and name the following:
Stern
Bow
Riggers
Foot stretcher
Slides
Seat
Swivel
Gate
Blade – spoon, button, handle
Clothing
Know what is the correct clothing to wear in varying conditions.
Waterborne Infections and Diseases
(Section 8.4 of Rowsafe) Everyone is expected to:
Read and understand any information on waterborne infectious agents and contamination provided by the club
See their own doctor as soon as they think that they may have any relevant symptoms
Inform the club if they have contracted a disease associated with a waterborne cause so that others can be encouraged to take greater precautions
Cover all cuts or grazes with waterproof dressings if the water is contaminated
Wash or shower after any significant contact with water from the river, lake, canal or sea especially if they have any exposed cuts or grazes
Never drink water from sources such as rivers, lakes, canals or sea
Wash hands thoroughly before eating or drinking
If contaminated water has been swallowed, refer to their doctor with full details of the incident
Wear suitable footwear when launching or recovering a boat, particularly if it is necessary to wade into the water, to prevent direct contact with the water and protect the feet from cuts and abrasions
Hose down all equipment after outings to remove any potential contamination
Capsize Recovery
(Section 3.7 of Rowsafe) Everyone is expected to:
Know what to do in the event of capsize or swamping
Understand the need to stay with the boat and use it as a life raft, unless doing so results in greater danger
Take precautions before going afloat to reduce the risk of capsize or swamping
Understand that the key steps are to:

Get free from the boat,
Get out of the water, and
Get off the water

Attend any Capsize and Recovery training offered by the club
Be aware of the effects of cold water shock and hypothermia, described in the Cold Water and Hypothermia online learning module

Building the 5 C's of Competence, Confidence, Connection, Character and Creativity.
More info
Clean Sport
All rowers must be made aware of what Clean Sport is and what it means for them. They should read the Clean Sport guidance available on the British Rowing website and know that anyone can be tested at any time. They should also download the Clean Sport app, and read the materials available on the Athlete Zone of the UK Anti-Doping website.
Safety
(Section 6.1 of Rowsafe "People new to rowing") Everyone is expected to:
Provide extra guidance and support for people who are new to the sport
Ensure that new rowers are not exposed to risks that they would find substantial or intolerable
New rowers are expected to:
Attend the club's Induction Programme and follow the advice and guidance in the Club Induction Pack (see RowSafe 2.2)
Provide the club with relevant information such as swimming ability
Inform the club of any reason that they may be at risk due to current or previous illness or injury
Operate within their competence level by recognising their growing level of knowledge and understanding
Ask a coach or Club Official about any aspects of safety they are concerned or unsure about
Take responsibility for their own safety and the safety of others affected by their activities
Be aware of key club and sport policies and rules and where to find them
Report incidents to the club and British Rowing

For rowers training at this level events should be focused on learning, skill development, enjoyment, and the social experience of rowing.
More info
This could include:
Skill events e.g. Skills Heads (Northern Region Explore Series).
Explore Series.
Tours.
Internal club events e.g. Pubs & Clubs, Splash & Dash, Trade 4's.
Scratch crew regattas. e.g. War of the Roses (Bradford ARC).