GB vs France Match (J16)
This 1500m head to head race is an annual set of races between Great Britain and France, who each take it in turn to host the match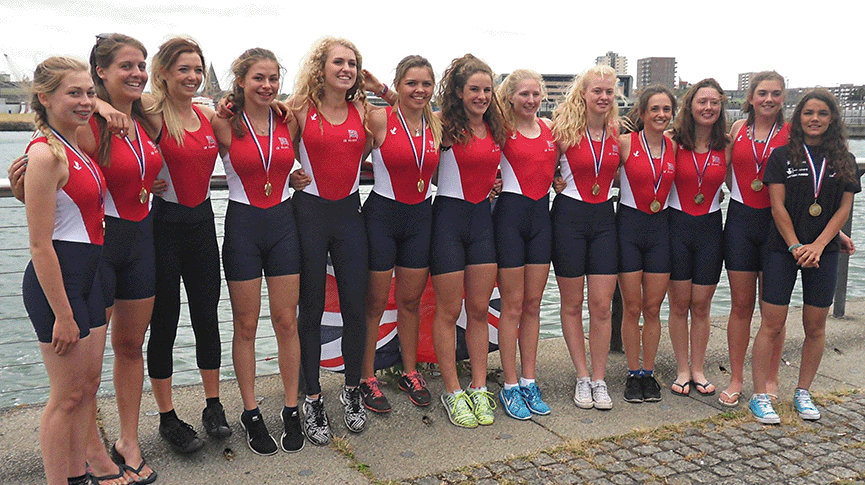 This regatta, which takes place in July each year, is the first opportunity for young athletes to represent their country and experience a pre-competition camp, team travel and international competition.
A strength of the team selection is that – with the exception of the eight – crews are made up of rowers from single rowing programmes/clubs. This promotes strong club units which have trained together and have already experienced a good season of domestic racing.
Selection for the GB v France J16 Match is dealt with separately from the U19 trial and candidates for selection for the GB v France J16 Match do not have to be registered with the U19 main trials stream. Coaches who want to receive J16 information can sign up here.
GB Rowing Team GB vs France J16 Trial
The GBRT J16 Trials used to select the team being sent to the GB v France J16 match will take place on Sunday, 30 June 2024 at the National Water Sports Centre, Nottingham.
This trial provides coaches and athletes their first opportunity to experience working with the GB Rowing Performance Team in a trial environment and the potential for them to gain their first international vest. It can also provide a reflective experience for athletes that in September 2024 will be starting their campaign towards being an U19 International in 2025 or 2026. Lastly, for some, this trial may be the first step of fulfilling a dream on the longer journey along the pathway towards being a successful Olympian.
To be eligible for the 2024 GB v France J16 Match rowers must:
Hold a British passport with an expiry date of after than 18 October 2024
Have not reached their 16th birthday before 1 September 2023
Have reached their 14th birthday before 1 September 2023
Have current British Rowing or Scottish Rowing racing membership
Be a member of a club/school that is affiliated to British, Welsh, or Scottish Rowing.
Have been a member of the stated club since 1 October 2023.
Crews must be made up of rowers from single clubs/schools, except for eights, which may be composed of rowers from up to three clubs (excluding the cox). The emphasis is therefore on clubs and schools targeting boat types and developing these crews along with their coaches throughout the year.
GB v France J16 Match (Monday, 15 to Thursday, 18 July 2024)
Further information regarding the match will be distributed nearer the time.